Just because a character is American–and they sound American–that doesn't mean that the actors are actually American.
No, Hollywood is full of stars that make a living playing Americans on the screen, but they're masking their true native tongue. And there are plenty of actors who are so good at it that they may have a lot of fans fooled!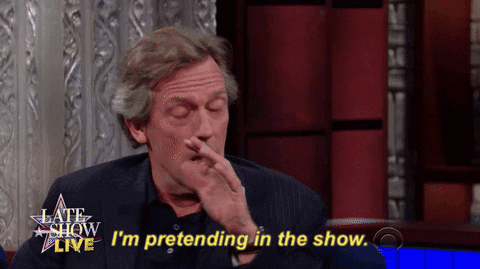 Some of these folks have really good dialect coaches, while others have just expertly nailed that Yankee manner of speaking all on their own. But no matter how they arrived at their American accents, they're doing it well. How many of these actors had you fooled?
Hugh Laurie
For eight seasons, from 2004 to 2012, Hugh Laurie had everyone fooled with his flawless accent. He played the prickly, unconventional, and misanthropic Dr. Gregory House. Struggling with a dependence on pain medication and leading a team of diagnosticians at the prestigious Princeton-Plainsboro Teaching Hospital, he solved the unsolvable medical cases. His time on House earned him two Golden Globe Awards, and was the most-watched leading man on television in 2011, according to the Guinness World Records.
Dr. House was American – and Hugh Laurie is not. Laurie was born to Scottish parents in England. His American accent is so good that it's hard to believe he's the same guy I watched in 1995's Sense and Sensibility! You may have also seen him (and heard his true accent) in 1996's 101 Dalmatians or in a brief guest spot on Friends.
Isla Fisher
My first introduction to actress Isla Fisher was in 2005's Wedding Crashers as the possessive Gloria. So, you can imagine my surprise when I heard her in an interview for the first time. Her native tongue is definitely not American English!
Fisher was born in Oman to Scottish parents, but they moved to Australia when she was young. It was there that she started appearing in television commercials and a soap opera, before starting her Hollywood career in the early 2000s. Her Aussie accent is still strong today even though she's been in Hollywood for years.
Tom Holland
The character Peter Parker may be a proud resident of Queens, but Tom Holland is definitely not. He was born in Kingston upon Thames in southwest London, where he still resides today.
He hides his native tongue pretty well when he's slinging webs, but apparently, there was one scene from Spider-Man: Homecoming that had to be recut after he accidentally dropped back into his regular accent. The superhero star is infamous for his "accidental" slips of the tongue when spoiling Marvel movies, but he almost always maintains his flawless American accent onscreen.
Idris Elba
Actor Idris Elba has an impressive talent with accents! Audiences were none the wiser when Elba started gaining attention for his role as Stringer Bell on The Wire. Few people knew that he was anything other than an American actor with incredible talent.
But if you've ever heard him speak in interviews, you know that Elba is from across the pond! Before moving to New York City in 2001, he was born and raised in London. You can hear his native accent in the excellent detective show Luther.
Margot Robbie
We've seen Margot Robbie as the very New York-sounding Naomi in The Wolf of Wall Street, and now she's Harley Quinn in Suicide Squad and Birds of Prey. But what if I told you that's not what she sounds like in real life? She just has a really good coach, apparently.
While she's pretty good with an American dialect, Robbie is masking her real accent. Many have been surprised to learn that she is Australian. Raised on a farm in South East Queensland, she began her acting career when she moved to Melbourne.
Christian Bale
Actor Christian Bale has put on a number of American accents over the years, like the very New York inflection of Patrick Bateman in American Psycho and the gruff Bruce Wayne in Christopher Nolan's Dark Knight trilogy.
He's so good at American accents that many may not know he's actually Welsh. He moved to Los Angeles at the age of 17, with his father and sister, but he can still bust out his native Welsh accent when he wants to. Fans are so used to hearing him speak with different accents, though, that they were shocked when he spoke in his native Welsh lilt at the 2019 Golden Globes.
Charlize Theron
Charlize Theron is actually from South Africa, where she grew up on a farm in Benoni, near Johannesburg. Although she's fluent in English, her first language is Afrikaans.
She perfected her American accent because she learned to speak English in the United States. But before she left South Africa at 16 to pursue dancing and modeling, she rarely spoke English because all her friends and family were Afrikaans. You can hear Charlize and fellow actor David Oyelowo teaching each other slang in Afrikaans and Yoruba in this video from Vanity Fair. Just be warned that there's some adult language!
Andrew Lincoln
Fans of The Walking Dead are probably in for a shock. Andrew Lincoln was a mainstay until his departure in the ninth season, playing the lead character Rick Grimes. That southern drawl is pretty convincing, but it's entirely fake.
Lincoln is actually British! He attended the Royal Academy of Dramatic Art in London, and his first big role was playing Edgar "Egg" Cook in a popular UK drama series, This Life. You can also hear his real accent if you watch 2003's Love Actually.
Hugh Jackman
Actor Hugh Jackman has had plenty of blockbuster roles over the years, but I'm pretty sure everyone loves him most for his portrayal of Wolverine in the X-Men franchise. He actually earned a Guinness World Record for "longest career as a live-action Marvel Character" for holding onto it for so long.
However, that gruff American accent is not Jackman's native tone. Fans who have seen him in other projects or talking in interviews know that the actor is Australian.
Millie Bobby Brown
Fans of Netflix's Stranger Things might be surprised to find out that Eleven, played by Millie Bobby Brown, isn't an American.
Brown was born to English parents in Spain. She lived on the south coast of England for a while before her family moved to Orlando, Florida. You can hear her speaking with a British accent in the film Enola Holmes, if you're curious.
Read More: 'Enola Holmes' Is a Rollicking, Proto-Feminist Romp
John Boyega
I love John Boyega as Finn in the Star Wars sequel trilogy, and I was entirely convinced by his accent in the movies! It wasn't until I saw him outside of the Star Wars universe that I realized he wasn't American.
Boyega grew up in Peckham, a district of South London. He has been listed in the Powerlist Top 100 of the most influential people in the UK of African/African-Caribbean descent twice: in the 2020 and 2021 editions.
Kate Winslet
It probably shouldn't come as a surprise that Kate Winslet is an English actress because we have certainly heard her accent plenty of times now. She will always be Marianne Dashwood in Sense and Sensibility to me!
Even still, she deserves a spot on this list for the many times she's put on an American accent for various roles. Most recently, she played a detective investigating a murder near Philadelphia, PA on Mare of Easttown. She had an American accent as Clementine in Eternal Sunshine of the Spotless Mind, too. But don't ask her about her American accent in 1997's Titanic, because she thinks it's "awful."
KJ Apa
Riverdale's KJ Apa plays Archie Andrews, the former high school football player with a passion for music and a need to protect his community from danger. All-American, right?
But in real life, Apa was born in New Zealand, where his mother is from. His father is Samoan and is actually a matai of his village in Samoa. The red hair he sports on Riverdale is not his natural color!
Charlie Hunnam
He might play American outlaw biker Jax on Sons of Anarchy, but this actor isn't actually American. While on the show, he's just showing off his accent skills and hiding his native tongue.
Charlie Hunnam might surprise you when he opens his mouth in an interview because he is actually an English actor. He was born in Newcastle and later moved to Melmerby, Cumbria. It was there that he was expelled from Queen Elizabeth Grammar School for fighting with his classmates. He later attended the Cumbria College of Art and Design.
Henry Cavill
Superman is the all-American hero clad in red, white, and blue. He flew out of the pages of comic books and onto film starting in 1951 and has been portrayed by plenty of actors over the years. Henry Cavill is the current actor wearing the suit, playing the hero for Man of Steel, Batman v Superman: Dawn of Justice, Justice League, and Zach Snyder's Justice League.
Cavill himself is a British actor, so Superman has a fake accent. Of course, if you've seen Cavill in some of his other roles, such as Geralt on The Witcher or Brandon Charles on The Tudors, you've already heard his real speaking voice.