Whoa, nelly! Hold your horses, because Adam Driver fans are having a hard time reining it in after catching his new shirtless fragrance ad.
That's because the latest ad from luxury brand Burberry features Driver transformed into… a centaur?
New Burberry Ad Featuring Adam Driver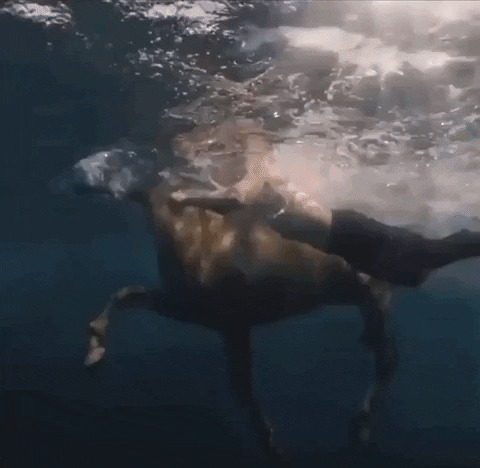 Adam Driver is really testing his range in the advertisement from Burberry. The British luxury brand released a new video Wednesday showing the actor embodying the essence of their latest men's fragrance, Burberry Hero.
"Driven by the exploration of self, Adam Driver brings to life the athleticism and respect for the natural world that #BurberryHero evokes," Burberry posted on Instagram.
The minute-long video is set to the atmospheric tune of FKA twigs' song "Two Weeks." The Oscar-nominated actor runs shirtless on a beach alongside a horse before they leap into the water and swim.
The camera cuts back and forth between Driver and the horse until the two become one. In other words, The Star Wars alum emerges from the ocean as a centaur: half Adam Driver, and half horse.
Aside from the video, there are also a few alluring brand images showing Driver — sans horse half — in the water.
Some of the Best Responses on the Internet
The ad surprised, confused, and probably sold some cologne. It also lit the internet on fire with some hilarious responses. From ideas on how the concept was born to jokes about the centaurs in the forbidden forest that Harry Potter encounters, the ad has definitely spawned some quality tweets so far.
The ad may have perplexed some, but it also aroused some corners of the internet — especially Driver's thirsty fans. Look, those abs look good, even when they're above a horse body.
Even Last Week Tonight host John Oliver chimed in. Oliver, who has repeatedly joked about crushing on Driver, retweeted the video of the ad and said he won't be able to make any new episodes for a while.
"After an unexpected development that will require John's full attention, there will be no new episodes of Last Week Tonight for the foreseeable future," Oliver tweeted.
Burberry Hero
The fragrance itself, Burberry Hero, features a combination of bergamot, juniper, and black pepper. According to the Burberry website, it is also "deepened" by cedarwood oils from three distinct mountain ranges: the Appalachians, the Atlas Mountains, and the Himalayas.
Burberry Hero was developed by Burberry's chief creative officer, Riccardo Tisci. Here's what he thinks is happening:
"I wanted Burberry Hero to encapsulate modern masculinity, to play on the essence of primal human and animal instincts, channelling the duality between strength and sensitivity. I am so thrilled to have worked with the amazing Adam Driver to embody Burberry Hero for the house. He has this incredible depth in articulating what masculinity means today — how strength can be subtle, and emotions can empower."
The product page also details the design of the bottle. Described as a "modern reimagining of Burberry fragrance" bottle, the bottle's angular design is an "abstract interpretation of a horse's hoof."