Bradley Cooper was Lady Gaga's one person in a room of 100 people, but were the two A Star Is Born actors actually in love?!
(If you don't get that "one person in a room of 100 people" joke, you clearly were not paying attention during Gaga's A Star Is Born press tour).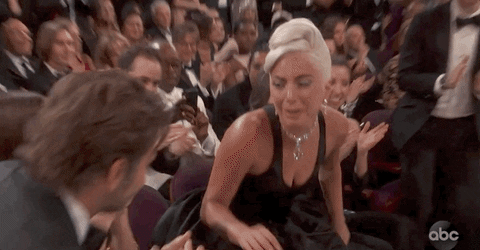 Anyway, while the two stars certainly had fans thinking there was something romantic going on between them, Bradley finally set the rumors straight all these years later.
It's Called Acting, Guys
In a recent interview with The Hollywood Reporter, the former Hangover star explained that while they certainly had chemistry, their connection during their Oscar performance of "Shallow" was all acting.
In fact, Bradley wanted the performance to "unfold like a scene from the movie," not just to create a beautiful production for audiences, but to also ease his own anxiety about performing live.
"Just from a personal standpoint, it reduces the anxiety level," Bradley explained.
"They kind of fall in love in that scene in the film. It's that explosive moment that happens to them on a stage in front of thousands of people…It would have been so weird if we were both on stools facing the audience."
Gaga Also Shut Down Romance Rumors
A Star Is Born, released in 2018, was a massive success — grossing hundreds of millions of dollars worldwide and earning countless Oscar nominations. However, the romance rumors seemed to be all anyone wanted to talk about.
Gaga even addressed the rumors in November 2019, telling Elle she thought they were "very silly."
"I mean, we made a love story. For me, as a performer and as an actress, of course, we wanted people to believe that we were in love," she explained.
"And we wanted people to feel that love at the Oscars. We wanted it to go right through the lens of that camera and to every television that it was being watched on."
While co-stars seem to fall in love all the time, I think we can all finally put the Gaga/Bradley rumors to rest once and for all.