Are we about to see a Robin Williams biopic?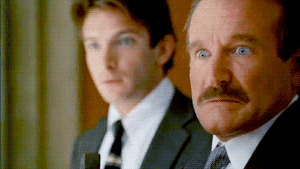 After a video of actor Jamie Costa portraying the late Williams started circulating online, it left many wondering if there's an unknown film in the works.
Costa is already known for capturing the likeness and spirit of Robin Williams. The actor and comedian first uploaded a tribute video in 2014, after Williams passed away. Titled "Never Had a Friend Like Him," the video featured impressions of several memorable characters from Williams' career.
Jamie Costa's "Test Footage" Video
A new video was uploaded to Costa's YouTube channel this week showing off his impression skills again. The five-minute clip, titled "ROBIN Test Footage Scene," is absolutely spot-on. It features Costa as Williams on the set for Mork and Mindy. Sarah Murphree plays his co-star, Pam Dawber. The video was directed and edited by Jake Lewis.
He's in the dressing room preparing to go on, when Dawber interrupts Williams running lines to break the news of John Belushi's death.
Belushi, a fellow comedic actor and friend of Williams, passed in 1982 of an overdose at the Chateau Marmont in Los Angeles at the age of 33. Williams had been with Belushi just before he died.
"No, I told you, I was with him. John's not dead. I was with him last night," he says in the clip, clearly finding the news incredibly difficult to process.
It's emotional–and absolutely convincing. It's so convincing, in fact, I had to do a double take when I watched it. Check out the video, and see for yourself:
Is This Video a Hint That We Might See a Full-Length Film?
Costa's performance left many fans clamoring for a full-length biopic. Some have even started questioning whether or not a Robin Williams biopic is already in the works.
The fact that the video is titled "Test Footage Scene" and opens with the text, "'ROBIN' Screen Test" makes it seem… very official.
I think it's also worth noting that the video was professionally produced. This wasn't just Costa and a couple of friends making a YouTube video. The video lists producers, writers, sound professionals, and more. They even had a custom wardrobe done for filming.
Of course, there may not be an unknown biopic about Williams in the works–at least not yet, anyway. The video could possibly be an attempt to test the waters. It's possible that it was made to generate enough interest in the possibility of Costa starring in a movie about Robin Williams.
Either way, plenty of people have made it known that they are indeed interested. The YouTube video has picked up more than 3,500 comments and counting.
"It's one thing to resemble a person but it's how much he sounds like him and has his mannerisms and expressions down that's so freaking impressive. I hope this movie gets made. I still feel his loss," one user commented.
"Who else has been hoping Jamie would play Robin in a biopic since you saw his first Robin impressions?" asked another.
So far, Costa has not made any statements involving the possibility of a full-length Robin Williams movie.