Young Jenna Rink is finally 30, flirty, and thriving!
Yes, Christa B. Allen, who played the 13-year-old version of Jennifer Garner's character in 13 Going on 30, celebrated her 30th birthday on Thursday, November 11.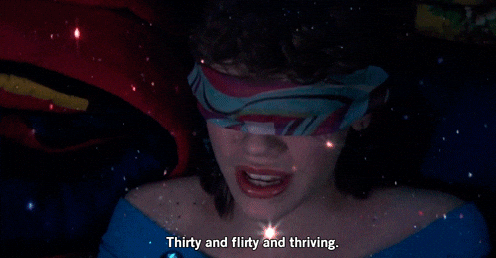 While this news may make you feel a touch old, I hope it warms your nostalgic heart to know Jennifer wished her on-screen mini-me a happy birthday on Instagram.
From One Jenna to Another
Jennifer shared one of Christa's posts to her Instagram Story on Thursday and wrote, "Look who's 30! The OG Jenna Rink! Happy birthday, @christaallen!"
Christa celebrated turning another decade older with a dinner at Shoku in Los Angeles and looked like she was truly thriving.
Christa Frequently References '13 Going on 30' on TikTok
Though it's been over 15 years since the movie was released, Christa has referenced the iconic film a number of times on her TikTok account.
In fact, she even shared a video of herself in Jenna's memorable dress (you know, the one she dances to "Thriller" in) for Halloween and we have to say she does look a lot like Jennifer. Good job, casting department.
13 Going on 30 Continuation
And, in anticipation of her 30th birthday, Christa released a five-part video series called "Vienna" (another reference to 13 Going on 30!) where her own 13-year-old self comes to share some wisdom.

"Lots of people didn't make a movie telling a bunch of young girls that their only two choices in life are to be wildly successful and alone, or to get married, have kids, and decorate some cheesy house," her teen version shares.
"I'm just saying, it's all based on some lie that women can't have it all, but what is all and who made that list? Look, not everything's just going to magically fall into place the second you turn 30. [It will] when you realize you've already met the love of your life. You."
She later explained on Twitter she wanted to make this video series in honor of the countless 13 Going on 30 fans who've followed her on TikTok over the years.

"When I started my TikTok journey two years ago, I had no idea how much people would love 13 Going on 30 content," she explained.

"After several videos went viral, fans were asking for a sequel by the hundreds. This short series 'Vienna' is less of a sequel, more of a response- I hope you love it!"
We do love it, Christa. In fact, we love it so much we're now demanding a 13 Going on 30 sequel. Let's make it happen, people.