Kristen Stewart will never be able to escape her Twilight past.
Despite being happily engaged and starring in the critically acclaimed Spencer (which will almost certainly earn her an Oscar nomination), the 31-year-old is still getting asked about her time filming the Twilight saga.
While those movies were massive hits when they were released in the mid-2000s, it was her on-again-off-again relationship with co-star Robert Pattison that really caused a media frenzy.
And, though the couple broke up almost nine years ago, K-Stew understands their romance is exactly what the franchise needed to work.
They Were "Young and Stupid"
Kristen and Rob officially started dating in 2009, about a year after the first film came out, and continued dating through the final film, which was released in 2012.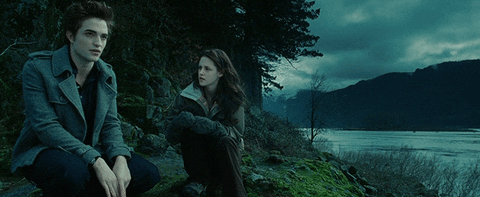 And, according to Kristen, it was their relationship that made the romance between their characters, Bella and Edward, believable.
Whatever, we were young and stupid, and not to say that we made it so much better, but that's what [the film] needed, and that's what anybody playing those parts needed to feel."

Kristen Stewart to The New Yorker
From Actors to Movie Stars
The Twilight franchise went on to earn more than $3 billion — yes, billion — and catapulted its stars (most notably Kristen and Rob) to astronomical levels of fame.
In fact, it took Kristen a long time to shed her Twilight image and for people in the industry to see her as a serious actor.
"Like, how fun for people to think they know you. Did you think I was going to do Twilight forever? Is that how you saw me? If that's how you saw me, then you really set me up for success, because I can do way more than that," she shared.
It's Kristen's Year
As previously mentioned, 2021 has been a big year for Kristen.
Not only did she get engaged to longtime girlfriend Dylan Meyer, but she's positioned herself as the early frontrunner for the Best Actress Oscar at the 2022 Academy Awards.
Time will tell if she'll be able to take home the statue, but it's safe to say she's come a long way from playing Bella in Twilight.
Good for you, K-Stew.