Salma Hayek is one of the most famous actresses in Hollywood, but even she has to deal with paranormal activity every once in a while.
In fact, the star's London home was so haunted, her staff nearly quit. I wish we were kidding, but it's true!
Things got so bad, she was even forced to hire a paranormal investigator who claimed to find 20 different ghosts. Yes — 20. Here's how it went down and what she did about it.
Salma Hayek Talks About Haunted London Home
The Academy Award-nominated actress has appeared in some spooky movies such as From Dusk till Dawn (1996) and The Faculty (1998), but what's even spookier is what occurred in her London home.
During an appearance on the Ellen show to promote her role in the new Marvel film Eternals, she explained to DeGeneres that her London home is actually haunted.
Since 2009, the 55-year-old has been married to billionaire François-Henri Pinault, 59, a French businessman, with whom she shares a daughter. And, during her appearance on Ellen, her 14-year-old daughter Valentina, was there to confirm her mother's story.
Hayek said she didn't witness any ghost encounters personally, but her daughter and her staff at the home did.
"I get it the worst," Valentina said. "I've seen the actual things."
Strange Occurrences In the London Home
Hayek described a variety of activities occurring in the house seemingly of their own accord, but unexplainable unless one considers paranormal activity.
"I didn't see these, but somebody, like, didn't want to work there anymore because the piano played by itself," Hayek explained. "And you wouldn't go to the third floor… lights go on and off or the doors and the windows opened and closed."
Paranormal Investigator Recruited
With the haunting getting so bad that her staff was threatening to quit, Hayek knew she had to do something about it. In fact, she decided to recruit a paranormal investigator.
"I said, look, I'm going to bring somebody," Hayek recalled, explaining that it was a move to calm everyone's fear. "Even if it's not true, at least they might psychologically think it's over."
However, Hayek didn't want the person trying to remove the spirits from the house to do anything weird, like perform magical rituals.
"No chicken legs, no chicken heads," Hayek told the ghost hunter. "Don't bring some dead animal in my house."
Shocked By the Number of Ghosts
Hayek explained that after the paranormal investigator did a sweep of the house everyone's fears only grew "worse."
"He found like twenty [ghosts]," Hayek revealed.
Medium Uncovered the Ghosts Identity
In an effort to rid the house of the unwanted specters, Hayek says the medium cleansed the home with Sage. Then, the medium began listing the spirits. Among them were a child, a nun, and an old lady. However, the nun did not want to leave the house.
When Hayek demanded that the nun get out, the medium responded that the nun said she "was here longer than you and she's not telling me to get rid of you!"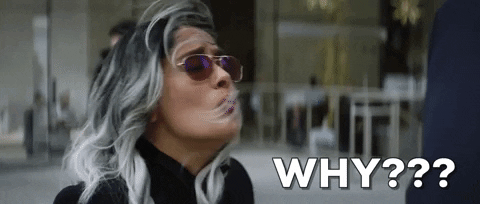 "She has good vibes," the medium said. "She stays!"
Did the spirit cleansing work? According to Hayek, she believes the house is no longer haunted.
"I think…it is not like before," Hayek added, "definitely."
While some people want to live in haunted houses, it may be a while before Hayek's friends feel comfortable going over, don't you think?!