Sarah Jessica Parker has had enough.
The Sex and the City star, who is gearing up for the release of the HBO reboot series, And Just Like That…, is completely over the comments she and her co-star have received about their looks in recent months.
Guess what, guys… people get older!
It's All About the Gray Hair
In a recent interview with Vogue, the 56-year-old explained many of the comments she has received are about the fact she has gray hair.
Spoiler alert — we'll all have gray hair someday!
"There's so much misogynist chatter in response to us that would never. Happen. About. A. Man. 'Gray hair, gray hair, gray hair. Does she have gray hair?'" she shared.
Countless pictures have made the rounds on the internet of SJP with her gorgeous natural gray hair, including one picture with her good friend Andy Cohen.
"I'm sitting with Andy Cohen, and he has a full head of gray hair, and he's exquisite. Why is it OK for him? I don't know what to tell you people!"
Double Standard in Hollywood
There's always been a double standard in Hollywood, but it's especially apparent when it comes to aging.
For example, George Clooney has had gray hair for decades, but no one seems to make comments about his appearance! Or how about Oscar Isaac rocking a salt and pepper beard in Dune?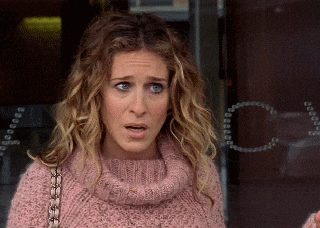 Why is it OK for men to age, but it's not OK for women? Why are women expected to look the way they looked when they were 25 when they're 55? It just doesn't make sense!
Perfectly Content With Who She Is
According to Parker, she believes people don't like seeing other people being true to themselves. And, when it comes to looks, our society often rewards people who do their best to look young.
"Everyone has something to say. 'She has too many wrinkles, she doesn't have enough wrinkles,'" she explained.
"It almost feels as if people don't want us to be perfectly okay with where we are, as if they almost enjoy us being pained by who we are today, whether we choose to age naturally and not look perfect, or whether you do something if that makes you feel better."
She continued, "I know what I look like. I have no choice. What am I going to do about it? Stop aging? Disappear?"
Don't disappear, SJP!
In fact, with the premiere of And Just Like That… around the corner, it'll be exciting to see where these characters are in their lives now that they're in their 50s.
So, in the meantime, let's all take a page out of Parker's book and embrace our age.