Is there anyone more beloved in Hollywood than Tom Hanks?!
The actor has always been one of the nicest celebrities, but he took his kindness one step further when he recently crashed a couple's beachside wedding.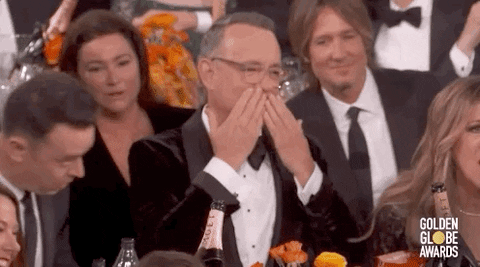 While most couples wouldn't welcome a wedding crasher to their nuptials, you always make an exception for Tom Hanks.
Tom Just Stumbled Upon the Couple
The couple, Diciembre and Tashia Farries, were gathering their families for pictures on the beach in Santa Monica, California on October 22 when the Oscar-winner crashed the party.
"We had just finished our ceremony and we were gathering with our family and friends to take pictures and all of a sudden we see someone walking through the crowd and I'm like, 'Who is this guy in our pictures?'" Tashia told Entertainment Tonight.
"Then he takes his hat off and starts talking and I'm like, 'Wait, that's Tom Hanks!'"
As it turns out, Tom was just on a beach stroll when he noticed the ceremony taking place and wanted to congratulate the happy couple.
"We were so surprised, first of all. I'm a celebrity chef, and so I'm around celebrities all the time and I just saw how humble and nice Tom Hanks was," Tashia shared.
The Couple Took Tom's Visit as a Sign
And, though Tom didn't initially realize it was a same-sex wedding, he was incredibly excited to meet the two brides.
"At one point he asked us, 'Where's the groom?' and we told him we were the two brides and he said, 'Get out!' in such surprise," Tashia continued.
"He asked to take a picture with us. He was great with our son, complimented her wedding dress. It was amazing!"
While a surprise appearance from an actor like Tom is an incredible stroke of luck, the couple actually realized his presence may have had greater meaning.
In fact, after the ceremony, they found out Tom has the same birthday as Diciembre's brother, who sadly passed in 2017.
"That was for sure a sign for me. [It was] like my brother attending my wedding even though he couldn't physically be there," she shared.
We're not crying you're crying. Here's to the happy couple!