While Adele has always been an open book in her music, she's maintained a relatively private personal life since becoming famous over a decade ago.

But now, thanks to her highly anticipated fourth album coming out in a number of weeks, the 33-year-old is revealing a bit more about her life outside of her music, including her love for the Queen herself, Ms. Beyoncé.
Adele's never been shy about expressing her love for Bey, but a private moment the two shared following the 2017 Grammys shows just how much respect the two music icons have for each other.
Beyoncé's #1 Fan
In a recent Vogue profile, the "Rolling in the Deep" songstress opened up about why she was so upset after winning the Grammy for Album of the Year in 2017.
Adele took home the Grammy for her 2015 chart-topper 25, but she didn't think she deserved it.
"My personal opinion is that Beyoncé definitely should have won," she told Vogue. "I got overwhelmed, with, like, 'I will have to go and tell her how much her record means to me.' I'm getting a bit emotional."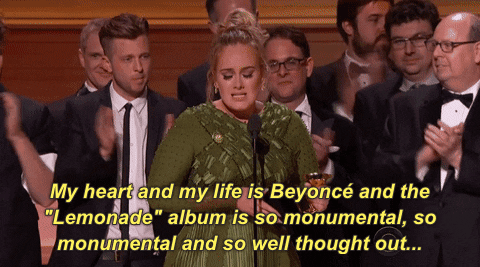 Adele actually went to Beyoncé's dressing room to let her know how much her album meant to her, but she immediately burst into tears.
"I just said to her, like, the way that the Grammys works, and the people who control it at the very, very top — they don't know what a visual album is. They don't want to support the way that she's moving things forward with her releases and the things that she's talking about."
She continued, "For my friends who are women of color, it was such a huge acknowledgment for them, of the sort of undermined grief that they go through."
Making Lemonade Out of Lemons?
Despite the win happening over four years ago, Adele still believes the Grammys made the wrong choice. But, when she got the award sent to her in the mail and it arrived broken, she knew what she had to do to pay tribute to Queen Bey.

"There's a lemon in it," Adele quipped.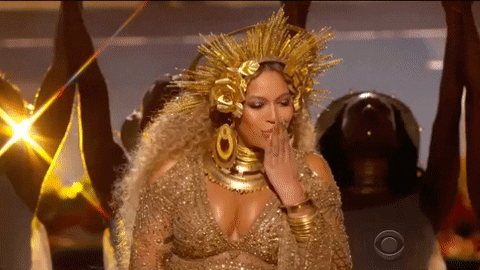 Now that's one way to pay tribute to your hero!
Adele Teased New Single
As previously mentioned, Adele is gearing up to release her fourth album, 30, very soon.

The lead single, "Easy on Me," is set to be released on Friday, October 15. Adele decided to drop a little teaser while on Instagram Live over the weekend.
Fans were able to catch some of the lyrics, which seem to allude to going through a heartbreak.
"There ain't no gold in this river that I've been washing my hands in forever/I know there is hope in these waters but I can't bring myself to swim when I am drowning in this silence/ Baby, let me in," she sings.
Let the Season of Adele commence!