Chrissy Teigen made her first public appearance, alongside her husband, John Legend, since suffering a pregnancy loss in September.
The "All of Me" singer, who was performing at a Joe Biden and Kamala Harris rally in Philadelphia on Monday, November 2, brought his wife and their two children on stage before performing "Never Break."
Family First
The 41-year-old asked Teigen, daughter Luna, and son Miles to come up for his performance.
"I want to send a shoutout, actually, could you come on stage, baby?" Legend asked Teigen.
"I want you guys to see my wife is here and my daughter, Luna's, here. My son, Miles, is here. We're teaching our young people early that they've got to participate in our democracy. We're here to save democracy. All of us are here together to save democracy, right?"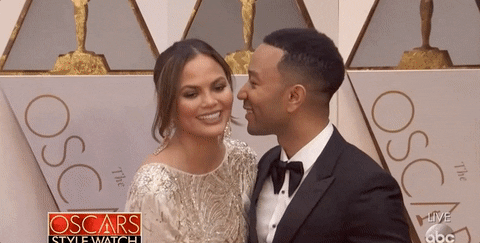 Legend then revealed he wrote the song "Never Break" in honor of his wife.
"I wrote this song as a tribute to our relationship and the fact that love can get us through all kinds of tough times. We know that the whole nation's going through tough times right now," he shared.
Public Loss
It has not been an easy past few months for the Legend-Teigen family, as they lost their son Jack about five months into the pregnancy.
Teigen, who had been out of the public eye for the past month or so, returned to social media recently after sharing an emotional essay about publicly losing their son.
"I feel bad our grief was so public because I made the joy so public. I was excited to share our news with the world," she shared.
"Stories leading up to this had been chronicled for all. It's hard to look at them now. I was so positive it would be OK."
She continued, "I feel bad that I made you all feel bad. I always will."
Despite needing a break from being so open and honest, Teigen used the essay as part of her grieving process.
"I wrote this because I knew for me I needed to say something before I could move on from this and return back to life, so I truly thank you for allowing me to do so. Jack will always be loved, explained to our kids as existing in the wind and trees and the butterflies they see," she explained. 
"Thank you so much to every single person who has had us in their thoughts or gone as far as to send us your love and stories. We are so incredibly lucky."
Teigen also shared on Sunday, November 1 that she got a tattoo on her wrist that says "Jack." This ink is above another tattoo that says "John Luna Miles."
Other Performers
Legend wasn't the only performer to hit the stage in Philadelphia on Monday night.
In fact, he was joined by rapper Common for a performance of their song "Glory," which won Best Original Song at the 2015 Oscars.
Lady Gaga was also present, as she sang her Oscar-winning hit "Shallow" from A Star Is Born, as well as her song "You and I."