Gwen Stefani and Blake Shelton may have been seen as "America's Most Unlikely Couple" back in 2015, but they've proven they're in it for the long haul over the years.
The two singers, who met while judging on The Voice together, haven't been shy about showing off their relationship either.
Read on to see what Stefani had to say about the couple getting married.
Do We Hear Wedding Bells?
From working on music together to continuing to judge The Voice, they don't seem to mind the world knowing they're in love.
However, despite being in a happy relationship, they've been very coy about whether they're planning on getting married in the future.
In fact, while appearing on the Today show on Monday, October 19, Stefani was surprisingly coy when asked if there are wedding bells in their future.
Host Hoda Kotb revealed she searched "Gwen and Blake" on her phone and that she got a number of results, one of which included "Gwen and Blake call off wedding."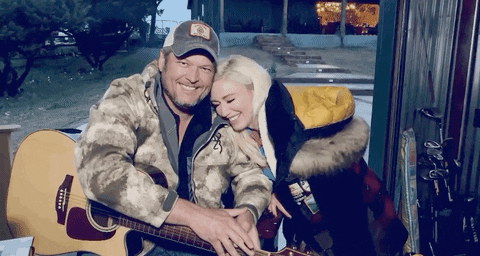 Kotb then seemed to catch Stefani off guard when she asked, "What's happening with the wedding?"
Gwen said back, "That's a really good question. Well, the good news is that we still like each other a lot, so that's good."
She continued, "I don't know. We'll see what happens, you know what I'm saying?"
Confusion All-Around
Though they're not married (or even engaged, for that matter), this isn't the first time that someone has questioned whether Shelton is Stefani's husband.
In fact, while being interviewed by Dua Lipa on Jimmy Kimmel Live over the summer, the British songstress accidentally referred to Shelton as Stefani's husband.
"So I heard that you've been spending quarantine with your husband Blake Shelton at the ranch in Oklahoma. Who else was with you? How was that?" she asked.
"Um, well…he's not my husband, but that sounded cool when you said it," the "Hollaback Girl" singer replied.
Marriage Rumors Swirling
Though the couple is not yet engaged, many people began speculating that the pair was planning a surprise wedding earlier this year.
In fact, sources told Us Weekly this summer that the couple wants to get married following the COVID-19 pandemic.
"COVID-19 has turned their world upside down, as it has with so many families. Gwen knows she is blessed and wants to have the wedding as soon as social distancing guidelines are lifted," a source shared.
"Gwen and Blake both believe the bond they share is stronger than anything they've ever experienced before."
The source continued, "When they say their vows this time around, it'll feel like the first time for both of them because they've never had this kind of soulmate synergy with anyone else."
This would not be the first marriage for either Shelton or Stefani.
The country crooner has been married twice, first to Kaynette Williams from 2003 to 2006, and then to superstar Miranda Lambert from 2011 to 2015.
The former "No Doubt" singer was married to Gavin Rossdale from 2002 to 2005. They share three children together — sons Kingston, Zuma, and Apollo.