As if Harry Styles and Billie Eilish don't already have enough on their plates, they're adding Gucci film stars to their resume. It's alright, Harry and Billie stans, you're allowed to freak out!
Gucci announced on Thursday, November 5 that it will present a seven-part film series called "Overture of Something That Never Ended" later this month.
Learn more about this collaboration and who will be involved below!
Gucci Film Series
This series is co-directed by Academy-Award nominated director Gus Van Sant and Gucci creative director Alessandro Michele.
The series — which was shot in Rome, Italy — will star actress Silvia Calderoni as she runs into a number of international celebrities, including Styles and Eilish.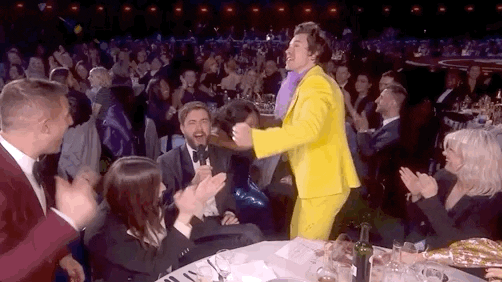 Along with the two megastars, Paul B. Preciado, Achille Bonito Oliva, Darius Khonsary, Lu Han, Jeremy O. Harris, Ariana Papademetropoulos, Arlo Parks, Sasha Waltz, and Florence Welch will also be featured.
"The presentation of the new collection is a joyful and irregular new tale, no longer constrained by the old notion of seasonality, closer to [Michele's] expressive call and told by blending rules and genres, feeding on new spaces, linguistic codes and communication platforms," Gucci said in a press release.
Styles, who is a major fan of Gucci, has taken part in campaigns for the brand before. I mean, who could ever forget the iconic commercial where he holds a chicken?
However, this is Eilish's first time working with the label, despite the fact she is also frequently spotted in Gucci looks.
Fans will be able to watch this series when it premieres during GucciFest from November 16 to November 22.
It will be broadcast on YouTube Fashion, Weibo, Gucci's YouTube channel, and GucciFest.com, so viewers have a number of ways of being able to tune in.
So Many Projects, So Little Time
It's safe to say it's been a busy year for Styles, as he's arguably become one of the most famous people in the world.
The 26-year-old released his hugely popular album, Fine Line, back in December 2019, and has spent the last year promoting it around the world.
He was scheduled to start his tour earlier this year, but due to the COVID-19 pandemic, he was forced to postpone it to 2021.
Harry Styles the Movie Star
Because he wasn't able to tour this year, Styles had the time to join the A-list cast of Olivia Wilde's new movie, Don't Worry Darling.
The film, which also stars Florence Pugh, Dakota Johnson, and Chris Pine, began filming last month but was actually forced to shut down production this week due to a positive COVID-19 test.
According to Deadline, who broke the news on Wednesday, November 4, the positive case was "not a member of the principal cast, but someone who was in close enough proximity to them that the shut down was deemed necessary."
New Line confirmed the shut down as the studio does more testing to find out if anyone else on the set, including actors and production workers, have been exposed.
As expected, everyone was put into isolation following the news of the positive test. Production will begin again once the mandatory quarantine period ends, which is typically two weeks.