We've sorted Disney Princesses into Hogwarts Houses and assigned them elements to bend, but what if they decided to form an adventuring party? Everybody's favorite tabletop role-playing game, Dungeons & Dragons, doesn't require that you choose a moral alignment, but I thought it would be fun to figure out where each Princess falls and what class she would play.
Note that this post uses Fifth Edition terminology. Also, since Disney Princesses are all heroines, nobody is going to have an evil alignment. Except one… and technically, she's not a princess.
Roll for initiative!
Snow White
Alignment: True Neutral
Class: Druid
Snow White was the very first Disney Princess, and honestly, she doesn't have quite the same spark as the later heroines. She's a very sweet girl who is beloved by everyone—except her wicked stepmother, of course. Snow White's alignment would be True Neutral, in part because her personality is a little bit one-dimensional.
As for her role in the party, Snow White would be a Circle of the Shepherd Druid. These peaceful folks have a deep connection to animals and a protective instinct. Ironically, Snow White's dwarf friends would have gotten resistance to the poison damage that knocked her out. At least Prince Florian stocked Lesser Restoration.
Cinderella
Alignment: Lawful Neutral
Class: Warlock + 2 Levels of Bard
I couldn't resist doing a little multiclassing for Cinderella, who uses both the magic of music and help from a powerful being to find her prince. Cinderella is a bit of a rule follower in the first part of her tale, allowing her stepmother and stepsisters to relentlessly boss her around. Her captivating voice seems to allow her to cast Animal Friendship on the various mice and birds she encounters, but other than that, she's not really doing much with her Bard abilities.
When Cinderella meets her fairy godmother, however, things change. She makes a pact for magical power, multiclassing into an Archfey Warlock. At that point, she's also more willing to take risks and defy convention to secure her own happiness. That's why I believe she's ultimately a True Neutral character.
Aurora
Alignment: Neutral Good
Class: Bard
The beguiling—yet innocent—Aurora is 100% a Bard. But what kind of bard? Ultimately, I had to go with College of Glamour, a subclass that has a touch of fae magic and relies on charm more than martial prowess to get the job done. Aurora certainly manages to charm woodland creatures and Prince Philip with her singing and dancing.
Aurora is a Neutral Good character with an altruistic nature. She believes in doing good and helping others, but not necessarily in following society's rules. That makes sense, as she was brought up in the forest by a trio of fairies.
Ariel
Alignment: Chaotic Neutral
Class: Warlock
As Disney's timeline progresses, we see more and more chaotic characters. Ariel is the first truly rebellious princess, but she won't be the last. I debated about assigning her to the Chaotic Good alignment, but honestly, her self-centered actions tipped her over into Chaotic Neutral. She is motivated by her desires and has zero interest in following the rules or traditions of her people.
As for her class… c'mon, the mermaid's clearly a Warlock. Ursula the Sea Witch is her Otherworldly Patron. There's even a specific subclass of Warlock called "Fathomless" for making deals with the denizens of the deep. Pact of the Talisman (from Tasha's Cauldron of Everything) would be a good fit for Ariel's Pact Boon since her voice is stored in that shell necklace. Ariel really didn't get much from her bargain, other than legs. Next time, read the fine print!
Read More: Sorting Disney Princesses into Their Hogwarts Houses
Belle
Alignment: Neutral Good
Class: Wizard
Belle is my favorite Disney Princess, and her bookish ways make me feel like she'd be a classic Wizard. I was tempted by College of Tomes Bard, but frankly, there are too many bards in this party already. Her Wizard School is a little tougher to pin down; I'm torn between Order of the Scribes and School of Enchantment. She doesn't technically summon the enchanted objects of the Beast's castle, but she does command their loyalty. On the other hand, the girl really likes books.
Belle is motivated primarily by loyalty—first to her father, and then to the Beast. She doesn't give a fig for society's conventions, and she yearns for a place where she can be herself without townspeople singing about what a weirdo she is. Her moral alignment of Neutral Good means that she'll always choose to do whatever she believes will help and protect the people she cares about.
Jasmine
Alignment: Chaotic Good
Class: Rogue
Jasmine is another rebellious princess who does not care for her kingdom's laws, yet who does care deeply for her father. When she breaks free from her prison-like palace to see the world, her first instinct is to right the wrongs she sees without regard for whether it's allowed by the law. This leads to our girl almost getting her hand cut off when she gives a hungry child food from a vendor in the marketplace. Hence her a Chaotic Good alignment.
Like her future husband, Jasmine is a Rogue. But while Aladdin is a straight-up Thief, Jasmine is more of a Mastermind Rogue. According to Xanthar's Guide to Everything, "Many spies, courtiers, and schemers follow this archetype, leading lives of intrigue. Words are your weapons as often as knives or poison, and secrets and favors are some of your favorite treasures." You can see this attitude in action during the climactic fight with Jafar, when she attempts to distract him (giving the Help Action to Aladdin).
Pocahontas
Alignment: Lawful Good
Class: Druid
Was there ever a more Druid-y Disney Princess than Pocahontas? While she doesn't technically Wild Shape onscreen, she does the next best thing during "Colors of the Wind." Specifically, she's a Circle of the Land Druid.
As the protector of her people, Pocahontas is honorable and compassionate—in other words, Lawful Good. We don't often see that alignment in Disney heroines, as it isn't one that encourages rebellion. Sure, she did have a brief fling with John Smith, but ultimately, she chooses her people and their traditions over her selfish desires.
Mulan
Alignment: Chaotic Good
Class: Fighter
Mulan couldn't be anything other than a Fighter. As Disney's most martial Princess, I see her as a Battle Master Fighter. Not only does she jump into melee combat, but she also commands her fellow soldiers in order to save the emperor. She doesn't use any magical abilities (Mushu is just sort of there for moral support), but instead relies on her grasp of tactics and skill with a blade.
Mulan is a bit of a contradiction since her act of rebellion… is to join the imperial army. Even though she chooses to fight on the side of law, she's a Chaotic Good character. Her decisions are always directed by her moral compass. Although she ultimately used her abilities to uphold the empire, she broke every possible rule to do it.
Read More: From Snow White to Moana: The Evolution of Disney Princesses
Tiana
Alignment: Lawful Good
Class: Artificer
Alongside Pocahontas, Tiana is the only other Lawful Good Disney Princess. She chooses to pursue her dream of opening a restaurant within the bounds of society's rules. She works hard to save money—and when the bank changes the goalposts, she pushes even harder. Any person of color who has had to work ten times as hard and follow every rule to the letter will see themselves reflected in Tiana's struggle.
What class would Tiana play? Although she does end up shapeshifted for most of the movie, in her human form Tiana reminds me of an Alchemist Artificer. I'm a little biased here because I currently play an Alchemist with the Chef feat, allowing me to hand out healing snacks to my friends and deal damage to my enemies. It's a well-rounded support class that can do a little bit of everything—and isn't that what being an entrepreneur is all about?
Rapunzel
Alignment: Chaotic Neutral
Class: Monk
I adore Rapunzel, but let's be honest—she's basically a tornado made of hair and excitement. Our girl is Chaotic Neutral, less because she's inherently selfish and more because she was raised in an isolate tower with only a gaslighting kidnapper for company. Once she's free, Rapunzel's journey is chaotic in the extreme. She doesn't mean to completely disrupt every system she encounters; it just happens.
Rapunzel's reliance on an improved weapon (her frying pan) means that she picked up the Tavern Brawler feat at some point. However, she also has the ability to heal by channeling her innate magic, so I think she's mostly likely a Way of Mercy Monk. She's burning up Ki points to keep Mother Gothel young!
Merida
Alignment: Chaotic Neutral
Class: Ranger
Merida is obviously a Ranger. Do we even need to debate this? She's great with a bow—but if we're being honest, she doesn't offer much else besides marksmanship. I'd say she's probably a Beast Master Conclave Ranger, given that she does fight alongside a bear. Sure, the bear is her mother, but the point stands.
Merida has no interest in following the rules laid out for young ladies. Her hair is the most chaotic creation in Disney/Pixar history—and, like fellow Chaotic Neutral Ariel, it's flaming red. She does become more empathetic during her quest to break the curse on her mother, but Merida never conforms to society's expectations.
Moana
Alignment: Neutral Good
Class: Barbarian + 2 Levels of Druid
Of every Disney Princess, Moana came the closest to stumping me. Her Neutral Good alignment makes immediate sense—she breaks rules and defies her people's traditions in order to pursue the path she believes is right. That's Neutral Good, easy peasy. But what class would she play? That's where things get trickier.
I ultimately decided to go with a Path of the Ancestral Guardian Barbarian with two levels of Druid to pick up the Circle of the Land subclass (the same subclass as Pocahontas). It's a little messy since she'll need to put points into both Strength and Wisdom, but I feel like it fits. Considering that Moana is surrounded by ancestral spirits—her grandmother, Maui, and Te Fiti—her Barbarian subclass made sense to me. However, she's also deeply connected to the natural world and seeks to heal and protect it. Plus, she has way too many animal companions to be a mere Barbarian.
Bonus: Elsa
Alignment: Lawful Good, then Neutral Evil, then Neutral Good
Class: Sorcerer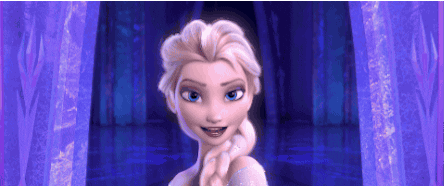 Elsa isn't an official Disney Princess, but I couldn't leave her out of the party. Not with the most classically D&D powers of any Disney/Pixar character. She's most definitely a Sorcerer given that her powers are innate and not learned from a book. Her sorcerous origin would be a Draconic Bloodline—specifically, a White Dragon. That would explain the ice-focused spellcasting and her immunity to cold damage.
Her alignment changes wildly over the course of Frozen. She starts out as Lawful Good (the whole "conceal, don't feel" thing). Lawful Good is a very constrictive alignment, and it's not unusual to see D&D players struggle to live up to it. Elsa goes all the way into Neutral Evil as she runs into the wilderness to build her ice palace. Then, when she's able to reel in her powers and reconnect with Anna, she comes back around to Neutral Good. What a journey!