I spend a decent amount of time at the local arcade.
I'm lucky enough to have one within walking distance of my house. It's actually an arcade bar, geared toward adults (hence the bar part). That doesn't just mean drinks. Having an arcade bar versus a standard run-of-the-mill arcade has another big advantage, too.
These arcade bars are also pretty heavy on nostalgia. Plenty of them have newer games, sure. But the big difference here? These tend to have a lot of old-school games filling the floor. You'll find mostly '80s and '90s games, from pinball to classic cabinets. The arcade near my house has one cabinet in particular that I spend a lot of time with, though: Donkey Kong.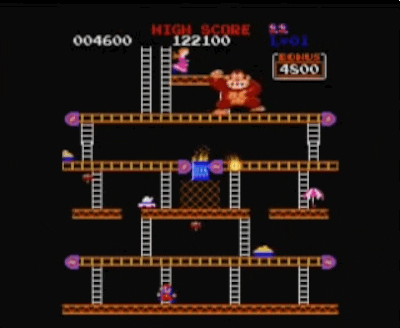 I'm not saying I'm very good at it! I just play it a lot, because it's one of those games that's still fun after all these years. Is that partly due to nostalgia? Probably. But there's also something to be said for how addictive and fun these old-school games are. In a time before high def 3D graphics and motion-tracking technology, companies like Nintendo were still making great games.
Can you tell I love classic games?
Anyway, I can't always make it to the arcade to get my gaming fix. And while I do still love newer games, sometimes I just want to revisit the classics. It's kind of like how people have comfort shows.
Your Nintendo Switch Online Membership Includes NES Classics!
Nintendo has brought a lot of those games to my fingertips – literally. My Nintendo Switch Online membership also gives me access to a slew of NES games at no extra cost. There are actually more than 60 NES games available, so there's plenty to keep you busy!
If that isn't enough for you, Nintendo Switch Online members also have instant access to a large library of SNES games, too! And now you've got Donkey Kong, Super Mario Bros., and The Legend of Zelda on a portable, handheld console, too!
How to Access the Free NES Games on Nintendo Switch
In order to access the NES games, you need to have an active Nintendo Switch Online membership. Most people I know have already signed up for it, considering how useful it is for popular games like Mario Kart 8 Deluxe and the Pokémon titles. If you choose the 12-month option, it's only $20 for the whole year, so it's kind of a no-brainer.
From there, here's how to access the collection of NES games:
Open up the Nintendo eShop. Select your account with an active Nintendo Switch Online membership.
On the left-hand side of the eShop, select Nintendo Switch Online.
Here, you will see Special Offers available, and the free download for Nintendo Entertainment System should be listed. This is also where you will see the download for Super Nintendo Entertainment System, as well. The N64 games found here require a separate fee.
Select NES, and then hit Free Download. As long as you have an active membership, you now have access to the library of NES games!
When you open it up, you'll now find over 60 games ready to go. While they are mostly the same as they always have been, they do have a few neat new features. Using the Nintendo Switch Online smartphone app, you can chat with friends while you play together. Plus, the Switch offers the ability to save your progress, and you get do-overs, too.
Let's take a look at some of my favorite picks available in the collection, and then I'm going to list the whole shebang out in an alphabetical list.
Ghosts 'n Goblins
In Ghosts 'n Goblins, players assume the role of a knight named Arthur. They must battle through hordes of zombies, ogres, demons, dragons, and other monsters to rescue the kidnapped Princess Prin-Prin. After fighting the final boss, players then replay the entire game on a higher difficulty level to reach the real final ending. Ghosts 'n Goblins is known for being one of the most difficult games, and its SNES successor Super Ghouls 'n Ghosts is equally as challenging.
Super Mario Bros. 3
Is Super Mario Bros. 3 the best NES game? I know it's entirely subjective, but I think it is! (And if you don't agree, your membership also includes the first Super Mario Bros., Super Mario Bros. 2, and Super Mario Bros.: The Lost Levels)
Players assume the role of either Mario or Luigi as they rescue Princess Peach from Bowser. They now have new abilities in addition to running and jumping, though. Players can now slide down slopes, freely climb vines, and pick up and throw special blocks. But more importantly, Mario can now fly and float with the addition of the Super Leaf and the Tanooki Suit! This game also introduces the Koopalings for the first time and a world map to transition between levels.
EarthBound Beginnings
Released in Japan as Mother, this role-playing game is unique in many ways. Unlike other RPGs, this one is not set within the fantasy genre. Instead, it takes place in rural America in the 1980s. Ninten and friends battle with baseball bats, toy guns, and even psychic abilities versus the swords and magic found in other games. The mechanics and visual stylings in EarthBound Beginnings influenced plenty of games that came after. And ironically enough, the simple graphics that were soon considered "dated" are now the very same graphics that make this game feel ageless.
Metroid
The first Metroid may not be the best game in the series, but it is still a stand-out NES game. Players control the bounty hunter Samus, who is actually one of the first prominent female video game characters. She is protecting the galaxy from space pirates and thwarts their attempts to harness the power of Metroid creatures. The game combines the non-linear exploration of The Legend of Zelda with the platforming of Super Mario Bros., but wraps it all up in a darker aesthetic and a science fiction setting.
Excitebike
Judging by the name, you can tell this is an exciting motocross bike racing game. At release, it was a critical and commercial success. It may not be the high-def racing games of today, with vehicles that are nearly impossible to distinguish from real ones, but it's still a challenging and addictive racing game that packs plenty of fun. Perfectly timed tricks will help you get ahead, while obstacles will prevent you from claiming that victory.
The Legend of Zelda and Zelda II: The Adventure of Link
I couldn't decide between the two Zelda games that came out for the NES, so I'm just going to list both of them together. The Legend of Zelda is obviously the first Zelda game ever made, introducing Link as he attempts to rescue Princess Zelda from Ganon. Unlike its successors, this one is considered a straight action-adventure game. You'll collect weapons and various useful items to increase your abilities.
Zelda II: The Adventure of Link was released the following year. As a significant departure from its predecessor, it featured an emphasis on role-playing elements. Link can gain experience points to upgrade magic, attack, and health. It also introduced elements like Link's "magic meter" that go on to reappear in future Zelda games.
River City Ransom
River City Ransom isn't a game I hear a lot of people talking about, but it's definitely worth a play on the Switch. It's an open-world action role-playing beat 'em up video game (that's quite a mouthful!). The game is non-linear, giving players the ability to explore an open world. It follows high school students Ryan and Alex across River City as they work to rescue Ryan's girlfriend from "Slick." You'll clash with gangs that have names like "The Generic Dudes" and "The Jocks." Objects can be used as weapons, food and spa treatments can revitalize stats, and fighting techniques are learned from books.
The Full List of NES Games on Nintendo Switch Online
There are obviously plenty of other NES games available to Nintendo Switch Online members, too. Here's the full list in alphabetical order:
ADVENTURES OF LOLO
Balloon Fight
Baseball
Blaster Master
City Connection
Clu Clu Land
Crystalis
NEWLY ADDED: DIG DUG II
Donkey Kong
Donkey Kong 3
Donkey Kong Jr.
Double Dragon
Double Dragon II: The Revenge
Dr. Mario
EarthBound Beginnings
Eliminator Boat Duel
Excitebike
Fire 'n Ice
Ghosts 'n Goblins
Gradius
Ice Climber
Ice Hockey
JOURNEY TO SILIUS
Kid Icarus
Kirby's Adventure
Kung-Fu Heroes
NEWLY ADDED: Mappy-Land
Mario Bros.
Metroid
Mighty Bomb Jack
NES Open Tournament Golf
Nightshade
Ninja Gaiden
Ninja JaJaMaru-kun
Pro Wrestling
Punch-Out!! Featuring Mr. Dream
River City Ransom
Rygar
S.C.A.T.: Special Cybernetic Attack Team
Shadow of the Ninja
Soccer
Solomon's Key
Star Soldier
StarTropics
Super Dodge Ball
Super Mario Bros 2
Super Mario Bros.
Super Mario Bros. 3
Super Mario Bros.: The Lost Levels
Tecmo Bowl
Tennis
The Immortal
The Legend of Zelda
TwinBee
Vice: Project Doom
Volleyball
VS. Excitebike
Wario's Woods
Wrecking Crew
Yoshi
Zelda II: The Adventure of Link