By now, everyone's talking about the slap seen 'round the world.
I know you know exactly what I'm talking about, so I don't need to recap the events that went down at this year's Academy Awards. Whether or not Chris Rock deserved it–and whether Will Smith should have reacted that way–I'll leave that argument for another day.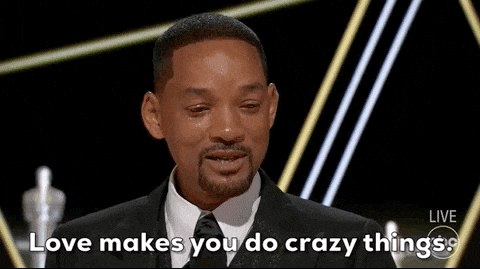 That brief (but heated) interaction is overshadowing Will Smith's Oscar win. It's his first since beginning his acting career a few decades ago.
He is certainly no stranger to accolades. Throughout his career as both an actor and a musician, Smith has racked up Grammy Awards, AMAs, a BAFTA Award, a Golden Globe, and so many more. Many of his performances have been critically acclaimed – although, I think we can all agree to just forget about Wild Wild West, right?
Okay, fast forward to now. Until the 94th Academy Awards this year, Will Smith sat on this list of stars with no Oscar wins. He was nominated for Best Actor for his role in King Richard–his third time being nominated in the category. Smith has now won the Academy Award, the Golden Globe Award, the British Academy Film Award, the Screen Actors Guild Award, and the Critics' Choice Movie Award for Best Actor – all for his portrayal of Richard Williams in King Richard.
Will Smith certainly isn't the only celebrity who has never won an Oscar. Plenty of other well-known A-listers don't have one, either. And for some of these stars, it seems downright strange that they haven't won one, yet. From the legendary Ian McKellen to the MCU's Robert Downey Jr., these successful stars have never brought home the gold.
Amy Adams
Amy Adams has seen plenty of success in Hollywood, appearing three times (so far!) in annual rankings of the world's highest-paid actresses. After making her film debut in 1999's Drop Dead Gorgeous, she started gaining recognition after her performance in Steven Spielberg's 2002 Catch Me If You Can. Her first major success as a leading lady came with 2007's Enchanted.
None of that means that Adams has an Oscar, though. She has received six Academy Awards nominations over the years, five for Best Supporting Actress and one for Best Actress. She's tied with two other actresses for the second most nominations without any wins. Adams does have two Golden Globe Awards, though – both for Best Actress.
Harrison Ford
No, not even Han Solo has managed to snag an Oscar. Harrison Ford didn't get that coveted golden statue for Star Wars, Blade Runner, or Indiana Jones.
Related: Indiana Jones 5: Casting News and What We Hope to See
Ford has received plenty of significant recognition for his work over the years, including a star on the Hollywood Walk of Fame, the AFI Life Achievement Award from the American Film Institute, and the Cecil B. DeMille Award from the Hollywood Foreign Press Association. But when it comes to the Academy Awards, no such luck. Ford received an Oscar nomination for Best Actor for his performance in the 1985 thriller Witness but didn't win.
Johnny Depp
If you ask me, it seems a little strange that Johnny Depp is among the celebrities who have never won an Oscar. Much like the other stars on this list, he's had a long, successful Hollywood career full of critically acclaimed roles. He debuted in A Nightmare on Elm Street back in 1984 and never slowed down. At one point, he was listed by the Guinness World Records as the world's highest-paid actor.
Depp has received a Golden Globe Award, a Screen Actors Guild Award, and other various accolades over the years. He does not have any Oscars to keep those other awards company, though. He was nominated for the Academy Award for Best Actor for Pirates of the Caribbean: The Curse of the Black Pearl, Finding Neverland, and Sweeney Todd.
Winona Ryder
Johnny Depp's Edward Scissorhands co-star Winona Ryder has never brought home an Oscar win, either. It seems strange, considering just how beloved she is and how much critical acclaim she has garnered over the years. Films like Beetlejuice, Heathers, and Bram Stoker's Dracula just wouldn't be the same without Ryder's performances.
Ryder was nominated for the Academy Award for Best Supporting Actress for The Age of Innocence, and for Best Actress the following year for Little Women. This actress does have a star on the Walk of Fame and won a Golden Globe for her role in The Age of Innocence.
Michelle Williams
Since her time on Dawson's Creek, Michelle Williams has starred in both independent films and big studio films. She has certainly become well-known in Hollywood for roles in Brokeback Mountain, Blue Valentine, and The Greatest Showman.
Among other accolades, Williams has won Golden Globe Awards for her roles in My Week With Marilyn and Fosse/Verdon. She has been nominated four times for Academy Awards but hasn't brought one home – at least, not yet.
Ryan Gosling
Williams' Blue Valentine co-star Ryan Gosling is another very well-known and sought-after celebrity who has never won an Oscar. He was nominated for Best Actor in 2007 for Half Nelson but lost to Forest Whitaker. He was again nominated for Best Actor in 2017 for La La Land, but this time Casey Affleck won for his role in Manchester By the Sea.
Gosling has won other accolades, including a Golden Globe Award for La La Land. And it doesn't look like he's slowing down any time soon, with several projects in the works. Perhaps he'll soon bring home an Oscar!
Read More: These Stars Were Fired From Popular TV Shows and Movies
Robert Downey Jr.
Born to parents already in the acting business, it's not surprising that Robert Downey Jr. began his acting career at the age of five. With films like Weird Science and Chaplin from his younger days, plus Sherlock Holmes and playing Iron Man himself in the Marvel Cinematic Universe, it might be hard to believe that Downey has never nabbed an Oscar.
Though he did not win either of the Oscars he was nominated for, he's still racking up plenty of successes. He has two Golden Globe Awards and a Screen Actors Guild Award. Plus, Forbes listed Downey as Hollywood's highest-paid actor from 2013 to 2015.
Sigourney Weaver
Throughout her lengthy career in Hollywood, Sigourney Weaver has more than 60 films on her resume. Of course, she's probably best known for her role in the Alien franchise, or maybe for playing Dana in the Ghostbusters franchise.
Over the years, she has received various accolades, such as two Golden Globe Awards and a British Academy Film Award. However, you won't see any Oscars in her display case. While she was nominated for three Academy Awards (Aliens, Gorillas in the Mist, and Working Girl), she didn't bring home the win.
Ian McKellen
Ian McKellen is a legendary actor, so it does seem weird that he has never won an Oscar before. His film work includes Magneto in X-Men films, Gandolf in The Lord of the Rings franchise, and playing the titular king in Richard III. On top of decades in front of the camera, McKellen is also an accomplished stage actor.
This actor has snagged a Tony Award, seven Laurence Olivier Awards, a Golden Globe Award, and a Screen Actors Guild Award. And while he hasn't added an Oscar to his collection yet, he has received two Academy Award nominations so far. He has also been knighted, which is pretty cool.
Glenn Close
Glenn Close is another legendary star who has been acting for several decades but has never received an Academy Award. Despite her long list of accolades – three Golden Globe Awards, three Tony Awards, and three Primetime Emmy Awards are among her nearly fifty awards – she can't claim EGOT status just yet.
Close has been nominated eight times for an Academy Award, for films such as Fatal Attraction and Hillbilly Elegy. She holds the record for the most Oscar nominations in an acting category without a win.
Tom Cruise
Tom Cruise is one of the most famous people in the world and consistently ranks among the highest-paid actors. And his films have earned plenty at the box office, making him one of the highest-grossing actors, too. Too bad he can't use that money to finally get an Oscar for his collection!
He has won some prestigious awards in the industry throughout his lengthy career, including three Golden Globe Awards. He has never won an Oscar, but he has been nominated three times so far.
Liam Neeson
Actor Liam Neeson is a well-known, successful actor who first started on stage in the 1970s. His performance in Schindler's List was critically acclaimed and turned Neeson into an in-demand leading actor.
Although Neeson played Oskar Schindler in Schindler's List, he never won an Oscar for the role. The film itself won seven Academy Awards, including Best Picture, Best Director, and Best Original Score. Neeson was nominated for Best Actor, but he lost to Tom Hanks for his role in Philadelphia.