Batman has been a beloved superhero since his very first appearance in DC Comics. His debut was in the 27th issue of Detective Comics in 1939. He was given his own spin-off publication with 1940s Batman.
Since then, we've come to know and love the caped crusader, also known as the wealthy Bruce Wayne. Hey, how else would he get all those gadgets, the Batmobile, and a secret underground cave to store all his cool stuff?
He saw his parents murdered, so he's got a vendetta against criminals – and he's cleaning up Gotham City. He wouldn't be anywhere without Alfred Pennyworth, and he's often aided by sidekicks Robin and Batgirl. There's also James Gordon and love-interest-slash-friend-slash-sometimes-foe Catwoman. Plus, foes like the Joker, Two-Face, the Penguin, Poison Ivy, and the Riddler are always around causing trouble.
Personally, I've always loved Batman because he's just a guy. There are no superpowers here. He faces off against the nefarious crime lords of Gotham using intellect, fighting skills, and a slew of tools to give him the upper hand.
See Related: Every Actor Who Has Played Batman
Others clearly agree because Batman has remained a superhero fixture since his debut. He crossed into live-action for the first time with Columbia Pictures' Batman in the 1940s, but it was 1966's campy TV series Batman starring Adam West that really turned Batman into the popular on-screen character that he has become. That series has since been deemed one of the greatest American television shows of all time by critics Alan Sepinwall and Matt Zoller Seitz.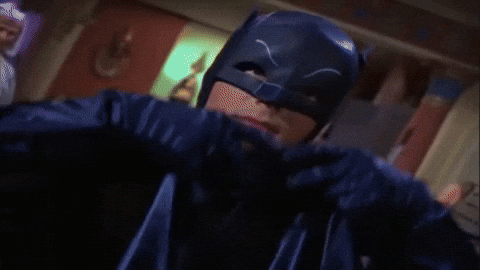 It wasn't until Tim Burton stepped in to direct 1989's Batman that we got another on-screen look at the caped crusader. Gone was the campy Batman. We had a dark and brooding, serious and intense Batman for his first foray on the big screen – and we've had plenty of Batman flicks over the years leading up to the recently released The Batman.
Of course, there's more to these movies than just Batman himself. There are so many other actors required to bring these storylines to life! From supporting characters to small background parts, there are tons of people in front of the cameras. And sometimes, they might be celebrities you recognize!
Jon Favreau
These days, Jon Favreau is busy running the show as a filmmaker. He's the creator of the Disney+ series The Mandalorian, where he's also an executive producer and director. Hey's also responsible for The Book of Boba Fett and has been particularly involved in the Marvel Cinematic Universe, too.
But before he was busy directing and producing, he was an actor appearing in plenty of projects over the years. Before he was Tony Stark's head of security, Happy Hogan, he appeared in Batman Forever. You'll spot him as Bruce Wayne's assistant as Wayne pays a visit to Edward Nygma.
Billy Dee Williams
Jon Favreau wasn't the first person from the Star Wars universe to appear in a Batman movie. Billy Dee Williams appeared in Tim Burton's Batman in 1989, where he played attorney Harvey Dent (who later develops into the villainous Two-Face). He came back to voice the iconic villain in The Lego Batman Movie and was also depicted as the character in the 2021 comic Batman '89.
While I'll always love Williams for his role as Lando Calrissian in Star Wars, he's a talented actor who has actually appeared in at least 70 films over several decades. He earned a star on the Hollywood Walk of Fame in 1985 and has won several awards over the years, including the NAACP Lifetime Achievement Award.
Vivica A. Fox
Vivica A. Fox first started her entertainment career as a dancer on Soul Train before making the jump into acting with a role on NBC's daytime soap Days of Our Lives and was later a leading character on another daytime soap, Generations. Or, maybe you remember her hit movies like Independence Day and Kill Bill.
In 1997, though, Fox snagged a role in a Batman movie. She was in Batman & Robin, which saw George Clooney as the caped crusader. Fox, decked out in all white and silver, played the cool Ms. B. Haven, a member of Mr. Freeze's criminal gang.
Paul Reubens
If anyone is qualified to play Tucker Cobblepot, the Penguin's biological father, it's got to be Paul Reubens. In Batman Returns, we see him, along with his wife Esther, are part of Gotham's elite. They are horrified by their newborn son's physical appearance, so they ditch him in the sewers – unknowingly creating the deranged villain later on.
Paul Reubens is, of course, well-known for being Pee-Wee Herman (although he's had plenty of other roles over the years, too). But did you know that Batman Returns director Tim Burton made his directorial debut with Pee-Wee Herman's Big Adventure? And the actress who plays Esther Cobblepot is Diane Salinger, Reuben's costar from Pee-Wee's Big Adventure, too. It's like one big Pee-Wee reunion!
All the Actresses Who Have Played Catwoman
Paul Reubens came back as the Penguin's father figure again for the TV series Gotham. This time around, though, the character's name was Elijah Van Dahl – and the Penguin is still known as Oswald Cobblepot. Oswald's backstory is different on Gotham than we've seen it in other iterations. Elijah is Oswald's biological father, and he accepts him despite his dark past.
Drew Barrymore
Two-Face resurfaced in 1995's Batman Forever, and he brought two girlfriends with him. One of those girlfriends was Sugar, a secondary antagonist played by Drew Barrymore. She always stays on Two-Face's good side, and her sweet personality makes her an unexpected villain. She's in stark contrast to Spice, the traditional "bad girl" villain.
It's not likely that you forgot Drew Barrymore was in a Batman movie so much as you forgot about Batman Forever altogether. After Tim Burton's Batman flicks starring Michael Keaton as the Dark Knight himself, this one was plagued with comparisons to their predecessors and didn't quite live up to them.
Jack Gleeson
Actor Jack Gleeson is best known for his highly praised performance as Joffrey Baratheon on HBO's Game of Thrones. After Joffrey's death, he had first thought of retiring from acting to focus on academia, but he went back to the stage instead. He founded and produced the Dublin-based Collapsing Horse Theatre Company.
Before we all knew him as the GoT's most hateable king, he was in 2005's Batman Begins. You may have missed it, considering his role is small enough he wasn't even given a proper name. He shows up twice in Christopher Nolan's first entry in the Dark Knight trilogy, however. First, he has a brief exchange with the caped crusader on the Narrows. We see him again when Rachel Dawes protects him from the Scarecrow.
Aidan Gillen
Another Game of Thrones actor also appeared in the Dark Knight trilogy. Irish actor Aidan Gillen played Petyr "Littlefinger" Baelish, a role he filled from 2011 to 2017. Gillen has won three Irish Film & Television Awards, including one for his role on GoT.
In 2012, he was also in Christopher Nolan's The Dark Knight Rises. As CIA operative Bill Wilson, he was in charge of capturing Russian nuclear physicist Dr. Leonid Pavel from Uzbekistan. Wilson had an… unfortunate run-in with Bane (portrayed by Tom Hardy) and his mercenaries. The CIA agent was left on board the plane as it plummeted, so we can probably assume he didn't survive.
Juno Temple
British actress Juno Temple also had a small role in The Dark Knight Rises. She played Jen, friend, and roommate to Selina Kyle. She has particularly sticky fingers, as she's talented in pickpocketing and steals from people she believes are rich. After Bane and the League of Shadows take over, she stays in Gotham City and embraces the new order.
Outside of Gotham, we've seen Juno Temple in plenty of roles. Perhaps you know her from films such as The Other Boleyn Girl, Unsane, or Maleficent? And more recently, she's been filling the role of Keeley Jones on Apple TV+'s Ted Lasso.
John Glover
Character actor John Glover is known for a range of villainous roles. He played Daniel Clamp in Gremlins 2: The New Batch, and was Brice Cummings, the assistant rabidly after Frank's job in Scrooged. He was also Lionel Luthor, Lex Luthor's father, on the TV series Smallville.
He added another great nefarious character to his repertoire with Batman & Robin. He portrays Dr. Jason Woodrue, a mad scientist who tries to kill his colleague Pamela Isley, and creates Poison Ivy instead.
This isn't Glover's only role within the Batman universe. He also voiced the Riddler in Batman: The Animated Series, as well as the video game based on the series, The Adventures of Batman & Robin.
Read More: Character Actors Who Are in Literally Everything
Anthony Michael Hall
Any fan of classic John Hughes high school comedies from the '80s will know exactly who Anthony Michael Hall is. He's the baby-faced sarcastic teen of the Brat Pack who had roles in coming-of-age classics like Sixteen Candles, The Breakfast Club, and Weird Science. He also once played Rusty Griswold for 1983's National Lampoon's Vacation, as part of the running gag that the kids are never the same.
As for the Caped Crusader's world, Hall showed up in 2008's The Dark Knight. Hall played the role of the news anchor Mike Engel, who presented Gotham City News. We see him interviewing Mayor Anthony Garcia about Batman cleaning up the city, and he pops up to report on breaking stories. He's later kidnapped by the Joker, and forced to read a report to Gotham's citizens that they must leave.