Brendan Fraser is back, baby!
According to Deadline, the actor has been cast in DC's upcoming Batgirl movie, which already stars newcomer Leslie Grace.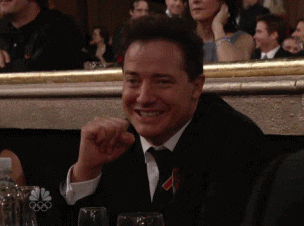 For more details, including the character he will be playing, keep reading!
Cast as the Villain
Fraser will play Firefly, a sociopath who is obsessed with, well, fire.
And, according to DC Fandom, the character of Firefly actually works in the movie business!
"Formerly a visual effects expert working in the movie business, he turned to crime using a flame-proof winged suit after he was unable to stop his destructive compulsions. His obsession with fire is the result of an abusive childhood."
Plot Details Are Hush Hush
There's not much known about the specific plot details of the movie, but it will center around Barbara Gordon (played by Grace), who is the daughter of Gotham police commissioner Jim Gordon.
As previously mentioned, Grace — who had a breakout role in this summer's In the Heights — was recently cast as Barbara and J.K. Simmons will be reprising his role as her father, the commissioner.
The film is also being directed by Bad Boys For Life directors Adil El Arbi and Bilall Fallah.
Fans Are Excited
As to be expected when a new comic book villain is cast, the fans were not shy about sharing their opinions. However, a majority of the fans on social media were very excited to see Fraser get the role.
"​​I love the choice & I cannot wait to see this movie do amazing things," one person wrote.
Another shared, "Not a lot of w's that we as a society can brag about in the past year but the continued Brendan Fraser renaissance is proof that sometimes good things can happen!"
Along with being cast in Batgirl, Fraser is also set to appear in Martin Scorsese's new film with Leonardo DiCaprio, Killers of the Flower Moon, and Darren Aronofsky's new film, The Whale.
Premiering Exclusively on HBO Max
Batgirl is going to be premiering exclusively on HBO Max in 2022, which means it's one of the first major superhero films to skip theaters altogether.
For the past year or so, HBO Max has released their films on both the streaming service and in theaters, a move that has been quite controversial among movie lovers.
While some people enjoy the fact they can watch Dune or Wonder Woman 84 from the comfort of their home the second it's released in theaters, others believe the move is killing theaters left and right.
It'll be interesting to see if the decision to premiere Batgirl only on HBO Max will drive more subscribers to the service, as it has with a service like Netflix.