Let's not get ahead of ourselves, Marvel fans. If you're anything like me, there's a good chance you freaked out just a little bit after reports surfaced on Thursday, January 14 claiming Chris Evans was eyeing a return to the MCU as Captain America.
Well, according to the actor, those reports may not entirely be true. For now…
Report Claimed Evans Is Looking to Appear in Future MCU Films
Alright, so as I mentioned above, the initial report from Deadline on Thursday morning revealed Evans was close to finalizing a deal to return to his Captain America role.

According to the story, Evans wouldn't be playing Steve Rogers in a standalone Captain America film, he'd just be appearing as Captain America in another character's film, a la Robert Downey Jr in Spider-Man: Homecoming.

"It's still vague whether the deal is closed, but insiders say it's headed in that direction for Evans to return as Steve Rogers aka Captain America in at least one Marvel property, with the door open for a second film," the story shared.

"How he might return is unclear and being worked out, but the options are unlimited. Over the years, even after a character's film franchises have come to an end, Marvel has found way to insert them into the MCU in other properties, and the addition of new Disney+ limited series adds even more properties in which he could make his return if it's not his own film."
Evans Responded to Reports a Few Hours Later
However, just a few hours after the news was reported, the 39-year-old took to Twitter to kill all our hopes and dreams clear up the rumors.

"News to me," he wrote on Twitter, complete with a shrug emoji. He also wrote, "Some of the gif responses are priceless … good work, everyone."
C'mon Evans, don't you want to return for the fans?! It's been over two years since we last saw Captain America and frankly, it has been way too long.
While it certainly seems like Evans won't be returning as Captain America judging by his response, some people on Twitter wonder if he's not able to say anything until the deal goes through.
Retired From the Role in 2019
As fans of the MCU know, Evans last portrayed Captain America in 2019's The Avengers: Endgame. He's alluded to the retirement of his character for a while, even tweeting about saying goodbye to the role in 2018.

"Officially wrapped on Avengers 4. It was an emotional day to say the least. Playing this role over the last 8 years has been an honor," he wrote on Twitter at the time.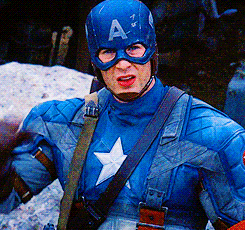 "To everyone in front of the camera, behind the camera, and in the audience, thank you for the memories! Eternally grateful."
He also revealed to The New York Times why he was stepping away from the role in 2018, sharing, "You want to get off the train before they push you off."
Do you think he's really not returning as Captain America or is he trying to throw fans off? Let us know what you think!