When I was a kid, summer was the best time of year. School was out, pools were open, and my friends were ready to play until the sun went down. Yep, summertime was good livin'.
Fast forward to now, and I'm not so sure I like summer as much anymore! How come us adults don't get summer break anymore? The pools are still open, and that's definitely the best part of this season. Plus, I get to set my own curfew now and can stay out as long as I want. But really, it's so hot outside and this girl is sweaty. I'm looking for ways to beat this sweltering summer heat.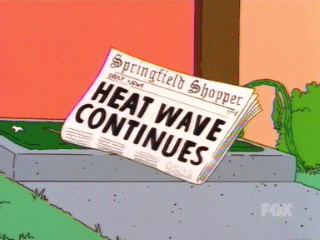 We're Keeping Cool With Christmas in July
Enter: Christmas in July! I know, it sounds silly. But I am willing to bet you have heard this phrase before. This fun idea has been around for a while. In North Carolina during the 1930s, a girls' summer camp started a Christmas in July celebration. Hollywood gave us the comedy Christmas in July in 1940. Towards the end of WWII, a Christmas in July luncheon was used to promote early Christmas mailing for service members overseas.
These days, it seems like Christmas in July is used more as a marketing tool than it is an actual celebration. But I'm here to tell you that it's time to bring back the celebration – even if you're just doing it from the couch!
Like I said, July is just too hot. I live in the Southeast, so I'm pretty used to the hot and humid summer months. But even still, we all need a break from time to time. By focusing on winter celebrations and evoking experiences involving snow and ice, it's definitely taking my mind off of the thermometer. And to be completely honest, I'm also staying inside and cranking up the AC, so that helps, too.
So here I am, doing Christmas in July on my couch. I'm going to put on my best holiday pajamas, make a cup of hot chocolate, and queue up all my favorite holiday movies on the big three: Netflix, Disney+, and Hulu.
Keep it cool with me! These holiday flicks are currently streaming.
The Nightmare Before Christmas
Streaming Service: Disney+
Is The Nightmare Before Christmas a Halloween movie or a Christmas movie? Although this has been debated over the years, I'm here to say that it's both in my house! It's also been a favorite of mine since it came out, and that makes it a clear choice for Christmas in July. Jack Skellington, the Pumpkin King of Halloween Town, feels bored with the same old routine. He wanders into the woods and discovers Christmas Town, and decides that he and the other Halloween Town residents will take over Christmas that year.
'The Santa Clause' and Its Sequels
Streaming Service: Disney+
Single dad and ordinary guy Scott Calvin finds himself filling the infamous red suit after he accidentally causes Santa Claus to fall off the roof on Christmas Eve. He wakes up the next day thinking it was all a dream, but his son starts telling everyone his dad is Santa – which is more than a little concerning to Scott's ex-wife and her psychiatrist husband. It's certainly not the most cerebral film out there, but it's packed full of old-fashioned holiday spirit. And it's definitely one of Tim Allen's best films!
If you really love The Santa Clause, there's more. Both sequels are also streaming on Disney+, so you can do a marathon. While they get progressively more absurd, I do love that Martin Short plays Jack Frost in The Santa Clause 3: The Escape Clause.
National Lampoon's Christmas Vacation
Streaming Service: Netflix
It's not really the holiday season until Chevy Chase is blinding his neighbors with string lights and yelling at the entire family about how they're going to be the "hap-hap-happiest!" It's been a family tradition for me to watch this one every single year, so it definitely goes on my list for Christmas in July, as well. Get into the spirit with the Griswolds as they spend the holiday with relatives and all the hilarious mayhem that ensues. It's a "fun, old-fashioned family Christmas."
Related: Behind the Scenes Secrets From National Lampoon's Christmas Vacation
White Christmas
Streaming Service: Netflix
Of course, when Clark Griswold is yelling about Bing Crosby tap dancing with Danny Kaye, he's referring to the old Christmas classic, White Christmas. Crosby and Kaye, along with Rosemary Clooney and Vera-Ellen, star in this film as performers putting together a Christmas Eve show. It's all in an effort to save General Waverly and his Vermont inn, which is on the verge of closing. It's been unseasonably warm, and there's no snow to bring in the skiers. This '50s musical includes well-known tunes, too, such as "White Christmas" and "Sisters."
The Polar Express
Streaming Service: Hulu
Everyone's favorite childhood Christmas book, The Polar Express, got the animated film treatment in 2004. You can take a trip to the North Pole to hear Santa's bells any time you like, thanks to the film streaming on Hulu. Unlike some other animated films, this one was created using live-action motion capture CGI. It is actually a Guinness World Record holder, being the first all-digital capture film. All of that was done to keep the art style of the book intact. That's why The Polar Express really feels like it brings the childhood classic to life on the screen.
Christmas With the Kranks
Streaming Service: Netflix
Get in a few holiday laughs with 2004's Christmas With the Kranks. When the Kranks discover their daughter won't be home for the holidays, they cancel their annual party and decide to go on vacation instead. But after the neighbors voice their opinions and their daughter unexpectedly comes home at the last minute, they have to scramble to throw something together. The cast features the likes of Tim Allen, Jamie Lee Curtis, Dan Aykroyd, Erik Per Sullivan, Cheech Marin, and more.
Noelle
Streaming Service: Disney+
Alright, Noelle isn't exactly the world's best movie or anything, but it's a cute and charming film that will keep you entertained for Christmas in July. I mean, it does have a pretty good cast. Anna Kendrick and Bill Hader are Kris Kringle's kids, Noelle and Nick, and someone's got to take over the family business. So clearly, it's Nick who is handed the red suit, right? Except he's stressed and folding under the pressure, and his sister steps in to save Christmas. She's full of naive, saccharin holiday spirit akin to Will Ferrell's Elf, so I think she's got it handled.
'Home Alone' and Its Sequels
Streaming Service: Disney+
The McCallister family is already halfway to Paris before they realize they accidentally left eight-year-old Kevin at home. He wakes up in an empty house, thinking his wish for everyone to disappear has come true. The home is targeted by two dim-witted burglars, though, and Kevin booby traps the house to keep them at bay. Since it came out, Home Alone has been a fan favorite and has since been declared by many as one of the best Christmas films ever. I'm willing to bet that most people have already seen this film hundreds of times, but that makes it all the better for Christmas in July.
For more fun with Kevin McCallister, Home Alone 2: Lost in New York is also on Disney+. The rest of the Home Alone franchise is on there, too, but it's just not the same after Macaulay Culkin wasn't the prankster in charge anymore. Included is the reboot from Disney+, 2021's Home Sweet Home Alone.
Klaus
Streaming Service: Netflix
In this alternate origin story of Santa Claus, Klaus is a reclusive woodsman in 19th century Norway that enjoys making toys. When the newly arrived postman discovers a sad drawing from one of the town's children, Klaus decides to secretly deliver a toy to the kid. As word gets out, more kids send letters. Teaming up together, Klaus and the postman spread joy to the cold, dark town that desperately needs it. This animated film is a Netflix original produced by Sergio Pablos Animation Studios. While the story is heartwarming, the film also features really great animation. It's a feel-good film all around.
Ernest Saves Christmas
Streaming Service: Disney+
If you have never seen Ernest Saves Christmas, buckle up! It stars the late Jim Varney as Ernest P. Worrell, the well-meaning, denim-clad doofus with a silly face. Ernest is always good for a goofy laugh! And yes, he does smash up Vern's home. Working as a taxi driver, Ernest picks up a man claiming to be Santa Claus, who is on his way to make a local TV personality the new Santa. Ernest gets fired from his taxi job, Santa winds up in custody, and a runaway teen steals Santa's magic sack. It wasn't a critical success, but it was commercially successful. Hey, the critics aren't always right, "know what I mean?"