Long live the Queen of Mean!
Disney's Cruella is hitting Disney+ this week without any extra charge.
Cruella Joins Disney+ Catalog — No Premiere Access Needed
That's right! If you didn't feel like forking over the extra cash to check out Cruella on Disney+ with Premiere Access, the wait is finally over. The live-action feature film becomes part of the streaming platform's regular catalog Friday, August 27.
Cruella was one of many films that hit theaters and a streaming platform on the same day. Even still, the movie was a hit, grossing over $226 million at the worldwide box office. It raked in an additional $20 million from Premier Access on Disney+. That's pretty great, considering movie theaters everywhere are still reeling from the effects of a pandemic.
"We are very pleased with Cruella's box office success, in conjunction with its strong Disney+ Premier Access performance to date," a spokesperson for Disney said in a statement.
Academy Award winner Emma Stone brings Cruella's backstory to life. Set in 1970s London, a young Estella Miller is determined to make a name for herself. She goes to work for the evil fashion legend Baroness von Hellman, and eventually embraces her wicked side and becomes the revenge-bent Cruella de Vil we all know.
The movie exploring the Queen of Mean's backstory was generally well-received by critics and audiences alike. It was praised for costume design, Craig Gillespie's direction, production design, and dazzling visuals. Critics also applauded the performances of Emma Stone, Emma Thompson, and Paul Walter Hauser.
According to a Disney spokesperson, the critics' response put Cruella "among the most popular of our live-action reimaginings."
Cruella 2 Is Already in the Works
All that was enough to convince Disney to do it again. Less than two weeks after Cruella's release, a sequel was already in the early stages of development. Director Craig Gillespie and screenwriter Tony McNamara will return for the sequel.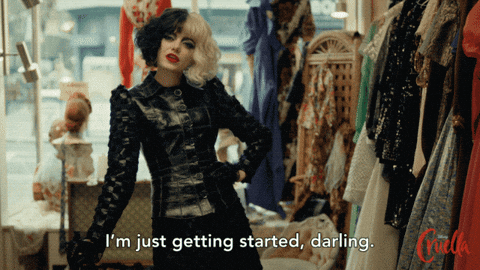 Earlier this month, Stone reached an agreement to return as the deranged fashion stylist in the Cruella sequel.
According to Deadline, the deal "mutually benefits both sides."
Specifics on the deal aren't public knowledge. But, Endeavor Talent Agency's executive chairman, Patrick Whitesell, did say this:
"This agreement demonstrates that there can be an equitable path forward that protects artists and aligns studios' interest with talent. We are proud to work alongside Emma and Disney, and appreciate the studio's willingness to recognize her contributions as a creative partner. We are hopeful that this will open the door for more members of the creative community to participate in the success of new platforms."
This is good news in a time when big names like Scarlett Johansson aren't happy with simultaneous streaming releases.
Johansson is suing Disney over Black Widow's same-day premiere on Disney+. According to the lawsuit, her contract included a stipulation that her films would receive an exclusive theatrical release — which would mean a bigger paycheck.
Johansson says the contract violation cut into her compensation considerably since her contract stipulates she'd be paid bonuses based on theatrical returns.