It's more than just a bunch of hocus pocus — the Sanderson Sisters are back!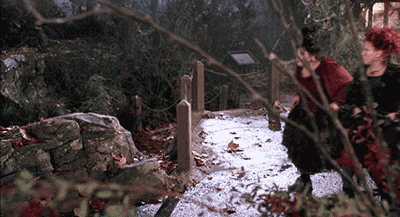 Walt Disney Pictures announced that they are moving forward with a sequel to 1993's Hocus Pocus, and the original trio of witch sisters are all on board to reprise their roles.
It may or may not have started as an internet hoax. If you remember, Snopes debunked the idea of a Hocus Pocus 2 several years ago after the rumor picked up speed and spawned a faked movie poster. Bette Midler even fielded multiple questions about the possibility of a sequel during a Reddit AMA.
Needless to say, the immortality-seeking witches put a spell on audiences over the years, and the idea of a Hocus Pocus sequel sparked plenty of interest.
Disney Moving Forward With Hocus Pocus Sequel
Perhaps the excitement from fans was too much for Disney to ignore. Debunked rumor or not, Hocus Pocus 2 is officially happening! It was announced at last year's Investor Day event that the studio would move forward with a Hocus Pocus sequel. But now, we've got an official timeline.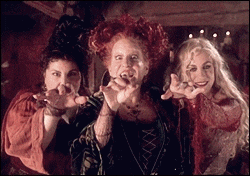 The sequel will premiere exclusively on Disney+ in fall of 2022.
Production is set to begin this fall. Anne Fletcher (The Proposal, 27 Dresses) is stepping in to direct, taking over the role from colleague Adam Shankman who directed the original film. Shankman is currently working on another sequel for Disney+, but will serve as executive producer.
"Now more than ever, people need to laugh. We should be laughing every day, and there is so much fun to be had with these three unbelievable women playing delicious characters from such a beloved film," said Fletcher in a press release. "I am so grateful to be able to play a part in bringing these witches back to life, and to be working with my friends at Disney again makes it all the more special. This is a movie for everyone, from the fans who grew up with the first film to the next generation of viewers, and I can't wait to get started."
Getting a spooky sequel to the cult classic film is exciting enough on its own. But there's more to get excited about: all three of the witches are back! It has been confirmed that Bette Midler, Sarah Jessica Parker, and Kathy Najimy will reprise their roles as the Sanderson Sisters.
Bette Midler took to Twitter to confirm the news, too.
So What's Hocus Pocus 2 About?
By the end of the original film, we see Winifred Sanderson and her dimwitted sisters turned to dust after being outwitted by Max Dennison and crew. As it turns out, though, the Sanderson Sisters can't stay gone forever. The spooky sequel will see the sisters summoned back to life by three young women. Similar to the original movie, the sequel will take place in present-day Salem. Audiences will follow the girls as they try to stop the witches from wreaking new havoc on the town's children.
If you can't wait until fall 2022 to get your witchy fix, 1993's Hocus Pocus is available to stream on Disney+ now.