Updated on 11/12/21
The Sanderson sisters are back, y'all!
Disney shared the official first look at the sequel, starring Bette Midler, Sarah Jessica Parker, and Kathy Najimy, on Friday, November 12 in honor of Disney+ Day.
First Set Photo
"They're already running amok, amok, amok! 🕯 @BetteMidler, @SJP, and @KathyNajimy are in production on #HocusPocus2," they wrote on Twitter.
The film, which is expected to premiere in Fall 2022, was one of many projects the streaming service teased on Friday. In fact, along with the Halloween favorite, they also revealed the Enchanted sequel, Disenchanted, will also be premiering in Fall 2022.

Who's ready for some Disney magic next year?!
Fall 2022 Release
Updated on 11/1/2021
T-minus one year until we get Hocus Pocus 2, everyone!
Disney+ announced on Halloween that the highly anticipated sequel will be dropping on the streaming service in Fall 2022. And, while much of the original cast is returning, they'll also be adding a few new faces to the bunch as well!
In fact, Arrested Development's Tony Hale and Ted Lasso's Hannah Waddingham have both signed on to appear in the movie, as have Sam Richardson, Whitney Peak, Lilia Buckingham, Belissa Escobedo, Doug Jones, Juju Brener, Froy Gutierrez, Taylor Henderson, and Nina Kitchen.

Start the countdown now!
Original Cast Wants to Return
Updated on 10/18/2021
The Hocus Pocus sequel has original cast member Vinessa Shaw reminiscing about their time on set — and hoping she might make a return to Salem.
Shaw, who played Allison, recently spoke to Entertainment Tonight about her time on set while filming 1993's Hocus Pocus, and talked about whether or not she'll appear in the sequel.
"It basically was everything I could have dreamed of in a movie like that," Shaw said of the hit Halloween flick. "It was [one of] my favorite projects I've worked on."
She also spoke about how they managed to get Binx, the immortal boy-turned-cat that helps save the day, do all those stunts, and perform on cue.
Binx was created from a combination of CGI and several professionally trained cats.
"What was so cool about the cats was there was literally a wall of cats that all could do one thing, so they trained them to do one thing," Shaw explained. "So if they jumped on your shoulder, that was the one thing they could do. Or if they slept on you while you were holding them, that was the best cat for that job."
As it turns out, the actors relied on buzzers and cat food to get the desired actions from all the trained cats.
"You press the buzzer and then the cat does whatever it does, so we're hiding these buzzers in our pocket and had to feed them cat food during rehearsals so they would know to follow us, jump on us, sleep with us," she revealed.
As for whether or not Shaw will return to Salem for Hocus Pocus 2, she said there's no plan — but that she'd jump at the chance.
"I haven't heard anything," she told ET about reprising her role. "I know, it's so disappointing. I would love to do the sequel. It would be so much fun. I think there's just a different storyline with younger people, but why can't we all come back in some way?"
Hocus Pocus 2 starts filming this month. While the original was filmed in Massachusetts and Hollywood, the sequel is being filmed in Rhode Island.
Originally Published: 05/24/2021
It's more than just a bunch of hocus pocus — the Sanderson Sisters are back!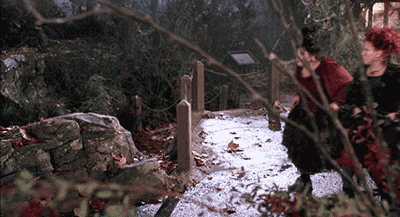 Walt Disney Pictures announced that they are moving forward with a sequel to 1993's Hocus Pocus, and the original trio of witch sisters are all on board to reprise their roles.
It may or may not have started as an internet hoax. If you remember, Snopes debunked the idea of a Hocus Pocus 2 several years ago after the rumor picked up speed and spawned a faked movie poster. Bette Midler even fielded multiple questions about the possibility of a sequel during a Reddit AMA.
Needless to say, the immortality-seeking witches put a spell on audiences over the years, and the idea of a Hocus Pocus sequel sparked plenty of interest.
Disney Moving Forward With Hocus Pocus Sequel
Perhaps the excitement from fans was too much for Disney to ignore. Debunked rumor or not, Hocus Pocus 2 is officially happening! It was announced at last year's Investor Day event that the studio would move forward with a Hocus Pocus sequel. But now, we've got an official timeline.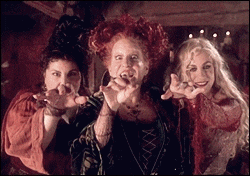 The sequel will premiere exclusively on Disney+ in the fall of 2022.
Production is set to begin this fall. Anne Fletcher (The Proposal, 27 Dresses) is stepping in to direct, taking over the role from colleague Adam Shankman who directed the original film. Shankman is currently working on another sequel for Disney+, but will serve as executive producer.
"Now more than ever, people need to laugh. We should be laughing every day, and there is so much fun to be had with these three unbelievable women playing delicious characters from such a beloved film," said Fletcher in a press release. "I am so grateful to be able to play a part in bringing these witches back to life, and to be working with my friends at Disney again makes it all the more special. This is a movie for everyone, from the fans who grew up with the first film to the next generation of viewers, and I can't wait to get started."
Getting a spooky sequel to the cult classic film is exciting enough on its own. But there's more to get excited about: all three of the witches are back! It has been confirmed that Bette Midler, Sarah Jessica Parker, and Kathy Najimy will reprise their roles as the Sanderson Sisters.
Bette Midler took to Twitter to confirm the news, too.
So What's Hocus Pocus 2 About?
By the end of the original film, we see Winifred Sanderson and her dimwitted sisters turned to dust after being outwitted by Max Dennison and crew. As it turns out, though, the Sanderson Sisters can't stay gone forever. The spooky sequel will see the sisters summoned back to life by three young women. Similar to the original movie, the sequel will take place in present-day Salem. Audiences will follow the girls as they try to stop the witches from wreaking new havoc on the town's children.
If you can't wait until fall 2022 to get your witchy fix, 1993's Hocus Pocus is available to stream on Disney+ now.