It may not have been hard for Elle Woods to get into Harvard, but she was seemingly rejected from another prestigious law school. Well, sort of.
Reese Witherspoon, who starred as the beloved Elle in Legally Blonde, revealed on Monday, October 25 that Harvard University wasn't the film's first choice for law school.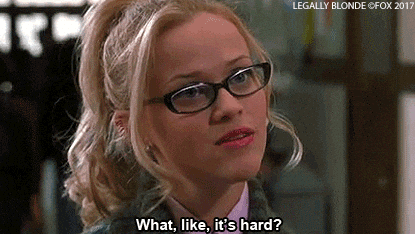 In fact, it sounds like the producers wanted Elle to stay on the west coast for post-grad.
Harvard Was Their Second Choice
The reveal that Harvard was the film's second choice came earlier this week when Insecure star and creator Issa Rae revealed her alma mater, Stanford University, broke their "no filming" rule so the show could film on campus grounds.
"Shout out to @Stanford for breaking their 'no filming' rule for us!" she tweeted.
Witherspoon then responded to Rae's tweet and revealed they initially wanted to film Legally Blonde at Stanford, but they said no!
"This is major! Fun fact: They would not let us film Legally Blonde there. So we went to Harvard instead," she wrote.
"Also Proud @Stanford alum here.. Fear the Tree!"
Who wants to bet Stanford deeply regrets not allowing Legally Blonde to film on their campus?!
The Book the Movie Is Based on Is Set at Stanford
Legally Blonde is a classic, but many don't know the movie is actually based on the Amanda Brown novel by the same name.
But, unlike the movie, the characters in the book actually attend Stanford! This would explain why the producers wanted to film there before ultimately deciding on Harvard.
Witherspoon Also Wasn't the First Choice
While it's hard to imagine anyone other than Witherspoon playing Elle, she was not the producers' first choice for the role.
In fact, they initially wanted Christina Applegate to play the part, but she ended up turning it down!
"The script came along my way and it was right after I had just finished, Married […with Children], and it was a blonde who in that first script didn't win it but ends up going to Yale, or Harvard, I don't remember," Applegate told Entertainment Tonight back in 2015.
"I got scared of kind of repeating myself. What a stupid move that was, right?"
Witherspoon then took the role just one year after she herself dropped out of Stanford and well, the rest is history!