And just like that, Batman returns.
Robert Pattinson has traded his sparkly vampire skin for a cape and cowl in 2022's The Batman. Pattinson's Dark Knight uncovers corruption in Gotham City and pursues the Riddler, all while falling for Catwoman.
This makes Pattinson the next in a long line of actors who have played the caped crusader, starting all the way back in the 1940s. Each one of them has brought their own unique interpretations to the role – and some are definitely better than others.
With The Batman in theaters, let's take a look at all the different live-action portrayals of Batman over the years!
Lewis G. Wilson
Long before the campy 1960s Batman series or the Dark Knight we know today, Lewis G. Wilson was the first guy to slip into the Batsuit on screen. He was also the youngest to play an adult Batman, being only 23 at the time.
This first on-screen appearance of DC Comics' Batman was done by Columbia Pictures. The series was simply called Batman. It consisted of 15 chapters and pitted the Dark Knight against original villain Dr. Daka, a Japanese Imperial spy played by J. Carrol Naish. (WWII-era entertainment means beating up Japanese people and overt racism, right?) The series was also the first to introduce elements like the Bat Cave and the secret entrance from inside Wayne Manor.
Although Wilson was the first on-screen Batman, he was critiqued on his physique and his voice. Most of his subsequent roles went uncredited, and he eventually left showbiz altogether. His son, Michael G. Wilson, saw a little more success in Hollywood, though. He became a producer and screenwriter for the James Bond franchise.
Robert Lowery
Columbia Pictures' Batman was commercially successful, despite criticisms of Lewis G. Wilson. Four years after World War II, Columbia made another Batman serial. New Adventures of Batman and Robin, the Boy Wonder (aka Batman and Robin) was released in 1949 and consisted of 15 chapters.
This time around, Batman was played by Robert Lowery as the Dynamic Duo faced off against the Wizard. Lowery was already known for roles in action films like The Mark of Zorro, The Mummy's Ghost, and Dangerous Passage. And although he only donned the cape and cowl for this one project, he did spend another 20 successful years in movies and TV – including a guest spot on The Adventures of Superman in 1956.
Adam West
Ah, the campy Batman and its theatrical feature film spin-off. This 1966 version of the Dark Knight (who isn't very dark at all!) is a classic. Adam West is the exact reason why this list goes in chronological order, versus being ranked by my (very subjective) standards. Why? Because Adam West is Batman, and you can't tell me otherwise.
This 1960's Batman never takes itself too seriously. West's Batman is upbeat and wildly entertaining, bringing those comic panels to life with a big KABLAM! across TV screens everywhere. And while he's busy being batty, it's easy to tell that he truly enjoyed playing the character. I'm still doing the Batusi!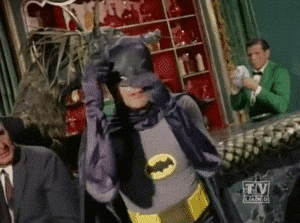 Michael Keaton
For more than 20 years, Adam West was the only on-screen Batman. That all changed when Tim Burton stepped in to direct 1989's Batman. But comic fans were… less than enthused with his choice for Batman himself, though. Michael Keaton just didn't seem like the right choice for an edgy, serious Batman, I guess. Something like 50,000 letters of protest flooded Warner Bros. offices. Fans assumed that casting the comedy star would turn the movie into a campy Adam West-esque adaptation.
Fresh off their previous project together, Beetlejuice, it seems like Burton and Keaton knew what they were doing. It was actually producer Jon Peters who first suggested casting Keaton because he wanted "a guy who's a real person who happens to put on this weird armor."
Keaton managed to bring a balance to the character, making him relatable but also particularly lonely. He is serious and intense, but also charming. He proved all those nay-sayers wrong. Which is good, considering he had to stand up to one of the greatest-cast bat-villains we've seen, in my opinion: Jack Nicholson's Joker.
It went so well that he reprised the role for the sequel, Batman Returns. This is where we get even more amazing villains, including Michelle Pfeiffer as Catwoman.
Val Kilmer
Although 1995's Batman Forever is a sequel to 1992's Batman Returns, Batman himself (Michael Keaton) didn't return. Instead, Val Kilmer took over the Bat-role, as he tries to stop Two-Face and the Riddler (Jim Carrey in a green bodysuit and fiery red hair) from completing their villainous scheme to control Gotham.
Director Joel Schumacher was impressed with Val Kilmer's performance in Tombstone, and Kilmer was a huge fan of Batman. Unfortunately, the two reportedly clashed on set, with Schumacher calling him "childish and impossible."
As for his on-screen performance, it polarized critics and audiences alike. Plenty of people compared his performance to Michael Keaton's, which is understandable. However, he was praised for his ability to separate Bruce Wayne and Batman as two separate entities.
George Clooney
Val Kilmer left the bat cape behind to film another project, so George Clooney was tapped to take on the role for Batman & Robin. His movie career was just taking off, after making the leap from the small screen with movies like From Dusk till Dawn and One Fine Day. I bet producers really thought they had something when they snagged Clooney to play the masked crusader.
Spoiler alert: they didn't.
The movie was widely panned and Clooney's performance was heavily criticized. Did anyone else feel like Clooney didn't want to be there? Maybe it was the Batsuit nipples that made him want to leave. He even apologized.
The film's failure isn't just on Clooney's shoulders, though. Critics pointed at a weak script, weird costume design, and Mr. Freeze's one-liner jokes. The film earned itself 11 Razzie Award nominations. Big names like Arnold Schwarzenegger, Uma Thurman, and Alicia Silverstone couldn't save it. In fact, it goes down in history as one of the worst superhero movies of all time.
Christian Bale
Director Christopher Nolen was in charge of reinventing the Batman franchise after Batman & Robin's box office blunder. Nolen chose Bale because "he has exactly the balance of darkness and light that we were looking for."
Bale brought a darker, more serious Caped Crusader for 2005's Batman Begins. He managed to convey layers of nuance. He might have tons of money and high-tech gadgets, but he is still just a guy struggling with his tragic past.
The film and Bale's performance were mostly met with widespread praise, and we ended up with an entire Dark Knight trilogy. The only criticisms? A lot of people didn't really like Bale's gravelly Bat-voice. Even Kevin Conroy, the voice of animated Batman in many TV series and movies, called it "ridiculous."
David Mazouz
Okay, so David Mazouz technically plays Bruce Wayne before he goes down the Dark Knight path, save for a few seconds of screen time in the Batsuit. However, I still feel like we should include him on this Bat-list.
I know that the focus of Gotham isn't really about Batman. It follows James Gordon during his early days at the Gotham City Police Department. But it does give us a glimpse of Bruce Wayne during a time period that is usually skipped over in Bruce/Batman portrayals. I feel like Mazouz does a decent job as Bruce Wayne on the show, and we did get like seven seconds of a silent Mazouz in the Batsuit.
Gotham is over, but there is an Alfred-centered spin-off called Pennyworth coming, so maybe we'll see Mazouz again.
Ben Affleck
Fans were less than enthusiastic about Zack Snyder's choice to cast Ben Affleck. Snyder defended the choice, saying, "I definitely wanted an older Batman. I wanted a war-weary batman. That's why, in a lot of ways, Ben was perfect for me."
Luckily for Snyder, Affleck didn't take offense to being called old or "war-weary."
Batman v Superman: Dawn of Justice turned a profit, but audiences and critics alike didn't hold back as they judged the pacing, overall tone, and extensive use of CGI. At least Bat-Fleck alone wasn't that bad. The actor did a solid job with Bruce Wayne's brooding, disillusioned hero schtick, and Affleck himself has a sort of charisma that other Bat-actors haven't really had.
Robert Pattinson
Much like with Michael Keaton and Ben Affleck, fans were quick to ridicule this casting choice. What on earth was director Matt Reeves thinking, casting a sparkly vampire to protect Gotham City?
As it turns out, he doesn't just shine (see what I did there?) as Edward Cullen in the Twilight franchise – he also makes a magnificent Caped Crusader. Pattinson has been praised for his portrayal of the Dark Knight, with critics saying his Batman is moodier, more intense, and more menacing than any before.
I'll leave it at that because I don't want to drop any spoilers here. The Batman is intended to launch its own universe with sequels and TV series, so get used to seeing Pattinson as Bruce Wayne and the Dark Knight.