You don't have to be scared 24/7 to enjoy Halloween. In fact, you don't even have to be scared at all to get into the holiday spirit.
While it may feel like the only way to properly celebrate All Hallows' Eve is to curl up on the couch and watch a horror film through your hands, you can still enjoy the spooky season if horror just isn't your thing.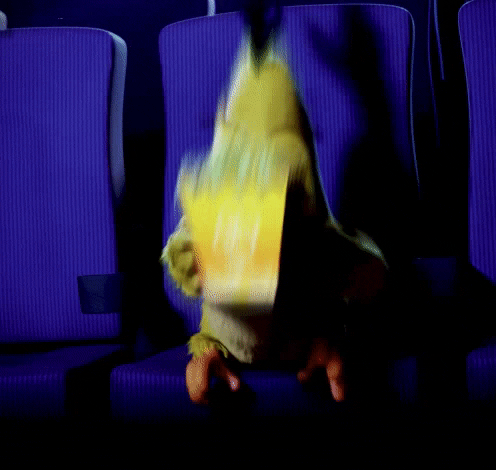 In fact, there are plenty of Halloween movies that'll actually put you in a good mood rather than keep you up all night for fear of a ghost in your closet or a murderer outside your house.
If you'd rather go to bed feeling happy and positive about the Halloween season, here are a handful of movies that'll put you in a good mood.
Hocus Pocus
Hocus Pocus is the classic Halloween movie that'll put you in a good mood. Some may say it's a touch basic, but they'd be completely wrong.
In fact, what's even a Halloween season without Hocus Pocus?!
Starring Bette Midler, Sarah Jessica Parker, and Kathy Najimy, this film has everything you could want in a Halloween movie — witches, Salem, spells, and incredible costumes. It also has to be one of the most rewatchable Halloween movies of all time.
Ghostbusters
Who you gonna call….when you're a scaredy cat and don't want to watch a horror film this Halloween? Well, Ghostbusters, of course!
And I'm talking about the original Ghostbusters starring Bill Murray, Dan Akroyd, Harold Ramis, and Ernie Hudson (though the sequel and reboot aren't that bad). This 1984 classic will keep you laughing all Halloween season long–and singing the theme song non-stop.
Casper
Why watch a movie about a scary ghost when you can watch a movie about a friendly ghost instead?! This 1995 classic stars Christina Ricci as a 13-year-old who initially befriends a ghost named Casper and winds up developing a crush on him.
It may sound a little strange, but there were countless people who watched this film over 25 years ago who also developed a crush on Casper (played by Devon Sawa in human form). This is also a great movie to watch with young kids who may jump at the sight of scary monsters.
The Addams Family
"They're creepy and they're kooky, mysterious, and spooky, they're all together ooky, the Adams family."
Apologies if The Addams Family theme song is now permanently stuck in your head, but there's a reason why it's so dang catchy! This Halloween comedy is about a fairly creepy family, but by the end of the movie you'll find yourself actually wanting to live with Addams Family.
The Nightmare Before Christmas
The Nightmare Before Christmas is one of the best movies you can watch to get into the spooky spirit. When the Pumpkin King of Halloween Town, Mr. Jack Skellington himself, winds up in Christmas Town, he decides to take over the holiday. But things don't necessarily go to plan.
You'll immediately get into the Halloween spirit after turning this film on, even if it does spook you just a little bit. This is also a great movie to have on in the background if you're hosting a Halloween party at your house.
Halloweentown
Calling all millennials! This is the good-feeling Halloween movie you'll want to watch this fall (alongside Hocus Pocus).
Not only is it a Disney Channel original movie (which means it contains positive vibes only), but it also has a number of sequels so you'll be able to stay in the Halloweentown world for hours.
Plus, it stars Debbie Reynolds, for crying out loud! And, while it is about a family of witches, you won't be scared at all.
The Witches of Eastwick
The Witches of Eastwick not only stars an incredible cast, but it's one of the funniest Halloween movies out there (if you can even call it a Halloween movie).
Starring Michelle Pfeiffer, Susan Sarandon, and Cher, the film is about three witches who use their magic to get back at a town charmer, played by Jack Nicholson. It really doesn't get much better than a movie starring those four, does it?! Just be advised that this one is not for the kids.
Double, Double, Toil and Trouble
Even if you didn't grow up in the '90s and early 2000s, there's a good chance you've seen a Mary-Kate and Ashley Olsen movie or two.
So, if you really want to take it back to your childhood this Halloween, you should definitely watch Double, Double Toil and Trouble. Not only are Mary-Kate and Ashley so little (which is kind of fun to watch), but the movie itself is pretty cute. You'll be immediately transported back to 1993.