Buckle up folks, because Lady Gaga has just entered the Oscars conversation once again.

Following her incredible performance in A Star Is Born (2018), the pop star is making her return to the silver screen in Ridley Scott's House of Gucci.
To learn what the movie is about–and enjoy the internet's bonkers reaction to the trailer–keep on reading!
Based on a True Story
If you're wondering if House of Gucci is about the luxury designer brand Gucci, you'd be absolutely correct!
More specifically, the biopic is about Italian socialite Patrizia Reggiani (played by Gaga), who married Maurizio Gucci, the grandson of the fashion house founder Guccio Gucci in the early '70s.
Based on the book The House of Gucci: A Sensational Story of Murder, Madness, Glamour, and Greed by Sara Gay Forde, the film will follow the husband and wife as they go from loving partners to sworn enemies.
Gaga's Ready to "Kill" It
While Gucci and Reggiani lived a life of extreme luxury for many years while raising their two daughters, things started to turn sour after Maurizio was caught having an affair with a younger woman in the '80s. The couple then decided to split ways, but that didn't stop Patrizia from wanting revenge.

In fact, in the mid-90s Patrizia hired a hitman to kill Maurizio outside of his office.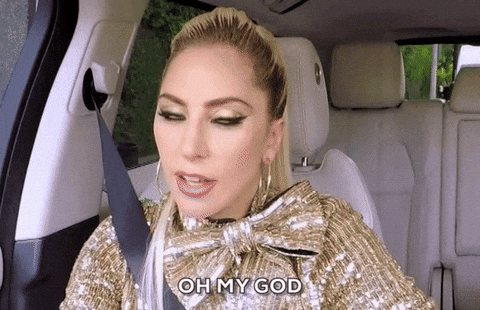 Patrizia was eventually convicted of planning Maruizio's murder in 1998 and was sentenced to 29 years in prison. However, she only served 18 years and was released in 2016.
And yes, this all really happened.
Who Is Starring Alongside Gaga?
While there's no question Lady Gaga is the star of the show, there are a number of other incredible actors appearing alongside her.
Adam Driver plays her ex-husband Maurizio (which is impeccable casting if you look up a photo of the real Maurizio), Al Pacino plays Aldo Gucci, the son of Guccio Gucci, and Jared Leto (in insane prosthetics) plays former Gucci vice president Paolo Gucci. The film also stars Jeremy Irons, Salma Hayek, and Camille Cottin.
The Trailer Broke the Internet
So, because of Lady Gaga's star power and the insanity of this true story, movie lovers couldn't wait to get a taste of the film when the first trailer dropped on Thursday, July 29.
Let's just say it did not disappoint.
There's Gaga dripping in diamonds. There's Gaga kissing Adam Driver. Oh, there's Gaga skiing on some beautiful mountain somewhere in Italy!
As the Italians say, it's perfecto.
And, as to be expected, the internet had some strong feelings about the highly anticipated trailer.
Now, that's not to say the trailer's not without its faults. The accents are all over the place, Jared Leto's prosthetics are very distracting, and there's a solid chance this movie crashes and burns.
But c'mon, it's a movie about a socialite who marries into an extremely wealthy family and then hires a hitman to kill her husband… what more could you want?
Catch The House of Gucci when it lands in theaters on November 24.