(Spoiler warning — major Marvel casting news revealed below. Proceed with caution!)
It sounds like the Marvel Cinematic Universe is looking to usher in Phase 4 in style(s).

Yep, that's right folks — Harry Styles has reportedly joined the MCU and fans are absolutely losing their minds.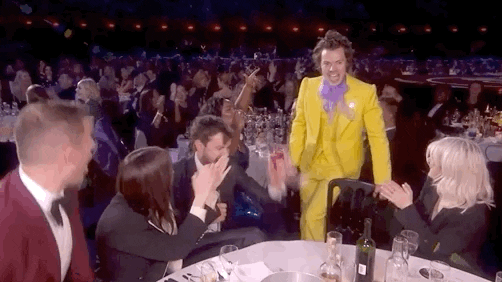 The big news was revealed following The Eternals world premiere in Los Angeles on Monday, October 18.
From what character he is playing to all the crazy fan reactions, please keep reading.
Post-Credit Scene Spoiler
The reveal of the former One Direction star came during one of the film's post-credit scenes, in which he's revealed to be Eros, brother of Thanos.

"Big reveal from #TheEternals premiere — Harry Styles has joined the MCU as Eros, brother of Thanos," Variety's Matt Donnelly tweeted following the premiere.
It's unclear where the post-credit scene takes place and if this means he's going to be in The Eternals sequel, but it's certainly a major reveal that'll affect the MCU moving forward.
Who Is Eros?
Diehard MCU and comic book fans may know exactly who Eros is, but for the casual MCU viewer, this casting news may have some scratching their heads.
"Who is Eros? What does he do? Is he a bad guy?"
According to Marvel.com, "Eros grew up on Titan alongside his brother Thanos, embracing all the pleasures that life has to offer. He later becomes Starfox and an official member of the Avengers."
So, while Thanos was the Big Bad in the MCU across many films, it looks like Harry's character will be one of the good guys.
As for his powers, Eros can emit a personal force field that allows him to fly underwater, in space, or really anywhere he chooses.
He also "possesses the ability to stimulate the pleasure centers in other people's brains, often emitted unconsciously, causing a euphoric effect. With concentration, he can amplify the effect to cause euphoria, arousal, pacification, and/or sedation. Beings without pleasure centers, including Thanos, are immune to this effect."
Following Avengers: Endgame, in which Ironman and Captain America hung up their helmet and shield for good (well, one of them didn't really have a choice), it was only a matter of time before the MCU began ushering in a new wave of stars.
Read More: He's Got a Point — Billy Porter Calls Out Vogue For Harry Styles Cover
Fans Go Crazy
Needless to say, this casting revelation caused mass hysteria on social media.
"When Harry Styles shows up in the MCU. Audience squealed," another Variety editor, Marc Malkin, shared on Twitter.
"Harry Styles in the MCU. If you had told me that in 2014 I would've LAUGHED," one person wrote while another said, "I apologize in advance for the person i will become if harry styles really is in the eternals movie."
One other fan shared, "I know we joke about Harry Styles word domination but I'm starting to think it's not a joke anymore…"
MCU fans + Harry Styles fans? I don't know if the world is ready for this kind of team-up.