Potterheads, it's time to get excited!
A massive Harry Potter store is opening in Manhattan this summer, and it's taking wizarding to a whole new level — three new levels, to be exact.
Harry Potter New York Opens the Doors in June
The much-anticipated Harry Potter store is finally opening. Situated at 935 Broadway near the iconic Flatiron Building, Harry Potter New York is slated to open its doors in June. That's so close, Potterheads! The store's grand opening was originally scheduled for summer 2020, but "You-Know-What" pushed the big debut back a year. (Like everything else, am I right?)
Now the store is almost complete, and Warner Bros. has announced that Harry Potter New York will officially open on June 3.
Don't expect a regular store. This Harry Potter-themed shop is the kind of place dreams are made of. Spanning 20,000 square feet across three floors, it will house the largest collection of Potter products in the world. You'll also find larger-than-life griffin and phoenix statues, virtual reality experiences, and digital Enchanted Keys that work with the Harry Potter Fan Club app. Talk about a spellbinding shopping experience!
"It's been a really tough period in people's lives and by opening the Harry Potter store in the heart of New York City, we're looking forward to bringing some magic back into people's lives," said Karl Durrant, VP and General Manager of Warner Bros. Retail Destinations in an interview with Entertainment Weekly.
Durrant also revealed that they worked "directly with the filmmakers" to create the magical space.
"Thanks to this collaboration, we're bringing authentic props that come directly from the films and also authentic recreations," Durrant said. "From the Harry Potter films, you'll be able to find Harry's authentic wand on display, as well as Ron's, Hermoine's, and Dumbledore's wands. We have the original Golden Snitch, Harry's broomstick, Tom Riddle's diary with a basilisk's fang in the middle of it, and many other items."
15 Magically Themed Areas Across 3 Levels
The store will feature 15 different themed areas. You can also stock up on chocolate frogs and other treats in a Honeydukes-inspired area. And, there is a Wand Shop, where Potterheads can browse more than 50 wands — each inspired by different characters, locations, and props. There's even a Golden Snitch wand.
There's also a "personalization area." Here, fans can customize all kinds of merch, like engraving a wand, personalizing a house robe with embroidery, or embossing a journal.
Perhaps one of the most special parts of Harry Potter New York, though, is the art gallery. It will showcase the graphic art of the Wizarding World from the House of MinaLima, the graphic design duo behind Harry Potter and Fantastic Beasts film props.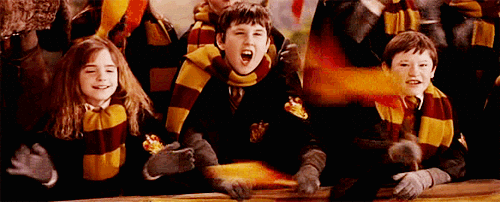 All in all, the flagship store is shaping up to be quite the experience for fans. It's also worth noting that many of the items will be unique to this store, and can't be purchased anywhere else. However, if you can't swing a trip to NYC for the grand opening, there are a limited amount of items available online at HarryPotterShop.com.