I really love Paul Reubens.
My mom likes to attribute it to all the years I spent watching Pee-Wee's Playhouse. Every time the show came on (long before streaming was ever a thing), I would put on my Pee-Wee's Playhouse tank top, drag my little toddler-sized table and chairs in front of the TV, and sit there glued to the screen for half an hour.
However, Paul Reubens has shown us for decades that he's a lot more than just Pee-Wee.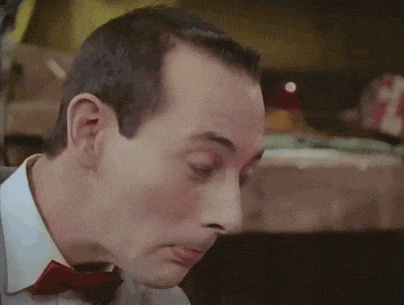 He first started as an improv comedian and stage actor in Los Angeles, joining The Groundlings in the 1970s. He started developing the character of Pee-Wee during that time, and by the early '80s, his stage show called The Pee-Wee Herman Show was a huge success. It ran for five sold-out months, turning Pee-Wee into a cult figure.
Reubens committed to the character completely. Starting with that stage show, and following through the next decade of movies and the Saturday-morning TV series, Reubens never appeared publicly out of character. He was Pee-Wee, every time he did public appearances and interviews.
Following his… less than savory arrest in Florida, he took a break from the character. We started seeing Reubens in small roles here and there. He pops up in Batman Returns, teaming up again with Tim Burton. He also plays wonderfully weird characters in Buffy the Vampire Slayer, Mystery Men, and Blow.
But did you know he had a role in the Star Wars franchise? And he shared the small screen with the late Robin Williams on Mork & Mindy!
Clearly, he's more than just Pee-Wee. So, what is Paul Reubens up to when he's not in the Playhouse? Apparently, a lot of things! Let's take a look at some of his best non-Pee-Wee roles over the years.
Tucker Cobblepot in Batman Returns
Who else would you pick to play the Penguin's biological father? In Batman Returns, his name is Tucker Cobblepot. He and his wife Esther, played by Diane Salinger, are part of Gotham's elite. While they don't have speaking roles, they play a pretty pivotal role in creating the deranged villain we all know later on.
Tim Burton directed Batman Returns, but he made his directorial debut with 1985's Pee-Wee Herman's Big Adventure, so you can probably figure these two already knew each other. Salinger, who played Esther Cobblepot, was also Reuben's co-star from Pee-Wee's Big Adventure. It's just one big Pee-Wee reunion!
Elijah Van Dahl in Gotham
Many years later, Paul Reubens came back as the Penguin's father figure again for the TV series Gotham. This time around, though, the character's name was Elijah Van Dahl – and the Penguin is still known as Oswald Cobblepot. He hasn't quite become the slimy villain we all know, but he's on his way. Oswald's backstory is different on Gotham than we've seen it in other iterations. Elijah is Oswald's biological father, and he accepts him despite his dark past.
Oscar Vibenius in Pushing Daisies
First of all, Pushing Daisies was a fantastic show and I am still mad it was abruptly canceled.
It's a show about a normal guy who makes pies, and also has the supernatural ability to wake people from the dead. After a private investigator discovers the pie-maker's secret, he hires him to help solve murders. The show had a unique visual style that made it feel almost like an illustrated storybook.
It was also full of quirky characters, so it was a great fit for Paul Reubens! He portrayed recurring character oscar Vibenius, a murder suspect with an incredible sense of smell. This "olfactory expert" was always at odds with rival olfactory expert Napoleon, and Oscar scoffed at his fondness for pleasant smells. Reubens' Oscar was more of a foul odor fan.
Dickie Nimitz in Mork & Mindy
Mork & Mindy has been off-air for so long (and didn't see a ton of syndication over the years), so I'll forgive you if you didn't see or don't remember Paul Reubens' guest appearance in an episode.
Reubens played Dickie Nimitz, a former classmate of Mindy's at their 10-year reunion. He's certainly not as eccentric as some of Reubens' other roles over the years but does garner some laughs as the organizing committee member who invites people to the library. Nimitz is also the one that fuels jealousy in Mork, causing him to travel back in time.
The Spleen in Mystery Men
Okay, we all know that Mystery Men wasn't exactly the greatest movie. While there were plenty of good things going on, like the whole superhero spoof and a stellar cast, it just didn't do much at the box office. Maybe it didn't come together like it should have, or maybe it was just a little ahead of its time. In any case, Paul Reubens as the Spleen is still great!
Look, his character's super ability is his flatulence that makes others faint. It's a bizarre role that couldn't have been played by anyone except Reubens. Take it all in, from the '70s garb to the speech impediment to the warts.
Mr. Vargas in The Blacklist
Although Vargas is certainly not the first villain that Paul Reubens has played, I do think it shows just how good he is at being the bad guy. Vargas never loses his cool, regardless of the disturbing things he does. He's eerily calm. However, Vargas is also an odd mix of both ruthlessness and vulnerability – he's both an efficient operative, and someone who can't stand the sight of blood.
Andrew J. Lansing in Murphy Brown
Paul Reubens had a six-episode run as one of Murphy's short-lived assistants – one of more than 90 secretaries. He portrayed Andrew J. Lansing, Stan's sociopathic nephew. Luckily for Murphy (played by Candice Bergen), he's lured away by another position, a promotion that he gained through nepotism.
This role actually garnered Reubens a nomination for the Primetime Emmy Award for Outstanding Guest Actor in a Comedy Series.
Amilyn in Buffy the Vampire Slayer
Before the Sarah Michelle Gellar-led TV series, there was a campy cult classic Buffy the Vampire Slayer movie. Paul Reubens was in this horror-comedy as the weasely vampire Amilyn, and his whole performance is quite the treat. He is clearly having the time of his life (I'm sure it was quite the change from Pee-Wee's Playhouse!) and it shows.
Fans of the cult classic probably remember Amilyn best for his… extra dramatic death scene. He's writhing, grunting, and taking literally forever, as Lothos smiles and plays the violin.
Gerhardt Messerschmit Rammstein Von Hapsburg in 30 Rock
30 Rock was already a great show, but Paul Reubens' guest spot is a bizarre bright spot in the first season. The role of Prince Gerhardt Messerschmit Rammstein Von Hapsburg was actually written specifically for Reubens, and he went all in to portray the oddball character.
In the episode, Gerhardt drinks champagne that he can't digest, so he can die happy. However, at Reubens' request, there was an alternate ending filmed, too. In the alternate ending, Gerhardt doesn't die, but Tina Fey felt the death was the best ending for the storyline.
Derek Foreal in Blow
If anyone can steal the scene from Johnny Depp, it's Paul Reubens – and that's exactly what happens in Blow, with Reubens as the charming Derek Foreal. The flamboyant hairstylist turned drug dealer probably wouldn't be the same if it weren't for Reubens filling the role. If we're being completely honest, he manages to steal every scene he's in, with that fabulous hair and charming personality.
Lock in The Nightmare Before Christmas
If you spent enough time watching Pee-Wee's Playhouse as a kid like I did, you likely recognized Paul Reubens' voice in The Nightmare Before Christmas immediately. It's another role in a Tim Burton classic, but this time it's a stop-motion animated film.
Reubens voices Lock, one of Oogie Boogie's menacing trick-or-treating kids who kidnap Santa Claus. The actor also regularly reprises his role as the masked henchman, singing the character's parts in live-to-film concert performances of The Nightmare Before Christmas.
RX-24 (Captain R3X) in Star Wars Rebels
It's been pretty common as of late to see celebs pop up in the Star Wars universe for a cameo, thanks to new Disney+ shows like The Mandalorian. But before all that, Paul Reubens was already there. He popped up as RX-24 (also known as Captain Rex) in the animated series Star Wars Rebels for an episode.
However, this wasn't his first voiceover work for a Star Wars project. RX-24 actually originated from the Star Tours attraction at Disney Parks. Back in 1987, Reubens voiced the character who guided the attraction. He was resurrected in 2019 for the opening of Star Wars: Galaxy's Edge.
Max in Flight of the Navigator
Paul Reubens didn't just happen upon a Star Wars voiceover for a Disney ride. He was hired for Star Tours after he voiced Max in Disney's Flight of the Navigator. He was actually credited as "Paul Mall" instead of by his real name to keep his identity secret from audiences until they get towards the end of the movie.
For most of the film, he gives a monotone, emotionless computer voice. Max is a sentient alien spaceship, after all. It's not until Max breaks into fits of Pee-Wee-esque gibberish that we know exactly who's voice it is!