What's better than one Spider-Man: Into the Spider-Verse sequel? Two Spider-Man: Into the Spider-Verse sequels!
The much-anticipated teaser for the sequel film dropped on Saturday, December 4, and revealed a lot about what's to come for our pal Miles Morales.
Christmas came early for Spider-Man fans, that's for sure!
Teaser Shared a Few Surprises
While the teaser did give away the name of the film — Spider-Man: Across the Spider-Verse (Part One) — in doing so it also revealed we'll be getting two sequel films!
In the trailer, Miles gets a visit from Gwen Stacy (aka Spider-Gwen), who encourages him to go on a little adventure.
We also briefly see Miles fighting Miguel O'Hara (aka Spider-Man 2099), who will be voiced by none other than Oscar Isaac.
Two Films Are on the Way
Following the release of the teaser, Spider-Verse writers Phil Lord and Chris Miller revealed they had way too many ideas for a follow-up film, which is why they decided to do it in two parts.
"Miles' story is an epic. We wrote what we thought the story needed to be, and to our surprise, we realized it was two movies instead of one," they told EW.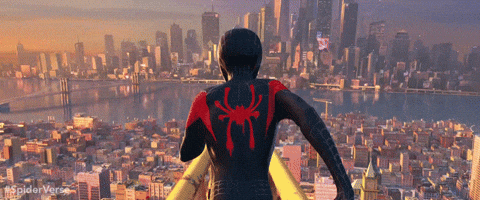 "We're working on them both as we speak. Part Two will be out sometime in 2023. We will sleep again in 2024."
Across the Spider-Verse (Part One) is expected to be released on October 7, 2022, so fans will only have to wait one year to get the next installment.
Different Characters, Different Universes
And, as to be expected with a film that deals with different universes, each one will be distinct.
"Every dimension looks and feels radically different from all the others. They all look like they were drawn by a different artist," Lord and Miller explained.
"Miles will reunite with some old friends and meet… a lot of new ones."
Does this mean we could be seeing Spider-Man Noir (Nicolas Cage) or Spider-Ham (John Mulaney) again?!
Guess we'll have to wait until October 7, 2022, to see what Miles gets up to in the Spider-Verse!