Hocus Pocus 2 is finally streaming on Disney+, just in time for spooky season!
Although it's only been a few days since the sequel was released, I'm willing to bet that most fans of the Sanderson sisters have already watched it. In the event you haven't, scoot on over to Disney+ and watch it already! It's the perfect way to get in the mood for Halloween.
Everyone's favorite wicked witches make their bewitching return to Salem, almost 30 years after the events of the first film. It's because another teenager lights the black flame candle, of course. The Sanderson sisters are hoping not to make the same mistakes they made the first time around as they set out to gain power before that imminent sunrise.
Hey, don't worry – it's all just a bunch of hocus pocus.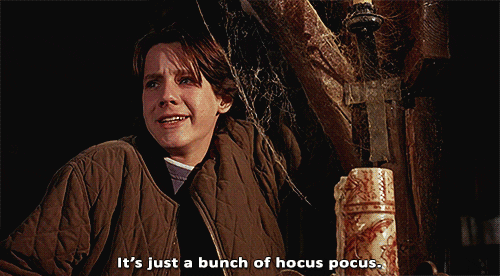 Bette Midler, Sarah Jessica Parker, and Kathy Najimy all returned to reprise their roles as Salem's most infamous witches. The film's original three kids are obviously no longer kids, so Hocus Pocus 2 features a new group of teens this time around.
Maybe I'm just full of nostalgia here, but 1993's Hocus Pocus is the best! 29 years after it came out, and I still watch it at least once every year. It just doesn't feel like Halloween until I hear Winifred Sanderson shrill, "Sisters!"
Related: Spooky Halloween Movies That Aren't Scary At All
If Halloween and the release of the sequel have gotten you in the mood for a few more spooky laughs, you can still catch the original Hocus Pocus on Disney+. But before you let those witches run amok, amok, amok for movie night, I have a treat! Let's take a look at some fun behind-the-scenes facts and details from the filming of Hocus Pocus.
It Was Almost a Very Different Movie
Hocus Pocus puts a lot of focus on Max, Allison, and Dani as they try to stop the witches from sucking the lives out of little children. But apparently, all that focus happened during editing, when a lot of scenes involving the Sanderson sisters ended up on the cutting room floor.
During filming, the movie "was really more about the witches and less about the kids," Kathy Najimy explained to SyFy Wire. There were a lot of scenes involving the three witches that never made it to the final movie.
The reasoning isn't so surprising, though. Disney wanted to make it more "kid friendly."
Bette Midler's Historically Accurate Insults
Winifred Sanderson had some of the best insults, like "maggotty malfeasance" and "trollimog." But these old-timey quips weren't actually done by the movie's writers. It turns out those historically accurate drags came from Bette Midler herself.
On set, Midler had assistants that followed her around carrying dictionaries filled with old curse words. She referenced the books and improvised her insults!
The Moths Were Real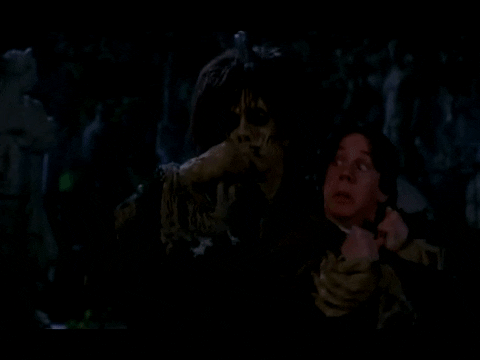 Remember when Billy Butcherson cut the stitches off his lips and coughed up dust and moths? If it looked realistic, that's because it was. Doug Jones actually had a latex pocket inside of his mouth that was filled with dust and live moths! When he coughed, everything came flying out. And yes, they had to do a few takes to get it right, so I can only imagine how much time was spent refilling his mouth with live moths. The Humane Society was on hand to supervise.
Real-Life Locations in Salem, MA Were Used for Exterior Shots
Many of the outside shots in Hocus Pocus were filmed in Salem, Massachusetts, where the film is supposed to take place. Although only two weeks were spent filming in Massachusetts, they made pretty good use of their time. If you take a trip to the real-life town of Salem, you will spot some of the highly recognizable buildings.
The high school was actually Phillips Elementary School, which had closed its doors right before filming. The adults' Halloween party is held in the Old Town Hall building, which is now a cultural and rental facility (so in theory, you could have your next costume party here, too). Allison's house is the Ropes Mansion in real life, and Max's home is a private residence.
I was most surprised to learn that Thackery Binx's 17th-century town of Salem was also shot on location in Salem, MA. No, that wasn't a soundstage recreation! It is actually a place called Pioneer Village, the oldest living history museum in the United States. It's three acres of colonial architecture that gives visitors a look at what 17th-century colonial life looked like.
Hocus Pocus Was a Box Office Flop
It's hard to imagine now, but Hocus Pocus was actually a flop when it was released in theaters. I'm talking about both a critical and commercial failure. Critics gave it negative reviews, and the film reportedly lost Disney around $16.5 million. I'm willing to bet the movie's summer release had something to do with its lack of popularity, though. Disney thought it would be a great idea to drop the witchy film in July for some reason.
Party-Goers Decked Out in Disney
When the adults are at the costume party, the actors are wearing old Disney costumes from previous projects. There wasn't enough of a budget to get new costumes for the party scene, so the costume designer used Disney's costume department. All of the actors in the scene are wearing reused costumes from previous live-action Disney movies.
Thackery Binx, Is That You?
Before he becomes a cat, Thackery Binx is played by actor Sean Murray. Well, sort of.
After shooting the scenes as human Binx, it was decided that he sounded a little too contemporary for a kid in the 17th century. So they had actor Jason Marsden – the voice of feline Binx – come back and dub over his performance. You'll likely know Marsden for his roles on shows like Step by Step, Full House, and Boy Meets World. Marsden has also been the official voice of Max Goof (Goofy's son) since 1995.
"Satan" and His Wife
Famous director Gary Marshall stepped on the other side of the lens to make a special guest appearance. When the witches head out during trick or treating and think they found Satan, it's none other than Gary himself. Satan's wife is also played by a very famous person: Gary's sister, Penny Marshall.
Satan's Devilish Dog
Ralph the dog chases the Sanderson sisters out of Satan's home after his wife gets tired of the witches' antics, but he wasn't a trained movie pup. Ralph was played by Kathy Najimy's real-life dog.
Did the Fountain Look Familiar?
Remember when Max, Allison, Dani, and Binx celebrated after locking the witches in the school's pottery kiln? Max and Binx chat while Allison and Dani turn cartwheels in the park. It probably didn't look familiar to anyone back in 1993, but rewatch it again and the fountain (and the buildings behind it) might look eerily familiar.
That's probably because this scene was shot on a Warner Bros. backlot in Burbank, California. A year after Hocus Pocus came out, that fountain became a lot more famous after it was used for the opening sequence of Friends. Nope, the infamous Friends fountain isn't in New York.
The backlot had also been used in other projects, like I Dream of Jeannie, Bewitched, and Wonder Woman. It was also used for promo photoshoots, like in the '60s for The Monkees. The fountain made it into hundreds of movies and shows since it was first put in place in 1937.
I Bet Binx Looks Familiar, Too
Binx was actually portrayed by several black cats. As any cat owner will tell you, cats are pretty independent, and you can't train them quite like dogs. There were actually several cats that were trained to do different tasks, along with a few animatronic cats and CGI, to create the Binx we see on screen. But it's those animatronic cats that might look eerily familiar when you rewatch the movie. The same animatronic puppet used to create Binx was also used for Salem on Sabrina the Teenage Witch from 1996 to 2003.
The Cast That Almost Was
It's hard to imagine anyone else filling the iconic roles on Hocus Pocus, but we almost had a very different cast. Before Kathy Najimy became Mary Sanderson, the role was first offered to Rosy O'Donnell. Leonardo DiCaprio was offered the role of Max, but he turned it down for What's Eating Gilbert Grape?
But the biggest surprise of all? The part of Winifred Sanderson was actually written with Cloris Leachman in mind! Personally, I can't imagine anyone other than Bette Midler in that role.
Where It All Came From
Where on earth did David Kirschner come up with the idea for Hocus Pocus? From his bedtime stories to his kids, of course. He used to tell his daughters a story about a boy who was turned into a cat after he tried to save his sister from three evil witches.
The cat, Binx, is named after a real-life black cat that Kirschner took in as a boy, too. The real cat's name was Inks.