It was in April of 1978 when the world was introduced to the Blues Brothers. Yes, you read that correctly — it's been over 40 years since blues musicians "Joliet" Jake and his brother Elwood made their worldwide debut.
It was in the gritty blues clubs of Chicago's South Side when the Blues Brothers got their break. They were discovered by Marshall Checker, of the legendary Checker brothers in 1969, and he handed them their big break some years later when he introduced them to music heavyweight Don Kirshner, the "Man With the Golden Ear" himself.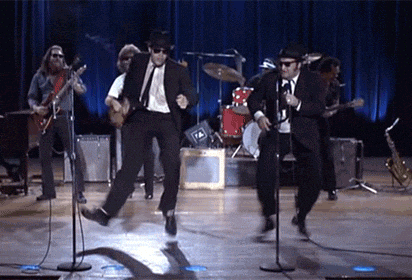 The Debut of the Blues Brothers on SNL
Okay, so that's not really true. But on April 22, 1978, that is what Paul Shaffer told Saturday Night Live audiences when he announced that night's musical guest, the Blues Brothers. They opened the show performing "Hey Bartender" and later performed "Soul Man."
Created by SNL cast members John Belushi and Dan Aykroyd, the Blues Brothers weren't quite real, but they also weren't entirely fake, either. In fact, they even released albums and went on tour.
On one (tattooed) hand, Belushi and Aykroyd were comedians and actors. But on the other hand, Aykroyd had a long-running obsession with blues and R&B, and it rubbed off on Belushi big time. It probably also helped that Belushi reportedly had a keen sense of rhythm thanks to being a professional drummer early in his career.
Creating the Blues Brothers Band
With the help of SNL band keyboardist Paul Shaffer, a real-life band of talented musicians was formed. The group included two other SNL band members, saxophonist Blue Lou Marini and trombonist/saxophonist Tom Malone. Steve Cropper and Donald "Duck" Dunn were brought in from Booker T and the M.G.'s, plus Juilliard-trained trumpeter Alan Rubin and guitarist Matt Murphy.
It was while opening for comedian Steve Martin at the Universal Amphitheatre in Los Angeles in 1978 that they recorded their first album, Briefcase Full of Blues. It went on to reach #1 on the Billboard 200 and went double platinum. The Blues Brothers then opened for the Grateful Dead on New Year's Eve in 1978.
Blues Brothers Transition to the Big Screen
Their success would go on to spawn a feature film, which was a really big deal at the time. Sure, we've seen countless movies come from popular SNL skits by now, like Wayne's World, Coneheads, and Superstar. However, in the 1980s, The Blues Brothers was the very first time a Saturday Night Live skit crossed over to the big screen with a feature-length film.
That wasn't the only reason The Blues Brothers movie was a big deal. The film, directed by John Landis, also featured some of the greatest musicians of all time. The likes of James Brown, Aretha Franklin, Cab Calloway, John Lee Hooker, and Ray Charles joined them for the wild ride on-screen.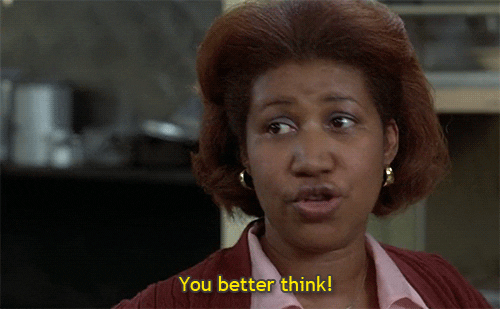 The success of The Blues Brothers is responsible for all those other SNL skit movies. Without Joliet Jake and Elwood Blues, we may have never seen Wayne and Garth on the big screen. The Blues Brothers saw mostly positive reviews and grossed over $115 million in theaters worldwide.
The Blues Brothers Added to National Film Registry
The movie became a cult classic. And in 2020, it was chosen for preservation in the National Film Registry. Each year, the Librarian of Congress names movies that are "culturally, historically or aesthetically" significant, and The Blues Brothers made the cut.
"Having The Blues Brothers chosen to be included in the National Film Registry is both a great honor and a delightful surprise," said director John Landis. "The film is the result of Dan Aykroyd and John Belushi's genuine passion for rhythm and blues and our mutual love for these great African American artists and the city of Chicago."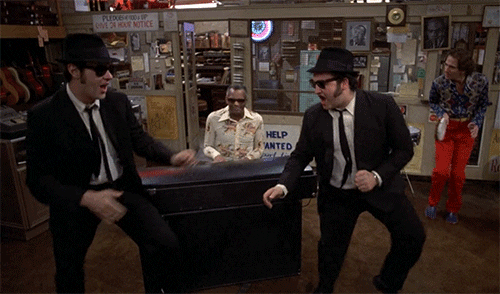 According to the Library of Congress, Aykroyd said that he and Belushi's widow, Judy, are "exhilarated to see the performances of the African American Musical stars in The Blues Brothers film formally treasured for all time by the people of the United States."
He also added, "We feel grateful at being participants in making the movie and for this most worthwhile cultural preservation initiative."