When the world was introduced to Bella Swan and Edward Cullen in 2005, Twilight became a cultural phenomenon. Twihard fans were everywhere, and it only intensified once Stephenie Meyer's books were adapted for the big screen. It seemed like everyone was split between Team Jacob and Team Edward.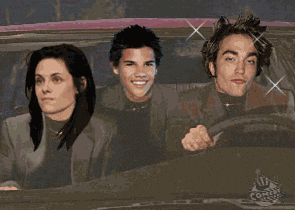 But while the Twilight franchise certainly boosted the careers of Kristen Stewart, Robert Pattinson, and Taylor Lautner, the actors haven't always had nice things to say about the saga.
Here's what they really thought about starring in one of the biggest, most divisive film franchises of the last twenty years.
Robert Pattinson
No one has had quite as much fun trashing the Twilight saga as Robert Pattinson. Ever since that first movie was released, Pattinson has been the most honest about his dislike of it. He made a valid point, though, when he said it was weird to be part of "something you don't particularly like."
That is also likely why he admitted that he has only watched the Twilight movies once: "either at the premiere, or just before the premiere."
That admission came from an interview with Chris Van Vilet. During that same interview, Pattinson said with a laugh that "a lot of stuff in the Twilight world doesn't make any sense." And he's probably right when he acknowledged that people would have thought it was a really weird story if Twilight hadn't been so successful.
"It's a really weird story. It's nuts. And the baby. And I had to give her a cesarean by chewing through a placenta. I don'tknow the medical — how it works. But there was definitely chewing through something."

Robert Pattinson to W Magazine in 2017
Top that off with his comment about how when he first read Twilight," and it's safe to say that Pattinson wasn't the saga's biggest fan:
"It was like it was a book that wasn't supposed to be published."

Robert Pattinson in an interview with E!
In his defense, Pattinson was the main target of tons of Twihards. For a while, he was even actively avoiding airports because fans would go nuts. We're talking about screaming and crying, trying to touch him, and even asking him to bite their necks. Eating in a restaurant could result in mobs and police having to show up for crowd control.
These days, the mobs have died down. I'm not saying Twihards aren't still out there, but at least Pattinson can probably get on a plane. He's also moved on to another big role: the Caped Crusader. Pattinson will be starring as the titular character in The Batman. The movie, directed by Matt Reeves, is set to hit theaters in March of 2022.
Kristen Stewart
Kristen Stewart took it a little easier on the saga than Pattinson, though the criticisms were still there. Most of her negative comments weren't so much directed at the movies themselves, but at everything else going on.
Although she was already known for appearing in movies like Into the Wild and Adventureland, Twilight pushed her into the spotlight. She was inundated with scrutiny by the media, who called her "moody" and criticized her lack of smiles. Her relationship with then-boyfriend Pattinson was constantly in the public eye, including their high-profile breakup.
"I would have been very happy just working from job to job, paying my rent one movie at a time. I never wanted to be this famous, I never imagined this life for myself."

Kristen Stewart to British GQ
Looking back in 2015, Stewart admitted that she gets it when people want to make fun of Twilight. But she added, "There's something there that I'm endlessly, and to this day, f–king proud of."
Even still, she focused on smaller independent movies for a while following the saga.
'I was finally given a chance to be looked at, not as this thing in this celebrity-obsessed culture that was like, "Oh, that's the girl from Twilight".'

Kristen Stewart during an interview with Elle
Taylor Lautner
Ah, Taylor Lautner — the one that never wore a shirt. You likely won't be surprised to learn that Lautner's biggest issue with Twilight was the fact that he was always shirtless.
"I'm always the only person with my shirt off," he once told E! News. "It's not fun."
Filming in "horrendous weather conditions" because "it's always supposed to be cold and gloomy and the sun can never be out" meant a lot of uncomfortable shirtless filming sessions.
"One, when we film these movies in like horrendous weather conditions and in the books it's always supposed to be cold and gloomy and the sun can never be out so that's not fun. And then the second thing is, I'm always the only person with my shirt off, so… I just wish everybody could, you know, do it once and then you know, it would make me feel more comfortable."

Taylor Lautner during a press junket
But the lack of a full wardrobe wasn't the only thing Lautner complained about. He definitely wasn't fond of the wig he had to wear in the first movie, either.
"The wig, it was a very important costar. There was hatred between both of us. It did not like me, I did not like it. Not fond memories."

Taylor Lautner to E! News
Playing shirtless werewolf Jacob Black also meant a lot of physically demanding workouts. In fact, he was almost recast when New Moon was in pre-production because director Chris Weitz wasn't sure Lautner could bulk up enough to play the "new, larger Jacob Black." Lautner had to weight-train extensively just to gain the muscle required.
Post-Twilight, all those shirtless scenes affected Lautner's acting career. Apparently, he was often asked to appear shirtless — which he refused to do. He has since appeared (fully clothed!) in the series Cuckoo and Scream Queens, along with roles in movies like Run the Tide and Grown Ups 2.
Anna Kendrick
Anna Kendrick, who plays Bella's mortal friend Jessica Stanley, wasn't shy when she talked to Vanity Fair in 2020. As it turns out, she doesn't have any fond memories from her days filming Twilight. It seems like the "cold and miserable" weather in Portland, Oregon is what put such a damper on it.
"I just remember my Converse being completely soaked through and feeling like, You know, this is a really great group of people and I'm sure that we would be friends at a different time, but I want to murder everyone.'"

Anna Kendrick to Vanity Fair
During the same interview, Kendrick also likened the experience to a "hostage situation."
"It was also kind of bonding. There was something about it — like you go through some trauma event. Like you imagine people who survive a hostage situation, and you're kind of bonded for life."

Anna Kendrick to Vanity Fair
As for the movies themselves, I don't think Kendrick is a big fan or anything. She has admitted that she has a hard time distinguishing between Twilight movies, because "they all start to blend into one at some point." She also once forgot she was even in the Twilight saga.
Nikki Reed
Actress Nikki Reed played vampire Rosalie Hale, the least friendly of the Cullen clan by far. And to be honest, her statements about Twilight aren't exactly friendly, either. When asked how she felt about the Twilight saga coming to an end, she made it pretty clear that she was ready to move on.
"I don't feel particularly sentimental. I feel like we're all sort of ready to graduate middle school and move on to whatever the next chapter is."

Nikki Reed to PopcornBiz
Her enthusiasm to move on is likely rooted in behind-the-scenes issues with costars, and the fact that most of her scenes in New Moon were cut. While Reed was once pretty close with Kristen Stewart, the "making friends" stage was clearly over by the time Breaking Dawn – Part 1 came out.
"In the beginning, it was innocent and fun, and we were like one big happy family — it was like being at sleepaway camp. And then success comes along and changes the dynamic. We're not all best friends, and we're not all going to hang out together after the final move is done."

Nikki Reed in Seventeen
Kellan Lutz
Kellan Lutz, aka Rosalie Hale's strong husband Emmett Cullen. Although he is best known for his role in Twilight, he has never been much of a fan of the saga. In fact, he didn't even understand how the whole thing made any sense at all.
"I didn't like the script. How scary would a glimmering vampire really be? It just doesn't make any sense."

Kellan Lutz to Document Journal
Elizabeth Reaser
Actress Elizabeth Reaser appears in all five Twilight movies as vampire matriarch Esme Cullen. Although she wasn't overly critical of the movie itself, she did have a bit of an issue with Twihard fans. She thought some of Twilight's older fans were out of line when it came to shirtless Taylor Lautner.
"Taylor was just 16 and still a boy when much older ladies would be asking me about his body. It was just really inappropriate."

Elizabeth Reaser to Fox News