Do you leave your TV on the background while you do chores around the house? Or have you ever played your favorite show in a tiny window on your computer as you work?
It turns out there's scientific evidence that background TV is actually good for us–or at least serves a psychological purpose. If you work from home or find yourself feeling isolated, then having TV on in the background can become a comforting presence. It helps you feel less alone and fosters a sense of connection to familiar, beloved characters.
But that's not all! Ambient noise–especially in the form of predictable television with low stakes–can actually reduce anxiety. Weirdly enough, background TV can both enhance focus during challenging tasks and keep you stimulated during boring chores. The trick is to pick something that is either very familiar or a show that has low stakes, such as a cooking program. You can read more about the science–and the potential downsides–here.
Not sure what to watch as background noise? It's not limited to HGTV–although that's not a bad place to start.
Reality TV Shows
Last year, I had Forged in Fire playing in the background while I worked on a big, time-consuming craft project. My attention darted toward the screen every now and then, but competition shows–along with cooking, renovating, and house-hunting–are very forgiving if you miss a little. Or even a lot. I focused up during the introduction and the weapon test, but everything else was essentially filler.
That's no shade on Forged in Fire, House Hunters, or Chopped. These shows are ideal for times when you're doing routine tasks that keep your hands busy but leave your mind free to wander. They keep us company while we're cooking, folding laundry, or pedaling on a stationary bike.
Depending on your viewing palate, you might prefer Real Housewives to Property Brothers. If having 90 Day Fiance blasting in the background is your idea of a good time, then more power to you.
My personal cup of tea is British competition programs. The Great British Bake Off (called The Great British Baking Show in America for silly copyright reasons) is the OG background show. The gentle music, pretty creations, and generally lovely people are as comforting as a warm scone and a cuppa. While there is sometimes drama on the show–Bingate!–it's so low-stakes that it won't raise your blood pressure or require too much of your attention.
Other fantastic reality TV programs for background viewing:
Terrace House
Queer Eye
Our Planet
How It's Made
Tidying Up with Marie Kondo
Blown Away
Good Bones
Barefoot Contessa
The Bachelor/The Bachelorette
Fixer Upper
Mythbusters
Sitcom Favorites
There's a good reason that streaming platforms fought for the rights to Friends and The Office. They remain some of the most popular shows in terms of pure hours watched all these years later. And, as the theme song promised, Friends really will be there for you. The comfort of rewatching a beloved TV show is on par with drinking a mug of hot cocoa while wrapped up in a fluffy blanket.
Almost all sitcoms are designed to be relaxing and predictable. The stakes are so low, you barely have to expend any effort to get through an episode. In our anxiety-fueled modern existence, Parks and Rec is a gift. Even better, many sitcoms run for multiple seasons, giving you plenty of episodes to binge-watch while you're working.
Don't worry. I won't tell your boss.
Sitcoms also provide that much-needed social interaction that we're often missing in our lives. I do realize that the cast of Brooklyn Nine-Nine aren't my actual friends. I probably wouldn't like them very much in real life. But hanging out with Jake and co. while I'm cleaning my living room is so soothing. I know that nothing truly bad will ever happen there. At the end of the episode, everything will be resolved. Where else can you get that kind of certainty?
More sitcoms for background viewing:
Bob's Burgers
Schitt's Creek
The Big Bang Theory
Living Single
How I Met Your Mother
New Girl
One Day at a Time
Scrubs
The Fresh Prince of Bel-Air
King of the Hill
The Golden Girls
Frasier
Cheers
Seinfeld
The Simpsons
Procedurals
Do you know what the most popular scripted show is on television? NCIS. The long-running procedural starring Mark Harmon is on season 19. The spinoff, NCIS: Los Angeles is currently airing its 13th season. Bones aired a staggering total of 246 hours of television–enough to keep you company for ten and a half days straight.
Procedurals, whether they're focused on solving crimes or saving lives in a hospital, follow a satisfying formula. A team of loveable characters faces a new mystery and solves it over the span of a broadcast hour. By the time the credits roll, the show gets a soft reset in preparation for the next episode's challenge.
To be fair, there's usually some gunfire and screaming along the way. Not what everyone finds relaxing, but for a certain mindset, Law & Order: SVU is better than a live feed of adorable golden retriever puppies. I'll sometimes turn on the Murder Show (AKA Criminal Minds) as background viewing, so I get it. And not just because of Reid.
Even more procedural shows to soothe your soul:
Grey's Anatomy
Castle
House
The Mentalist
Psych
Private Practice
The Closer
Monk
Chicago P.D.
Murder, She Wrote
ER
Supernatural Escapism
When I was in college, I knew a girl who studied while watching Buffy the Vampire Slayer in the background. She was an early adopter of the ambient TV trend, and I've since come to appreciate the comfort of having Buffy and the Scooby Gang join me while I'm doing things around the house.
Like procedural TV, supernatural dramas might not seem like the most soothing genre to those who aren't in the know. But when you've seen every episode multiple times, the monsters stop being scary and start feeling like old friends.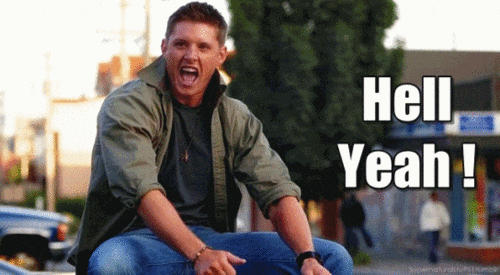 Shows like Supernatural or The X-Files that follow the "monster of the week" format aren't that different from sitcoms when you think about it. The shenanigans are a lot more bloody, sure. But at the end of 44 minutes, the monsters have (usually) been defeated and our heroes are ready for their next adventure.
Monster of the Week series to stalk your household chores:
Doctor Who
Xena
Fringe
Quantum Leap
Grimm
iZombie
Lost Girl
Warehouse 13
Haven
Charmed
Star Trek