Murder, drama, and even a little romance! The game is afoot, my friends, as we dive into the best mystery TV shows of all time.
Miss Fisher's Murder Mysteries
Set in the aftermath of WWI in Australia, Miss Fisher's Murder Mysteries is a breezy, sexy series featuring Essie Davis (The Babadook). If you like your murder mysteries set in the Roaring '20s with a side of sass, then this show is for you!
Luther
If you've been confused about why some people want Idris Elba to be the next James Bond, then you obviously haven't seen Luther. This brooding drama from the UK also features a mesmerizing performance by Ruth Wilson.
Endeavour
This isn't your grandparents' Inspector Morse. The beloved British sleuth gets the trendy prequel treatment in Endeavour (yes, that's the character's first name). Because this series is from the UK, there have been eight seasons and yet a total of 33 episodes.
Veronica Mars
Before she sang her heart out as Anna in Frozen and broke our hearts in The Good Place, Kristen Bell was a teen detective extraordinaire in Veronica Mars. The first season of this series is a television masterpiece!
Psych
Are most mystery shows a bit too dark for you? Then you need to check out Psych, the beloved comedy-mystery series starring James Roday and Dulé Hill. With 120 episodes and three follow-up films, there's more content than you can shake a pineapple at. (Just watch the show.)
Miss Scarlet and the Duke
Did you watch Bridgerton and wish there were more murders? Masterpiece's Miss Scarlet and the Duke is a six-part series set in Victorian London following the first-ever female detective in England. Sumptuous costumes and a thrilling will-they-won't-they romance make this a must-watch.
Person of Interest
Is Person of Interest a mystery? In the sense that all stories–and all lives–are mysteries, I'm going with yes. The long-running sci-fi/mystery/drama/thriller sees Jim Caviezel, Taraji P. Henson, and Michael Emerson solving crimes before they happen with the help of an all-seeing AI.
Only Murders in the Building
This kooky new series stars two comedy legends and… Selena Gomez? Amazingly, Gomez holds her own against Steve Martin and Martin Short. This Hulu original series follows a trio of neighbors as they get the chance to fulfill their true-crime podcast obsession with a real-life murder in their building.
Murdoch Mysteries
Head back to early 20th century Canada with the long-running series Murdoch Mysteries. The beloved historical police drama has gathered legions of fans over 15 seasons and recently launched a companion scripted podcast. There's plenty of Murdoch to enjoy as he uses then-groundbreaking techniques like fingerprinting to revolutionize crime-solving.
Murder, She Wrote
As with many of these long-running shows about small-town sleuths, at some point, you have to wonder why there are so many murders around Jessica Fletcher. Starring Angela Lansbury, the series ran from 1984 to 1996. A new generation of fans has rediscovered the show (along with other classics like The Golden Girls), so consider making this one a binge-watch for the whole family.
The Lost Room
Please allow me to suggest a deep cut from the ranks of a canceled-too-soon series. The Lost Room starred Peter Krause and Julianna Margulies in a brain-bending adventure through time and space. It all starts with a hotel key and ends with a globe-spanning search for ordinary-seeming items with terrifying powers.
Twin Peaks
Who killed Laura Palmer? The answer to that question isn't as important as the journey that David Lynch takes us on. His nightmarish vision of contemporary small-town America isn't the kind of thing you can let play in the background while you do chores (unlike these series). Carve out enough time to watch this one with your full attention–and don't try to binge-watch the whole thing.
Secrets of Sulphur Springs
Are you looking for a series to get your mystery-loving kids excited about? Secrets of Sulphur Springs is a new show from Disney that just wrapped its first season. Set in Louisiana, it follows the adventures of Harper and Griffin, two twelve-year-old amateur detectives, back in time to discover what really happened to the ghost who haunts the hotel where Griffin lives.
Mare of Easttown
If you haven't watched Mare of Easttown yet, what are you even doing here? The biggest mystery series of the past year had to be this Kate Winslet masterclass in acting. The suspenseful crime drama will have you guessing–gasping–until the finale.
Lupin
This French caper is the most-watched non-English series on Netflix. Starring Omar Sy as a man determined to avenge his family, Lupin is also one of the most critically acclaimed mysteries on this list. Check it out before Omar Sy's career blows up!
Frankie Drake Mysteries
If you've already watched all of Miss Fisher's Murder Mysteries, then you need to add Frankie Drake Mysteries to your must-see list. The series follows the crime-solving adventures of Frankie and her bestie, Trudy, in 1920s Toronto.
Broadchurch
First, make sure that you are watching the original British version of Broadchurch, not the totally unnecessary American remake. Starring David Tennant (Doctor Who) and Olivia Coleman (The Crown), this crime drama isn't for the faint of heart.
Sherlock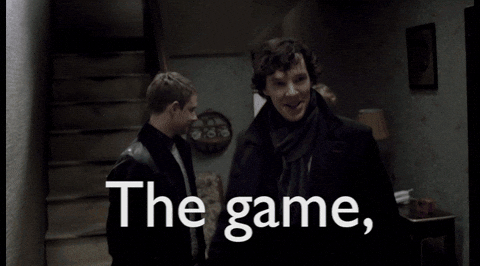 No list of fictional detectives would be complete without an appearance by Sherlock Holmes. While I'm a huge fan of the Jeremy Brett series, which is faithful to the Victorian setting of the stories, Benedict Cumberbatch's star-making turn as a modern-day Holmes is a cultural phenomenon.