Ellen DeGeneres announced on Wednesday, May 12 her plans to end her daytime talk show following its upcoming 19th season.

The comedian broke the news in The Hollywood Reporter and also addressed her decision to step away during her opening monologue for Thursday's show (which was filmed on Wednesday).

Read on to learn more about why she's saying farewell and what it means for the 63-year-old moving forward.
Shared the News With Her Audience
Stepping out to her virtual audience on Wednesday, May 12, Ellen broke the news that Season 19 (which will end in spring 2022) will be her last.

"The past 18 years … has changed my life. You all have changed my life. I am forever grateful to all of you for watching, for laughing, for dancing — sometimes crying. This show has been the greatest experience of my life and I owe it all to you," she shared.
The TV host then explained she always knew this day would come, especially when she decided to sign a deal for three more years back in 2019.

"I always knew in my heart that season 19 would be my last. The truth is I always trust my instincts. My instinct told me it's time," she explained.

"As a comedienne, I've always understood the importance of … timing. In all seriousness I truly felt like next season was the right time to end this amazing chapter."
No Longer a "Challenge"
As stated above, Ellen first broke the news about her show ending in The Hollywood Reporter, revealing she felt the show was "just not a challenge anymore."
The news of Ellen wrapping up her show also comes less than a year after her show was accused of workplace toxicity. Not to mention, the show has lost more than a million viewers over the course of the past year.
What's Next For Ellen?
Though she's looking forward to new creative projects, Ellen revealed her agent has been advising her to take a break once the show wraps up for good. Ellen, on the other hand, isn't sure she'll be able to do that.
"I'm like a Ferrari in neutral. I'm constantly needing to go. So, that's my first challenge, and then I'm going to figure it out," she shared.

"I wouldn't have thought I was ever going to do a talk show when I stopped doing movies and sitcoms. I thought that that was the only path. And then all of a sudden there was a talk show that took me on this 19-year journey."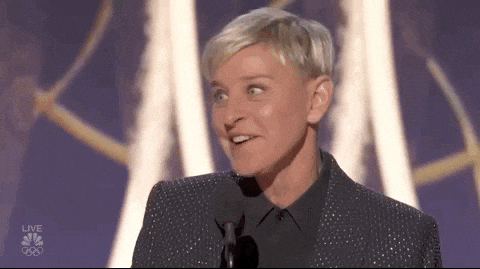 As for if she's looking to get back into acting? It certainly sounds like a possibility!

"A sitcom seems like a walk in the park compared to this, 180 shows a year. I don't know if that's really what I want to do next, but movies for sure. If there were a great role, I'd be able to do that, which I'm not able to do now," she said.

"I'm opening up my campus in Rwanda next year, and I want to be more involved with conservation and everything that matters to me as far as the environment and animals."
Season 19 is expected to begin airing on September 13, 2021.