Game of Thrones wrapped up its eight-season run back in 2019, but if George R.R. Martin had his way the show would've gone on longer.
So you're saying the series didn't have to end the way it ended?! Somebody get HBO on the line right now.
Martin "Begged" For Two More Seasons
In a new book called Tinderbox: HBO's Ruthless Pursuit of New Frontier, journalist James Andrew Miller revealed the GOT author begged HBO's former CEO, Richard Pleper, to extend the show two more seasons.
"George would fly to New York to have lunch with Plepler, to beg him to do ten seasons of ten episodes because there was enough material for it and to tell him it would be a more satisfying and more entertaining experience," Martin's agent, Paul Haas, told Miller.
Benioff and Weiss Had Different Plans
While HBO would've loved for GOT to last forever, showrunners David Benioff and Dan Weiss were ready to end the series after eight seasons.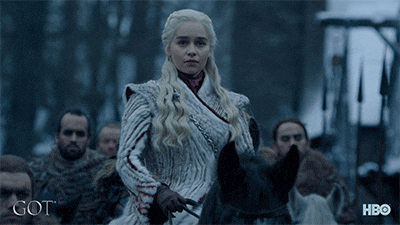 "Dan and Dave were tired, rightfully so. They were done, and wanted to move on, so they cut it short and then negotiations became, how many seasons can we stretch this out? Because of course HBO wanted more," Haas revealed.
Martin Did "Worry" About the Show's Path
And, despite the show being extremely successful throughout its entire run, Martin did become nervous about the path the show was going down following Season 5.
"George loves Dan and Dave, but after season five, he did start to worry about the path they were going because George knows where the story goes. He started saying, 'You're not following my template,'" Haas shared.
As fans know, the show is based on the book series A Song of Ice and Fire, which has still yet to be completed. Because of this very reason, Martin didn't love the idea of the show ending before the series ended.
But, in defense of Benioff and Weiss, Martin is still writing The Winds of Winter, a book he has been working on for almost a decade.
They couldn't have waited around forever, dude!
Would you have wanted GOT to go on for two more seasons?! If so, don't blame George R.R. Martin!