Dancing With the Stars is no stranger to controversy, but Season 30 already has some fans questioning the results.
In fact, following this week's elimination, certain viewers wonder whether this season is rigged. Has the eventual winner been decided from the start?
Read on to learn more about the speculation.
Halloween Week on DWTS
This past week was "Horror Night" on DWTS, which meant all the couples danced a Halloween-inspired routine.
The dances were spooky, creepy, and all-around incredibly creative, but one couple still had to go home at the end of the night.
And, unfortunately, that couple was Real Housewives of Atlanta star Kenya Moore and her partner, Brendan Armstrong, who were in the bottom two with Olympic gymnast Suni Lee and her partner, Sasha Farber.
Now, the way that the elimination works on DWTS is pretty simple — the two couples with the lowest combined judges scores and fan votes get sent into the bottom two.
Then, the four judges each pick a couple they would like to save, and whichever has the most votes gets to return next week.
While both Kenya and Suni have earned great scores throughout the competition thus far, Suni was earning higher scores from the judges and this past Monday was her first time in the bottom two.
Kenya, on the other hand, had been in the bottom two twice before and was saved both times by the judges. Clearly, when pitted against Suni, the judges had no choice but to send her home.
However, she was getting strong scores from the judges (though not as high as some other competitors), which is why certain fans are wondering if producers just wanted her off the show.
Has JoJo Siwa Been the Winner From the Start?
In fact, plenty of fans believe the show is rigged in favor of teen star JoJo Siwa, who is partnered with Jenna Johnson.
"More proof #DWTS is rigged! When JoJo gets all 10s AGAIN! When her performance was once again SLOPPY and not that great!! It's really REALLY sad that the people who DESERVE 10s don't get them..and only JoJo gets them," one person wrote on Twitter.
Another person wrote, "I hate that they did that. There is NO WAY you should be gone, but it's rigged I hope you know that…..JoJo Siwa was pinned to win before the show even started #DWTS #DWTS30 #RiggedShow."
Some even wondered if Kenya was sent home simply because she has to start filming the next season of RHOA.
"So then DWTS rumor being rigged IS true.. RHOA is filming and Kenya is needed so she had to leave the competition early," another shared on Twitter.
This Is How the Show Has Always Been
While it's clear Kenya's fans are frustrated with her departure, this is how DWTS has always been.
The judges' votes do count, but in truth, they don't count as much as the fan votes. Incredible dancers have left the competition early in past seasons simply because they were not getting the votes.
On the other hand, plenty of not-so-great dancers have lasted way longer than they should've because they were getting fan votes!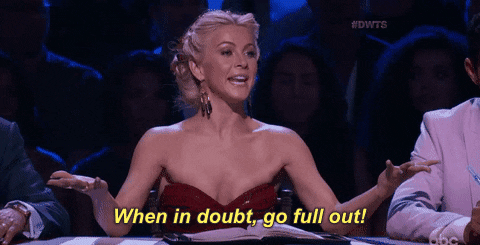 I mean, who could ever forget when Bobby Bones won the whole competition?!
Likewise, the show has always cast people who've had dance experience. Heck, there are more than a handful of people on Season 30 who have dance experience!
Simply put, the show is not always fair. But, that's why it's a reality competition show.