Updated on 12/8/21
Outer Banks is coming back for round three!
Netflix renewed the show for a third season on Tuesday, December 7, and it looks like the entire gang will be returning for another go.
Chase Stokes, Madison Bailey, Jonathan Daviss, Madelyn Cline, Rudy Pankow, Austin North, Charles Esten, and Drew Starkey will return as series regulars, while Carlacia Grant, who was introduced in Season 2, has been promoted to the main cast.
Many cast members reacted to the renewal, including Stokes, who wrote on Twitter, "and y'all thought we were done heheh #obx3."
Are you excited for OBX Season 3?!
What's Going on With Season 3
Updated on 12/7/21
Season 3 of Outer Banks may not happen, but it won't be because of Chase Stokes and Madelyn Cline's on-again-off-again relationship.
Stokes, who plays John B in the hit Netflix series, recently revealed the cast is waiting to find out if they'll even be renewed for a third season.
They're In "Limbo"
"We've got such a talented team of writers and so we always leave it up to them to sort of figure out the story. And every time we get a script it's just kind of blowing our seats off so I'm just excited to get my hands on it when and hopefully Netflix gives us the green light," he told Us Weekly.

"We're still patiently waiting, just sitting back trying to figure out when it's going to happen or if they're going to give us the call, if we're not going to get the call, so you know. … We're kind of in limbo right now. Obviously, the fans want it, we want to do it, so if the timing's right, we'll see, but fingers crossed."
Chase Stokes and Madelyn Cline Have Called It Quits
Original story (11/2/21)
We have some bad news to share, Outer Banks fans.
Chase Stokes and Madelyn Cline, who play John B and Sarah Cameron on the hit Netflix series, have reportedly called it quits.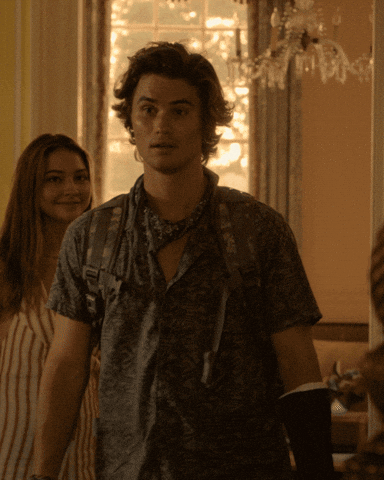 For all the details on their split and what this could mean for Season 3 of the show, keep on reading!
Ended Their Relationship a Few Months Ago
According to People, the 29-year-old and the 23-year-old actually ended their relationship a few months ago.
"Madelyn and Chase are no longer together. They were trying to work things out privately but broke up a couple of months ago," a source shared, while another source said, "They are definitely broken up."
The couple started dating in early 2020 after meeting while filming the first season of the Netflix series. Then, after the first season premiered in April 2020, the couple went Instagram official with their relationship in June 2020.
What Will This Mean For Season 3?
Nobody wants to see any couple break up, but it's safe to say their breakup is especially distressing for Outer Banks fans who want to see a Season 3. (More on if we actually need a Season 3 right here).
Not only do Stokes and Cline play a couple in the show, but fans are deeply invested in their character's relationship.
It's hard to imagine Outer Banks continuing without either John B or Sarah, but if their relationship ended badly (we're just speculating here!), Netflix may have to make a choice.
Will this mean John B and Sarah will have to break up? Will Sarah be forced out of the Pogues? We just have so many questions.
Co-Stars Have Continued Working After Breaking Up, But It's Not Easy
From Kristen Stewart and Robert Pattison in Twilight to Tom Holland and Zendaya in Spider-Man, co-stars dating is nothing new. However, it is very difficult for co-stars to continue working together if they break up during filming.

While some have managed to make it work — like Ian Somerhalder and Nina Dobrev in The Vampire Diaries or Penn Badgley and Blake Lively in Gossip Girl — it's not easy.
And, even if both Stokes and Cline decide to stay on the show, their breakup could affect how their characters interact with one another.
It may be hard to believe in John B and Sarah's love story if we know in real life the two actors don't get along.
There's so much uncertainty surrounding Season 3 of Outer Banks, but this news certainly makes things more complicated. Do you think the show can survive if these two are no longer together?!