If you thought Judge Judy was over for good, think again.
Despite the fact that the long-running courtroom reality series wrapped up earlier this year, Judy Sheindlin is back with another courtroom series, this time called Judy Justice.
Is this show basically the exact same as her previous show? Yes. Is she making millions of dollars with this new show? Also yes!
Stream on IMDB TV Now
While you can easily catch reruns of Judge Judy on CBS, you can also watch new episodes of Sheindlin handling petty disputes between former neighbors, couples, co-workers, and family members on IMDB TV right now!
The new series premieres today, November 1, with new episodes expected to drop every weekday.
Accompanied by bailiff Kevin Rasco, court stenographer Whitney Kumar, and law clerk Sarah Rose (who is also her granddaughter), Sheindlin is basically doing exactly what she did on Judge Judy, only this time she's wearing a burgundy robe instead of a black robe.
'Judge Judy' Still Brings in Viewers
Despite only airing reruns, Judge Judy still brings in millions of viewers. So, according to Sheindlin, the goal is to bring about half of those viewers over to IMDB TV.
"Viewers can still catch me at 4 o'clock, with my old hair. And the last time I looked, 'Judge Judy' was the number-one program in syndication in daytime television," she told the NY Post.
"If we can bring half of that 8 million-viewer audience with us [to 'Judy Justice'] that's terrific. The truth is, I think that my story, which I started 26 years ago after spending 40 years in the family court, is still relevant."
Should She Have Just Retired?
It would be easy to assume Sheindlin would hang up her gavel for good after wrapping Judge Judy. Not only was she bringing in about $47 million a year towards the end of the show's run, but her net worth is close to $440 million. Simply put, this woman does not need any more money.
But, even though she wanted to step away from daytime TV, the 79-year-old had no plans to retire.
"To what? For what? I like to work. I find that my blood pressure is best when I work because I think it's just as challenging to find something that gives you fulfillment, something to do if you still have energy," she shared.
"As long as I left Judge Judy after a quarter-century on top, which I did … it just felt perfect, and then on to another adventure with a big company where I had another year to think about it."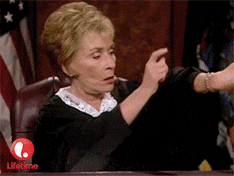 And, though her new salary has yet to be revealed, the TV icon did hint that she's being fairly compensated on her new show.
"Without giving you specifics, because that's a little unseemly, my compensation has not been a secret. It's been out there for a long time — not by me, but it got out there and had its own life," she told The Hollywood Reporter.
"So, the folks at Amazon understood what the parameters were."
You keep raking in that dough, Judy. Here's to the courtroom legend handling trivial legal issues for another decade!