Kate McKinnon has proven herself one of the strongest cast members on Saturday Night Live for the last ten years.
Very few actors-slash-comedians at Studio 8H have been as versatile and committed as McKinnon. Ever since she stepped onto that stage in 2012, she has proved over and over again just how talented she is.
The woman is a chameleon, able to transform herself into a wide range of characters including both made-up characters and real-life people. Over he years, she has kept us laughing with original characters like Hollywood legend Debette Goldry, cat lover Barbara DeDrew, and the abductee with unfortunate paranormal luck, Ms. Rafferty. But we can't forget her impressive impressions, like Ruth Bader Ginsburg, Hillary Clinton, and Justin Bieber.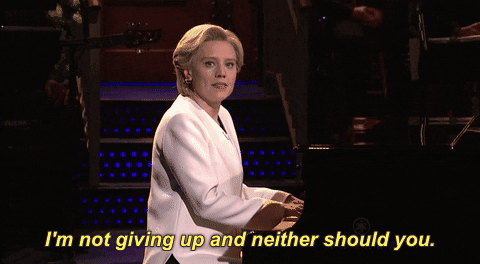 All that talent has earned her two Primetime Emmy Awards for Outstanding Supporting Actress in a Comedy Series.
Her tenure on the show makes her one of the longest-running SNL cast members. She also holds the title for the longest a woman has stayed on an SNL cast.
As they say, though, all good things must come to an end. McKinnon announced her departure from SNL after the season 47 finale. She did the cold open for the finale, recurring her role as Ms. Rafferty – but this time, she left Earth to rejoin the aliens permanently. McKinnon seemed a little choked up about the whole thing.
I have no doubt that we'll see McKinnon in plenty of projects in the future. She had already done plenty outside of the sketch comedy show while still starring in the cast. We saw her in the all-female remake of Ghostbusters, and she played none other than Carole Baskin in the Tiger King-based miniseries Joe vs. Carole. She also endorsed plenty, starring in commercials for Verizon and Ford Focus.
Confirmed projects include a role in the upcoming film Barbie, starring Margot Robbie and directed by Greta Gerwig. She is joined by Ryan Gosling, America Ferra, Will Ferrell, and more. She is also voicing a character in the upcoming DC League of Super-Pets, featuring voices from Dwayne Johnson, Kevin Hart, John Krasinski, Natasha Lyonne, and Keanu Reeves.
I am willing to bet she will bring the same level of commitment and energy to her new projects as she has to SNL over the last decade.
In honor of her long stint as a Saturday Night Live cast member, let's take a look at some of McKinnon's best SNL sketches.
Related: Our Favorite SNL Sketches of All Time
Barbara DeDrew Showing Off Adoptable Cats in a Whiskers R We Commercial
Kate McKinnon's Barbara DeDrew was a recurring character, so it was hard to pick just one moment. This particular skit serves as a commercial for her rescue, Whiskers R We, and all of the adoptable cats available at the rescue.
For the commercial, Barbara DeDrew gets a little help from Cat Moller, played by Charlize Theron. The available "cat-chelors" might be thieves, jaguars who eat bald eagles, and even feline sociopaths, but at least they are cute. It's a spring adopt-a-thon weekend, so stop by to pick up your "treasure wrapped in fur."
Debette Goldry Sharing Her Hollywood Experiences During the Actress Round Table
Although we all know that there's still progress to be made in Hollywood, it has still come a long way since legendary actress Debette Goldry – McKinnon's character – first started in the business. Goldry is joined by some of Hollywood's top actresses, including Kiera Knightly (played by Margot Robbie), Lupita Nyong'o (Sasheer Zamata), and Marion Cotillard (Cecily Strong).
For the New York Film Festival Women's Round Table, the actresses share their experiences as women in Hollywood. They talk about challenges that they have faced in their film careers, such as limited roles or caring more about what you're wearing. Of course, Goldry's experiences from the early days of Hollywood aren't exactly the same. Margot Robbie might be a Hollywood A-lister, but she just can't keep it together during this sketch with McKinnon.
The Driver's Ed Teacher That Fell Down During Class
If there is one thing Kate McKinnon has, it's true commitment. And that commitment is on full display here, in a skit about a teacher who fell down and refuses to get up. It seems fairly straightforward, but it's hilarious. She manages to take a pretty normal situation, and then turns it up to 11.
McKinnon taps into the over-the-top drama you'd expect from film noir as she laments about her "pitiful" situation. Now, all of a sudden, it's a Shakespearean monologue with dramatic music playing in the background. Her students keep begging her to get up, but she just dives further into her dramatic speech.
Hillary Clinton's Election Video and Hillary Clinton vs Donald Trump in the Town Hall Debate
There have been a few other SNL cast members to impersonate Hillary Clinton, but if you ask me, Kate McKinnon tops 'em all. She did her first impression of the politician in 2013, but the character was a big hit leading up to the 2016 presidential election. This is when we get all the exceptionally memorable sketches. McKinnon has a way of capturing Clinton's facial expressions, her mannerisms, and her desperate desire to appeal to millennials.
All of McKinnon's impressions of the former secretary of state are so good that it's hard to pick a favorite. That's why I had to pick two!
Darrell Hammond reprises his role as Bill Clinton in the Election Video sketch, in which Hillary is trying to film a video announcing that she will run for president. All she needs to do is record it herself on her cell phone, and be natural and relatable. "Meet my hand in the air!"
My second pick is a sketch in which McKinnon's Hillary debates Alec Baldwin's Donald Trump in the second presidential debate. She begins by nailing that casual lean to prove how cool she is, but don't forget she's "made of steel!"
Ms. Rafferty Recounting Her Close Encounter to NSA Agents
McKinnon's recurring character Ms. Rafferty has had several encounters with aliens. The Close Encounter series features Ms. Rafferty alongside two other subjects, as they are interviewed by two Pentagon employees. All three survivors share their stories, but Ms. Rafferty's experience was clearly quite a bit different as she begins detailing her kind of chaotic and X-rated experiences.
The very first Close Encounter sketch features Cecily Strong and Ryan Gosling as the other two abductees, with Aidy Bryant and Bobby Moynihan as the Pentagon employees conducting the interview. McKinnon as Ms. Rafferty is well-known for making her co-stars break, but Gosling had a particularly hard time keeping his composure during this one.
It seemed only fitting for McKinnon to announce her departure from SNL with this fan-favorite character. During the 47th season finale, she started the episode off with a Close Encounter cold open. The tough broad decided to leave Earth and rejoin her alien captors permanently. She started the episode by saying, "I love ya. Thanks for letting me stay awhile. Live from New York, it's Saturday night."
Ruth Bader Ginsburg Stops By the Weekend Update Desk to Talk About Fellow Justice Neil Gorsuch
Impersonating Ruth Bader Ginsburg was definitely one of McKinnon's most popular roles on SNL, and you'd be hard-pressed to find one of these sketches that wasn't great. It makes it difficult to pick a favorite!
Soon after Justice Neil Gorsuch was appointed, McKinnon reprised her role as Justice Ruth Bader Ginsburg to comment. She came in swinging as she sat down at the Weekend Update Desk with Colin Jost. What's that smell? "It's a Gins-BURN." Jost can't help but laugh as McKinnon dances around. She even dances her glasses off in this one.
Justin Bieber's Calvin Klein Ads and the Egging Interview With Piers Morgan
Kate McKinnon really has a talent when it comes to impersonations, but her Justin Bieber imitation is really on another level. It's probably one of my favorite SNL impersonations I've seen in the last decade. Every time McKinnon plays Bieber, it's a guaranteed laugh.
This is another recurring role from the actress that I just can't pick a single sketch. More Bieber for everyone!
Initially, I thought I would just talk about McKinnon's Justin Bieber for Calvin Klein ads. Shot in black and white, the sketch mocks the Bieb's real-life ads rocking the iconic white underwear as the face of CK. McKinnon dons the infamous CK underwear and even sports a tattoo sleeve just like the musician. He's "a big boy now."
But really, who can forget the sketch about Bieber egging his neighbor's house?! Set up as an interview on Piers Morgan Live, Biebs is making up excuses on why he chose to throw eggs at his neighbor's. I can't help but laugh at "The yolk's on me, baby."
But McKinnon's mannerisms, the way she moves and talks, and even her outfit proves that she has her Bieber impersonation perfected. Are there Bieber impersonators for hire out there? Because I feel like McKinnon probably puts them to shame.