It's been two long years since we've had The Marvelous Mrs. Maisel on our TV screens, but it looks like the fourth season will be here before we know it!
In fact, not only did Amazon Prime announce the premiere date for the new season, but they also released a teaser trailer on Tuesday, November 30.
Just Over Two Months Away
As it turns out, fans will only have to wait a couple of months to watch the premiere of Season 4, as it is set to begin on February 18.
The show will drop two episodes every week for four weeks, which means Season 4 will have a total of eight episodes.
Picking Up Where We Left Off
The fourth season will pick up right where the Season 3 finale ended, with Midge (Rachel Brosnahan) losing out on opening for singer Shy Baldwin (LeRoy McClain).
In the trailer for the upcoming season, Midge talks with her manager, Susie (Alex Borstein), about how she's going to continue her stand-up career following the mishap.
"No more opening act gigs. I will only do gigs where I can say what I want," Midge tells Susie.
The only problem? Susie can't get Midge an offer.
Guest Stars Galore
The fourth season of the show will feature Kelly Bishop and Milo Ventimiglia in guest-starring roles, both of whom also appeared in Gilmore Girls together.
As some may know, The Marvelous Mrs. Maisel was created by Amy Sherman-Palladino and Daniel Palladino, who also created Gilmore Girls.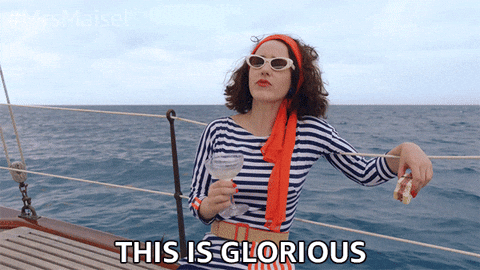 In fact, Bishop and Ventimiglia join a long list of other Gilmore Girls alums who've appeared on Maisel, including Liza Weil, Emily Bergl, and Brian Taratina. Heck, even Alex Bornstein was in Gilmore Girls!
Guess this means it's only a matter of time before Alexis Bledel and Lauren Graham find their way onto the show, huh?