Updated on 11/9/21
Marvel fans have loved Hayley Atwell's Peggy Carter since she first appeared in Captain America: The First Avenger back in 2011, but it sounds like her audition for the role even left people mesmerized.
In a newly released book by Tara Bennet and Paul Terry called The Story of Marvel Studios: The Making of the Marvel Cinematic Universe, The First Avenger director Joe Johnston shared details of Hayley's show-stopping audition.
Hayley Crushed Her Audition Without Chris Evans
He revealed he asked Hayley to perform Peggy and Steve's radio call during the film's climax. For those who don't remember, this is when Steve sacrifices himself in order to stop Red Skull.
But, despite Chris not being at the audition, Hayley knocked the scene out of the park and brought the room to tears.
"We're all sitting there in this quiet room… Chris Evans wasn't in town, so one of the assistants was off-camera, reading his dialogue," he shared.
"We're shooting this scene and I start thinking 'This is really emotional…I'm going to burst into tears any second.'"
Marvel's Best Non-Superhero
Original story (3/26/21)
Warning! This article contains spoilers from a show and movies that have been out for a while, but proceed with caution if you're not caught up with the MCU.
Our first glimpse of Agent Peggy Carter in the MCU was during Captain America: The First Avenger. And from that moment, she stole our hearts!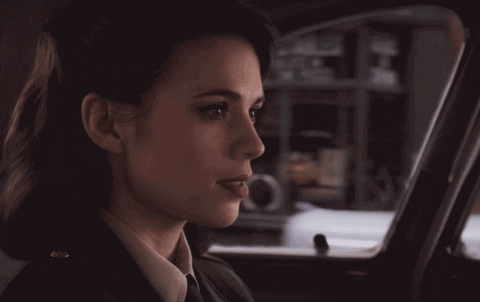 If you can't tell, Agent Carter is my favorite non-superhero character in the MCU and the reason why I am writing this article. You might be asking, why did she deserve better? She got Steve back at the end of Avengers: Endgame. Yes, she did and that was great–but this article is magnifying why her series, Agent Carter, shouldn't have been canceled after two seasons.
Let's talk about why Agent Carter the series was canceled. ABC didn't feel like it had a big enough following and they wanted Hayley Atwell (aka Agent Carter) to star in their new show Conviction, which ended up being canceled after 13 episodes anyway.
I understand that Atwell is very talented, has range, and probably felt like she needed a little bit of a break from her character in the MCU. But I think the show's finale would have been more satisfying if it didn't have an open ending, setting us up for more adventures. Isn't it a bummer when a show is canceled after they leave you wanting more? Here are just a few of the reasons I love Agent Carter–and why you should check out this show if you haven't already!
Agent Carter Is More Than Captain America's Girlfriend
We know Peggy fell in love with Steve Rogers. We also know that at the end of the First Avenger, they both thought they would never see each other again (and to be fair, so did the audience).
The Agent Carter series does start with Peggy still reeling over the loss of her Cap. She holds onto her pain and the show does a good job of showing her internal conflict of wanting to seem strong and shove her emotions down deep. However, she eventually figures out she can feel her emotions and still be strong.
During her mourning period, Peggy doesn't slow down at all. She might be stuck on desk duty at the Strategic Scientific Reserve (SSR), but when Howard Stark comes to her asking for her to clear his name, she goes on missions all on her own with the help of Stark's butler, Edwin Jarvis.
Peggy seems to be the brains and the brawn on the adventures she and Jarvis go on. She masterminds their plans–and she'll take down any villain standing in her way.
Agent Carter Represents Women's Empowerment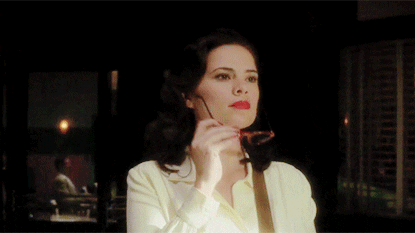 Some might argue that Peggy can't be a feminist figure – she wears dresses, heels, and does her hair and make-up. Well first off, feminism is a spectrum, so no one feminist should fit in a box. Second off, her show is based in the post-WWII 1940's, and she looks the part of women during that time period.
Agent Carter is the only woman working at the SSR and is stuck on desk duty. She might smile and nod at being told to stand down, but she always follows her gut and does what is right. This usually involves her holding her own in battles against bigger, badder enemies.
Because Peggy is the only woman on the job, she has to deal with condescending treatment from some of her male colleagues. However, she never let them see her sweat and put the men in their place when it was needed. She wouldn't let the boy's club try to tear her down!
We Learn Some Important MCU Backstory
Some of the characters on the show are ones that have been previously mentioned in the MCU. Agent Carter takes the opportunity to give those characters a much richer backstory, filling in the details about the early days of the universe of superheroes.
One of the most important characters to the MCU introduced in this show is Edwin Jarvis. Jarvis is the namesake for Tony Stark's J.A.R.V.I.S. later on, and he has such an interesting backstory and personality. I don't want to spoil anything, but you'll grow to love this character on the show!
Anyways, Jarvis and Peggy actually become great friends during their missions together. They have a special friendship and Jarvis never once treats Peggy with anything but respect. We also get to see more of Howard Stark, whom we all know is Tony Stark's father. This interpretation of Howard depicts him as a screwball, playboy, and scientific genius rolled into one. Howard does have moments of seriousness, but those happen less often than him saying witty one-liners
She Gets to Move On
Peggy and Daniel Sousa had such chemistry from the beginning. However, in season 1 she is still getting over Steve. In season 2, the pair has a great flirtation. I would have loved to have seen more of their dynamic together, since actors Haley Atwell and Enver Gjokaj sizzle on screen, but it was not to be.
We finally see them give in to their feelings… to have the show be canceled. Peggy and Steve are great together, but it would have been interesting to see Peggy and Sousa's relationship a little longer.
And Finally, She Knows Her Value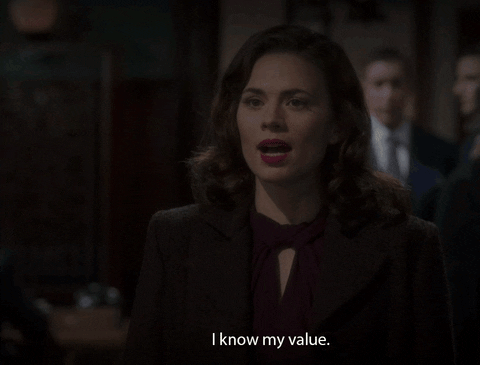 I could go on for hours telling you why the show shouldn't have been canceled. I mean the costumes, hair, make-up, and set designs were superb; the storylines were unique; the show had a great mixture of comedy and drama; the villains had crazy backstories… the list goes on and on.
Well, since Peggy got her Steve, it might be hard to bring back Agent Carter. But a girl can dream, can't she?