Did anyone else spend hours with their friends growing up arguing over which Powerpuff Girl you got to be? Just me? OK. (I was always Bubbles, by the way).
Well, whether you spent your summers pretending to be crime-fighting sisters (no judgment here) or you just enjoyed watching the cartoon, it's time to get excited about the live-action remake.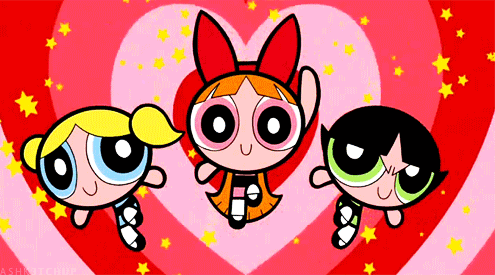 That's right — the CW's reboot series has officially found their Bubbles, Blossom, and Buttercup. Do you agree with their casting choices for the live-action, grown-up versions of the beloved characters?
Who's Been Cast?
Dove Cameron, Chloe Bennett, and Yana Perrault were announced as the three leading ladies on Tuesday, March 9.
Cameron, who is best known for her work in Disney's The Descendants trilogy, will star as Bubbles, the "sweetest" of the three.
According to The Hollywood Reporter, Cameron's character "still sparkles as an adult, but her charming exterior belies an unexpected toughness and wit. She's initially more interested in recapturing her fame than saving the world, but she just might surprise us and herself."
Bennett, who starred in Agents of SHIELD, will play Blossom, the "everything nice" Powerpuff. Though Blossom grew up as the "little-miss perfect child," this new series is going to go deeper into her past as she focuses on becoming a leader again.
Perrault, who appeared in Broadway's Jagged Little Pill, will play Buttercup. "More sensitive than her tough exterior suggests, Buttercup has spent her adulthood trying to shed her Powerpuff Girl identity and live an anonymous life."
What Will The Series Be About?
The series, which was ordered to pilot in February, will focus on the Powerpuff Girls as adults who are trying to figure out what to do with their lives. Relatable, right?
Though they resent having spent their childhood saving the world, they understand they may have to reunite to help those in need.

It is being created by Craig McCracken and Heather Regnier, who also created Veronica Mars and Sleepy Hollow, while Diablo Cody (who won an Oscar for writing Juno) will be writing the script.
Time For a Refresher
For those who don't remember, The Powerpuff Girls originally aired on The Cartoon Network from 1998 to 2005 and centered on Bubbles, Blossom, and Buttercup, three kindergarten-aged girls created in a lab by Professor Utonium. Each girl has a specific superpower they used to protect their town of Townsville.
While the show focused on the girls helping to save the world, they also dealt with real-life issues such as going to school and arguing with siblings.
It was an incredibly popular series that ultimately inspired comic books, toys, and video games. If you ask any child born in the '90s if they've watched Powerpuff Girls, there's a good chance the answer is "yes."
This is not the first time The CW has taken a childhood nostalgia and revamped it for an older audience. Riverdale, which is in its fifth season, is based on the Archie comics. The network also recently rebooted Nancy Drew for modern viewers.