*Cue the Sex and the City theme song*
Have you ever wondered what it would be like to live in Carrie Bradshaw's New York City apartment? Do you have dreams about trying on all her clothes?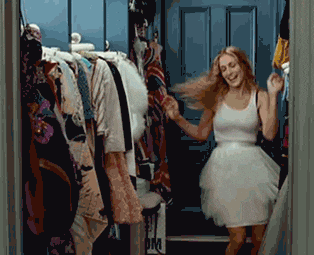 Well, now your dreams can become a reality thanks to Airbnb.
Stay in Carrie's Pad
In anticipation of the upcoming HBO Max spin-off series, And Just Like That…, Sarah Jessica Parker has partnered with Airbnb and Warner Bros. Consumer Products to let a few lucky guests stay in a recreation of her character's apartment.
On November 12 and 13, up to two guests can spend the night in the Upper East Side apartment for just $23.
Yes, just $23! In fact, they chose $23 in honor of the show's 23rd anniversary.
"The Carrie Bradshaw character is near and dear to my heart, and revisiting her world for the continuation of the Sex and the City story has been such a joy," the actress said in a statement.
"I'm excited for our audience to experience Carrie's New York like never before and walk in her shoes, quite literally, for the first time."
What Will Be Offered During the Stay?
As to be expected, this isn't just any ordinary Airbnb stay. Guests will get to enjoy a virtual greeting from Parker at check-in, which is very similar to the narration in the show's intro.
The apartment will also be chock full of SATC momentos, such as Carrie's gold necklace, laptop, and rotary phone.
And the best part? Guests will be able to try on Carrie's iconic clothes! Everything from the Patricia Field tutu worn in the show's intro to Manolo Blahniks will be available to try on.
Oh, and of course Cosmopolitans will be on hand.
"It's delightful to be in such a familiar space, and we think you'll love the reminders of Carrie you will find scattered throughout," SJP wrote on Instagram.
"So go see what's hanging in that closet, try your hand at a little writing, and absolutely have a Cosmo."
How to Enter
So, if you want a shot at getting to stay in Carrie's apartment, you have to head to airbnb.com/sexandthecity at 12 p.m. ET on Monday, November 8 to request your stay.
Good luck, SATC fans!