Everyone kept telling me to watch Ted Lasso last year. And I mean everyone. From friends to family members to even strangers who overheard me talking about the show in public, I could not escape the Ted Lasso hype.
And honestly, I'm sure you couldn't either.
I Was a Non-Believer
As someone who played soccer for 15 years, I didn't necessarily want to watch a show about a bumbling American football coach who just so happens to get hired as the coach of an English Premier League soccer team.
"This would never happen in real life," I would tell friends who encouraged me to watch it. "Soccer is a serious sport with serious coaches. It's the world's game! Why would they ever hire a nobody-American?" (spoiler alert — that's kind of the point of the show)
And, while I enjoyed Jason Sudeikis on Saturday Night Live every now and then during his tenure, his shtick hasn't always been my thing.

But boy, was I wrong.
The Beginning of the End
I should've never started Ted Lasso when I did in late 2020, not because the show is terrible, but because the show is incredible.
In fact, I'm almost positive I binged the entire thing in less than a weekend. I just couldn't get enough of Ted and his band of merry (and not so merry) men and women.
In a year when I think a lot of us were struggling and looking for something positive to carry us through, Ted Lasso was there for us.
Sports Fans and Non-Sports Fans Can Enjoy It
As I mentioned above, I played competitive soccer for many years. I am a big sports fan and often struggle to watch sports movies or TV shows because of how unrealistic they are. But, though that was my initial concern with Ted Lasso, the reality is I had nothing to be concerned about!

While the show is technically about a soccer team, it really has nothing to do with soccer at all.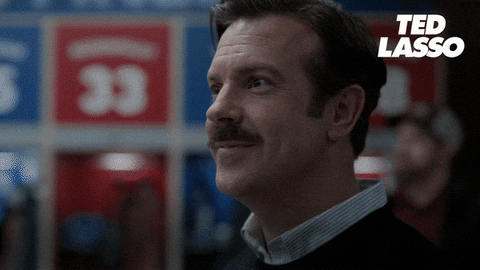 Sure, you want the team to succeed and you hope Ted doesn't completely let down an entire country of soccer (aka football) fans, but the show is about so much more than that.
It's about humanity, friendship, compassion, and most importantly, kindness. It doesn't matter if you've watched thousands of hours of soccer over the years (like me) or you don't understand the rules of the game at all, you'll connect with this show in some way.
Season 2 Is Airing Now
Now that Season 2 is back in action (new episodes air every Friday), it's time to jump on the Ted Lasso bandwagon once and for all.
Whether you're looking for a show to watch with your family, your significant other, or just need something to watch before bed, Ted Lasso is the way to go. The writing is great, the acting is superb, and it really does feel like all the show wants to do is make people feel a little bit better.
So, stop watching your crime dramas or intense horror movies and inject a little Ted Lasso into your life.

You'll laugh, you'll cry, and you may even find yourself learning a thing or two about soccer along the way.