The boys are back together!
The men of New Girl reunited for a Vulture Festival panel earlier this week, hosted by show creator Liz Meriwether, and reminisced on their time together.
Jake Johnson, Lamorne Morris, Max Greenfield, and Damon Wayans Jr. joined Meriwether to discuss all things New Girl, which included fawning over their incredible run of guest stars over seven seasons.
Sorry, Max!
"You look at our guest star list on that show from top to bottom, it is madness," Johnson shared.
Johnson then went on to share that the late Law & Order star Dennis Farina, who played his character Nick Miller's father, was not a very big fan of Greenfield.
"He hated him in like a not-funny way. In like a scary, mean old Chicago guy way," Johnson revealed.
Greenfield went on to explain that it all started because he and Johnson were curious about Farina's past as a Chicago detective.
They both wanted to know if the actor ever encountered "random, weird sex stuff that has nothing to do with the case." Though Greenfield felt it wasn't appropriate to ask Farina, Johnson decided to ask him anyway.
As you can expect Farina didn't love the question, but the worst part about this story is that Johnson threw Greenfield under the bus!
"Immediately, you could see how deeply offended he was by this question and how truly f–ked we were," Greenfield shared.
"Jake's instinct in that moment was to go, 'Because Max wanted to know.' And then to make it worse, Jake sold me out so hard, so immediately that my reaction was to die laughing."
Insulting Questions
Also during their conversation, Meriwether revealed she was asked some strange questions about what was going to happen to Morris's character, Winston, once Wayan's character, Coach, joined the cast.
For those who don't remember, Wayans was in the New Girl pilot as Coach but wasn't able to continue filming because of his commitment to another show, Happy Endings.
Morris then joined the cast during Episode 2 of the first season and when Happy Endings was canceled, Wayans joined New Girl again in Season 3.
Meriwether shared she was often asked "Does Lamorne have to leave now," following Wayans return, implying that sitcoms only have space in their cast for one Black actor at a time.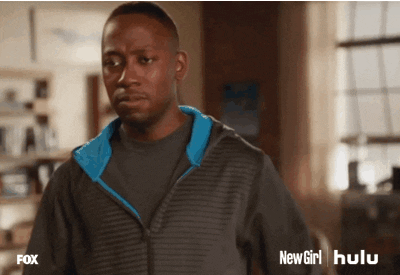 "Oh, I got those questions a lot. Let me tell you something; I got those questions a lot. For a while, it wasn't frustrating," Morris explained. 
"I guess it was an honest question because it makes sense, right? Maybe people thought that I was… they wouldn't recognize that one Black face was out for another."
Johnson even revealed he was asked the same question while on the Golden Globes red carpet.
"They were utter dogs—t questions, and utter dogs—t to then ask, 'Can you both be on the show?'" he said.
"You don't just need one Black guy; you can have a bunch of them on a show."
While we're sad New Girl is no longer on our TV screens every week, it is great to see (most of) the band back together again.