Remember when reality TV dominated the 2000s? At the time, it was everywhere — and it was wild, y'all.
With the likes of The Anna Nicole Smith Show, The Surreal Life, The Hills, and The Flavor of Love, there was never a shortage of outlandish entertainment with a side of trashy behavior. You could tune in to MTV Cribs to see how your favorite stars were living. Or, check in on Newlyweds: Nick and Jessica to see how the famous couple were balancing marriage and their pop careers.
The Surreal Life is Back!
If you're feeling nostalgic for all those crazy 2000s reality shows, I have good news. The Surreal Life is getting a revival.
The series originally ran for six seasons between 2003 and 2006. It ran on The WB for the first two seasons. The Surreal Life then moved to VH1 for four more seasons. It featured celebs like MC Hammer, Janice Dickinson, Corey Feldman, Brigitte Nielsen, Dave Coulier, Vern Troyer, and more. We also got a string of spinoff reality shows out of it, like Flavor of Love and My Fair Brady.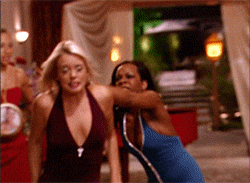 Now, The Surreal Life is coming back with an all-new cast. Cue the early aughts nostalgia!
You're Going to Want to See this Drama
ViacomCBS is reviving the reality show for VH1, a series that follows a group of celebrities who have been thrown in a mansion together. They engage in group challenges and cohabitate, and clearly, drama ensues.
When the show hits VH1 in the fall, expect to see some familiar faces. The new season will feature former NBA star Dennis Rodman, Malcolm in the Middle star Frankie Muniz, adult film star Stormy Daniels, rapper August Alsina, Living Single's Kim Coles, singer and reality TV star Tamar Braxton, wrestler CJ Perry, and YouTuber Manny MUA.
"The Surreal Life is known for bringing together some of the biggest names in pop culture and creating many unforgettable moments in reality television," said a statement from Nina L. Diaz, MTV Entertainment Group's President of Content and Chief Creative Officer.
"We are excited to see how this stellar celebrity cast will make captivating television for audiences everywhere."
The revival is being put together by the original production company, 51 Minds Entertainment. The company's Christian Sarabia, Fernando Mills, Ken Martinez, and Nicole Elliott are on board to executive produce, alongside MTV Entertainment Group's Tolani Holmes, Elena Diaz, and Dan Caster.
ViacomCBS is Reviving a Slew of Nostalgic Shows
If you're still jonesing for more nostalgic TV, The Surreal Life is just the latest show from MTV Studios to get a revival. MTV recently announced that Cribs is coming back. The Real World was also brought back from the dead, to kick off ViacomCBS' streaming service, Paramount+. Behind the Music, Ink Master, and Dating Naked have all gotten a second chance from ViacomCBS, too.
Although outside of the reality TV realm, even the likes of Daria and Beavis and Butthead are coming back to the small screen. MTV's Daria will see a new spinoff, Jodie, and will hit Comedy Central along with Beavis and Butthead.