Will Studio 8H be the same? As SNL wrapped up its 47th season, it also bid farewell to four longtime cast members. After several years, these stars are moving on to other projects.
Stars Leaving Saturday Night Live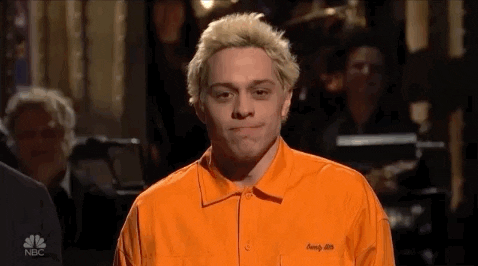 During the season finale, SNL stars Pete Davidson, Kate McKinnon, and Aidy Bryant all announced their departure from the show. Kyle Mooney is reportedly leaving as well, but his departure was not mentioned during the show.
These four have been cast members on Lorne Michaels' sketch comedy show for a while now. Kate McKinnon and Aidy Bryant have both been part of the SNL cast since 2012. Kyle Mooney joined in 2013, and Pete Davidson became one of the youngest SNL cast members ever when he joined in 2014.
It will be interesting to see who steps up to fill their shoes. After all, the sketch comedy show is losing four of its core cast members all at one time.
Related: Check Out Our Favorite SNL Sketches of All Time
Departures from SNL are just part of how it goes. Throughout the years, the show has had a rotating cast of comedians and writers. That's essentially what has kept the show running and successful for so many seasons. As the players change, the show continues to evolve with them.
Since it first aired in 1975, the show has racked up a number of awards: 86 Primetime Emmy Awards, 6 Writers Guild of America Awards, and two Peabody Awards, among others. On top of that, a handful of cast members have also individually received Primetime Emmy Awards – including Kate McKinnon, who actually won two.
SNL has been "Live from New York" for more than four decades. After airing 930 episodes (and still counting) since its debut, SNL is one of the longest-running network TV programs in the United States.
Saturday Night Live Has Launched the Careers of Many Cast Members
With all that success, it's not surprising that the show has served as a springboard to fame for many aspiring stars. Ever since 1975, we've seen some serious talent come through Studio 8H. And once all eyes are on them each Saturday evening, it's inevitable that some of them find success in Hollywood.
Of course, some of Saturday Night Live's featured cast members were already well known before they joined the show. The likes of Martin Short and Robert Downey Jr. were already established before they arrived at Studio 8H. However, the show was also home to many then-unknown names that went on to become massive stars.
Tina Fey, Amy Poehler, Andy Samberg, and Jimmy Fallon are all relatively recent SNL alumni that have gone on to become heavy hitters in Hollywood. Eddie Murphy was so captivating that he became a major superstar almost instantly. Mike Myers, Dana Carvey, and Chris Rock all became household names. And who can forget the likes of John Belushi, Dan Aykroyd, Chris Farley, and even Will Ferrell?
Related: The Blues Brothers Added to National Film Registry
With the departure of Pete Davidson, Kate McKinnon, Kyle Mooney, and Aidy Bryant, it's understandable to wonder where these stars might go. Will they become legendary SNL alums? I think it is safe to assume that they will continue to see success in Hollywood.
Pete Davidson Shows No Signs of Slowing Down After Saturday Night Live
We've already seen Pete Davidson find success outside of SNL. Davidson was relatively unknown when he joined the cast at the age of 20. He has since become one of its biggest stars, and he's managed to become an internet favorite. The comedic actor certainly isn't going to let all that good fame go to waste!
We've already seen his work outside of SNL, even during his eight years on the series. Davidson starred in and executive produced the 2019 comedy Big Time Adolescence, in which he plays an aimless dropout who becomes a mentor to a straight-laced teen from the suburbs. A year later, he co-wrote and starred in a semi-autobiographical film, The King of Staten Island. We also saw him in films like The Suicide Squad and Marmaduke.
What's next? Well, we already know that Davidson will star in and co-write a semi-autobiographical comedy series called Bupkis. He's also an executive producer, alongside Lorne Michaels and others. The show is slated to be a fictionalized rendition of Davidson's real life. Emmy award-winning actress Edie Falco (The Sopranos) has been cast to play opposite Davidson as his mother.
The series was given a straight-to-series order from Peacock, the streaming service from NBCUniversal.
"Pete Davidson is one of the most sought-after comedians today with his smart, one-of-a-kind humor and honest point of view," said Susan Rovner, Chairman of Entertainment Content at NBCUniversal Television and Streaming.
"Bupkis will showcase Pete's funny, surprising and unfiltered brand of comedy audiences have come to love as we continue to bolster our Peacock comedy slate. We can't wait to dive in with Lorne Michaels, Broadway Video and our partners at Universal Television."
What Comes After Kyle Mooney's Departure From Saturday Night Live?
Kyle Mooney already had plenty of roles ahead of joining the SNL cast in 2013, but he really gained attention during his nine-year stint on the sketch comedy show.
After joining the SNL cast, Mooney also had roles in projects like Zoolander 2, Arrested Development, and the HBO series Hello Ladies. The actor co-wrote and starred in the film Brigsby Bear, which is currently streaming on Hulu.
Even more impressive, check out Saturday Morning All Star Hits! on Netflix. The adult cartoon comedy series is a parody of old-school Saturday morning cartoon programming blocks from the '80s and early '90s. Not only does Mooney star in SMASH!, but he also co-created, co-wrote, and produced the series.
So far, Mooney has not announced any future projects.
Kate McKinnon Continues Her Success After Saturday Night Live
Kate McKinnon may be leaving SNL after ten seasons, but she doesn't seem to have a shortage of projects. A Primetime Emmy Award-winning star, she has already done plenty outside of SNL while still starring in the cast.
McKinnon starred in the 2016 all-female remake of Ghostbusters, alongside Melissa McCarthy, Leslie Jones, and Kristen Wiig. Old-school Ghostbusters stars Dan Aykroyd, Bill Murray, and Ernie Hudson made cameos.
You may have seen her in commercials for the likes of Ford Focus or Verizon (although whether or not you like them might be a conversation for another time). Her amazing way with impressions probably played a factor in snagging the role of Carole Baskin in the Tiger King-based miniseries Joe vs. Carole. She had roles in plenty of other films, too, and even provided the voice for none other than Ms. Frizzle in The Magic School Bus Rides Again.
So, what will McKinnon be up to next, now that she won't be "Live from New York" each week? She's voicing a character in the upcoming DC League of Super-Pets, an animated film based on the DC Comics series. Dwayne Johnson, Kevin Hart, John Krasinski, Natasha Lyonne, Keanu Reeves, and more are also providing voices for the project.
McKinnon also has a role in the upcoming film Barbie, based on the iconic toy of the same name. Greta Gerwig is directing this one. While Barbie herself will be played by Margot Robbie, McKinnon will have a supporting role alongside the likes of Ryan Gosling, America Ferrera, Simu Liu, Will Ferrell, Michael Cera, and more.
Related: See Where Margot Robbie's roles in DCEU Movies stack up against the rest
Where Can We Expect to See Aidy Bryant After Saturday Night Live?
Aidy Bryant is also a 10-year Saturday Night Live vet who is departing from the series this year. She joined the cast at the same time as McKinnon.
While also working on SNL, Bryant had a recurring role in the second season of IFC's Comedy Bang! Bang! We also saw her make appearances on shows like Broad City, The Awesomes, Documentary Now!, and Girls. She also provided the voice of the main character D. D. Danger from the animated series Danger & Eggs, an animated series that premiered on Amazon Video.
Oh, and you can't forget Bryant dancing in ads for Old Navy! Bryant has been vocal about body positivity, and she brings it for Old Navy's "Bodequality" campaign. It's cheeky and entirely wholesome.
More recently, Bryant starred in Shrill, a comedy series on Hulu. The comedian and actress developed the series alongside Alexandra Rushfield and Lindy West, and she also served as writer and executive producer.
Now that Bryant is leaving SNL behind, you can catch her on the Netflix series Human Resources. This adult animated show is a spin-off of Big Mouth and centers on the workplace of the Hormone Monsters. It premiered in March of 2022 and has been renewed for another season. Bryant provides the voice of Emmy Fairfax. Keke Palmer, Randall Park, David Thewlis, Maya Rudolph, and Nick Kroll are also main players in the series.